Dyeing an autumn day
I've had some undyed yarns in the stash for a while, and in the past week or so I've got out the dyepots and transformed them. I used to be a haphazard dyer, but I'm aiming for a little more discipline and stretching my skills, for planned results rather than happy accidents!
I don't (yet) have a proper dyeing space set up. I've been dyeing outside, on a plastic-covered fold-up table, with my camping stove on an old milk-crate; this works, except I've discovered that breezy days are not the best days to dye, especially with limited working surfaces – sudden gusts can blow dye powder just where you don't want it, and therefore two skeins have some tiny spots of darker colour.
I'm not usually very 'arty' about dyeing, but I got inspired in this last batch to aim for the colours of an early-autumn day. And this is the result, before reskeining: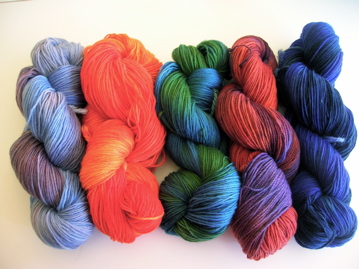 And here they are, after reskeining: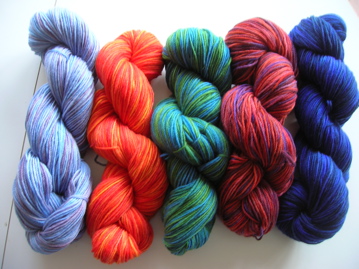 From left to right: First Light; Warm Sun; River Picnic; Sunset; Night Sky.
I plan to do a lot more dyeing, but need to have a better and more efficient set-up. I bought a second camp-stove the other day, so now I can have two pots going at once. And perhaps another fold-up table might be in my near future… I do fantasize about a textile studio, with space for looms, and stash, and a long bench, sinks, stove etc for dyeing, but if that ever happens, it's a way off yet.
2 Responses to Dyeing an autumn day