FO – Large beaded Brangian
This is the large version of Brangian, knitted to the pattern but with added beads ('cos I do love the sparklies!) I finished it during the week, but it took me a few days to organise myself to block her, and then another day or two to get some photos outside. It's not the best photo – the sun was bright – but it gives an idea of her, anyway!
I added beads to Charts 2 & 3 – I didn't have a close match in colour, so I used the Dark Amethyst AB mix from Empire Beads – I think it gives the colour an extra lift!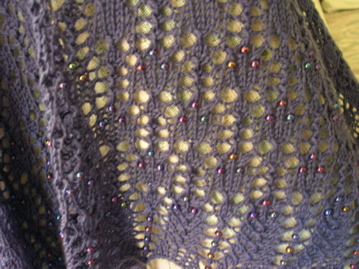 This is the fourth Brangian I've knitted this year – I think I can say the pattern is well-tested now! I've got another one in laceweight on the needles, but it hasn't progressed very far yet. I'm going away for a week or two on Tuesday, so I'll take that one with me and aim to make more progress. And in the meantime, just for a change, I've been trying to finish a Shetland Triangle that I started on January 1st – only one or two more pattern repeats to go on it, and the edging, and then I will have liberated an Addi circular, and can cast something else on to it!
2 Responses to FO – Large beaded Brangian