Socks!
I knitted my BIL a pair of Thuja socks for Christmas, and then decided to try the pattern in a finer yarn, and make some socks for me – or for my father, if he needed more socks! I finished this pair a couple of days ago, but Dad says he has plenty of socks, so I get to keep them – and I'm wearing them right now 🙂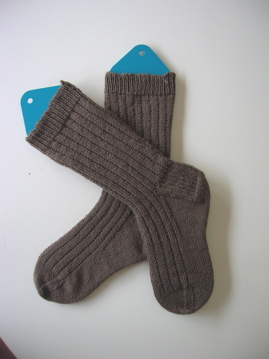 The yarn is Bendigo Woollen Mills Luxury 4 ply – nice and cosy for winter! I have a few more colours, just waiting to become more socks. ('Cos a girl can never have too many hand-knitted socks!)
I adapted the pattern for 4ply yarn, and with some decreasing in the leg because my legs aren't as sylph-like as they used to be.