Winter sock addiction
The weather is definitely cooling off here, and we're heading into our frosty winter. Armidale winters are great – yes, it's frosty and we have a fair few minus temperatures, but they don't last long in the mornings, and the days are mostly sunny and dry.
Still, it's great weather for handknit wool socks, and since I'm also racing a deadline for my book, sock-knitting is comprising most of my knitting at present. I know it sounds strange to some, but, as I'm a slow writer, a simple pair of socks on the needles keeps my fingers busy (and not clicking all over the internet), my mind open to creative thoughts, and my butt firmly in my chair in front of the computer.
I have two sock projects on the go at the moment: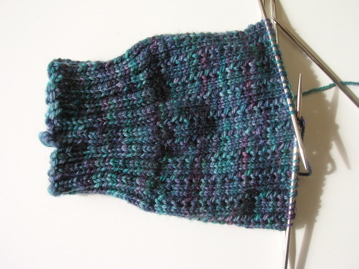 The pattern is Charade Socks by Sandra Park, and the yarn is Amara sock yarn from Saffron Dyeworks. I'm enjoying both the yarn and the pattern – simple but effective, and they work well together.
I'm knitting the Charade socks my standard way, on 5 dpns, one sock at a time. But I have been thinking about trying two socks on two circs for a while, and yesterday I bit the bullet and cast on these: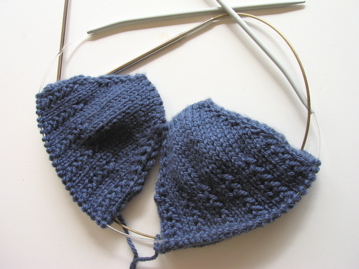 And yes, I'm adding an extra (new) challenge for myself, and knitting them toe-up! So far, it's going fine. I have tried toe-up once before, but the heel simply didn't work for my foot shape, so I'll have to work out how to do a heel flap for these ones. I'm using Bendigo Luxury in 8 ply, so they'll knit up quickly, and I'm using the stitch pattern from the Charade socks, since I'm enjoying it. I'm not using an actual sock pattern, just figuring it out as I go along, acording to standard sock techniques and what's worked for me in the past.
Now, must disconnect from the internet again, and get back to writing (and knitting!) I've only got 6 weeks to get this book finished…. hmm, I wonder how many pairs of socks that will be!
4 Responses to Winter sock addiction