Winter warmers
It's not knitting, or weaving, or spinning…. but I excavated my sewing machine today, raided the fabric stash, and made two dog coats. Our dogs are littermates, but the blonde one, Jaffa (aka The Princess Dog) has seizures, and the medication for those has slowed her down a lot compared to her sister, and has some side effects  including stiff joints. They both sleep outside in the (very large) dog run at night, but although they have kennels, over the years any blankets, mats or cushions we've put in there have very quickly become tug-of-war toys… so their kennels are currently bare wood. With winter coming, we've started having frosty nights, and I think that Jaffa is starting to feel the cold. Commercial dog coats didn't appeal to me, though – artificial fabrics, expensive, and I wasn't sure whether they'd survive long with our terrible twosome.
I had some wool fabric remnants, so after a little searching on the internet for inspiration, I cut out coats for them – a double layer for Jaffa, and a single layer for the much-more active Tansy: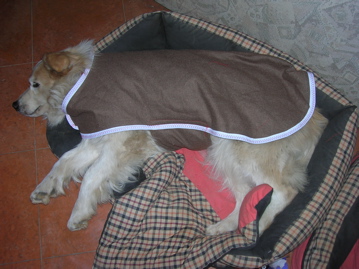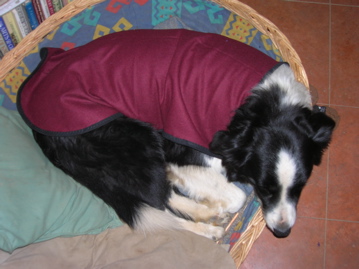 They've been wearing them inside tonight, and don't seem to be bothered by them – no scratching or trying to get them off or anything like that. It remains to be seen, though, what they'll be like in the morning!