Beginnings
My life is a bit up and down at the moment, and I'm kind of in a hiatus on several fronts; looks like I'll be having brain surgery in the next couple of months, and I've also got to start again on the next book – very tough decision to make, but it just wasn't working. My new idea, however, is starting to bubble away this last 24 hours, and I think the new heroine is going to work. Now I just have to come up with a hero, and a plot, beyond the first few pages!
To counter the down bits and nurture the creative spirit, I'm concentrating on some less-demanding creativity; amongst other things, I've started designing another shawl. I'm aiming for a semi-circular shawl this time. I'm using Bendigo 4ply luxury for the prototype, and here's a teaser: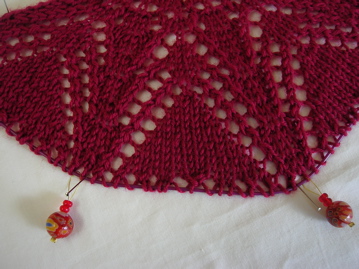 I'm not sure what the rest of it will look like yet, so I'm in the same position as with the new book – great beginning, but still a long way to go!
Did you notice the little red danglies? Yes, I have become a sucker for stitch markers. I love the pretties, hanging off my needles, and for this shawl I need three. I didn't have any in my small stash of purchased ones that toned properly with the crimson of the yarn, so I made some. Then I made some more. Now I'm just anxiously waiting for the postmen to bring some tigerwire, because the wire I have isn't ideal. But these ones will be fine for me!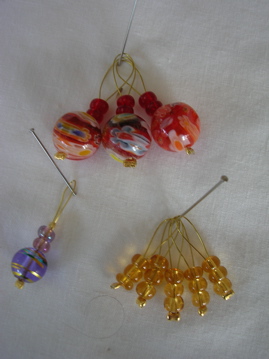 4 Responses to Beginnings