New things
I did (finally!) finish sewing the seams of my shawl-collar jacket, and though I don't have any beautiful photos of it, I have been wearing it – and it is, if not stunning, at least cosy and warm, which is great in the wintry weather we've been having.
Here's Jane, my dressmaker's model wearing it – although bear in mind that she is a lot skinnier than me!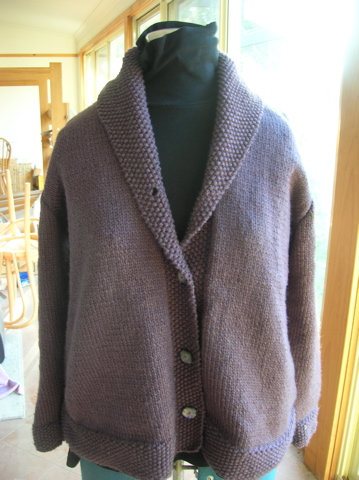 I used a Drops pattern (102-5) as a basic guide but adapted it quite significantly, in particular using moss stitch instead of garter stitch and changing the shaping. The yarn is Jo Sharp Silkroad Aran, which is 85% Wool, 10% Silk, 5% Cashmere – and have I mentioned, deliciously warm?
I'm quite pleased with the overall finished result, although the top button/hole is a bit high, and I've been wearing it without that done up. I may end up removing the button and stitching the buttonhole closed.
I'm currently planning a new, top-down cardigan – no more pesky seams for me! No knitting has been started yet, but any day now I'll raid the stash and cast-on.
What else have I been up to? The prototype for the new shawl is coming along, and although it's only half-knitted, I have done the time-consuming design and test-swatch knitting of the final two charts. Here's a swatch of the edge – although I have changed the way the long diagonal lines will be knitted from how I did these ones (and I'm up to knitting them now in the prototype shawl):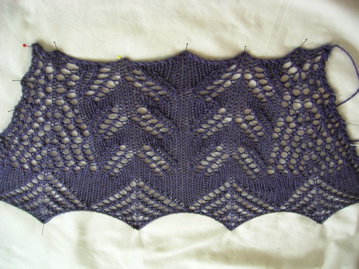 And I've added some new stitch markers to the Yarnosophy shop: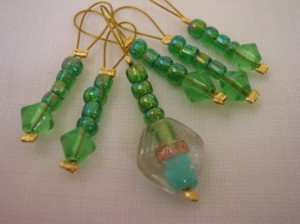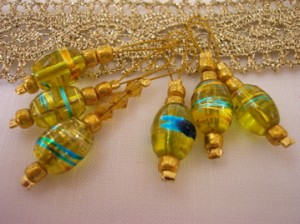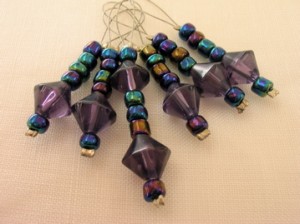 (I liked these purple ones so much that I made a very similar pair of earrings for me!)
One Response to New things