Shopkeeping
Did you ever play at keeping a shop as a kid? I know I did. I've worked in shops since then, and been on quite a few market stalls, but it was still a thrill to package up and get ready to send off the first order from the Yarnosophy shop: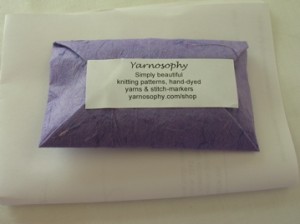 The pattern download function is working fine, too – even if the patterns don't come wrapped in pretty paper! I was a little nervous as I'm by no means a computer programmer, but the system worked for me and then it worked fine for the first 'real' customer, so I'm breathing a little easier now.
I made some more stitchmarkers this afternoon, but they still need to be finished off and photographed before they go into the shop. And I'm hoping to get out to the dyepots tomorrow, if it's not too cold.
My major achievement for today, however, has been finishing the shawl-collar cardigan that has been languishing for a while, waiting for the final seams to be sewn. You may remember this from a week or so back: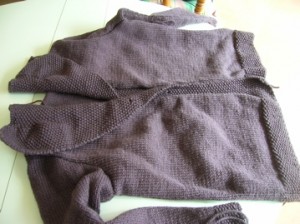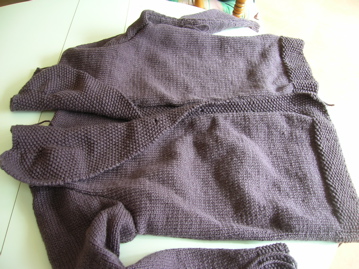 This morning I bit the bullet, and sat down with the cardigan. It took about an hour to sew the last seams, stitch the collar in place, and sew on the buttons. And then I put it on, and wore it into other town, and I'm still wearing it now. It's cosy and warm, and fits quite well; it's nothing stunning, but it's fine.
No photos yet – we don't have a mirror, so I couldn't really photograph it on me, and it was too cold today to take it off! Maybe tomorrow I can photograph it laid out in a table or something.
I've been looking at top-down patterns, and I think that's the way I'll be knitting jumpers and cardigans in future. I'll do almost anything to avoid sewing seams and picking up stitches for bands and necklines… although I've conquered this cardigan, there's a jumper lying around, that needs stitches picked up for the neckline. Maybe the burst of enthusiasm for finishing the cardi will carry through and I'll finish the jumper this week… but don't hold your breath!
Knitting on the new shawl is much more fun, and it's coming along. I still haven't finalised the last quarter or so of the design, but I'm not up to knitting that part yet, so I'll have a day or two more to think about it and play with the chart on the Excel spreadsheet.