Not quite right (yet)
Not quite right sums up a few things in my life lately. I'm sore and a bit tired following a minor surgery in Tamworth yesterday – but I did enjoy the trip down on the train on Monday, and I did manage to visit Spotlight, so it wasn't all medical stuff!
While on the train, and while waiting around for hours at the hospital between appointments, I finished the 'prototype' of my new shawl design. And I blocked it today.
Now, those of you who are lace-knitters know that you really don't see a design properly until it's blocked. This is especially true when the item is too large too stretch out while on the needles. So, although I'd charted out the various elements of the design, and knew that technically they fitted together, I wasn't sure how it would all 'work' together in actuality until I pinned out the shawl this morning. Some people can visualise things before they're knitted – while I can imagine a general sense of how something might look, and I did knit a sample swatch of the last motif and border, I really need the finished item in front of me to really 'see' it.
And although it's okay, and I'm proud enough of it to wear it, I'm not quite satisfied with it yet – so I've cast on already for another sample, which will incorporate a few changes.
Here's the protoype, all pinned out: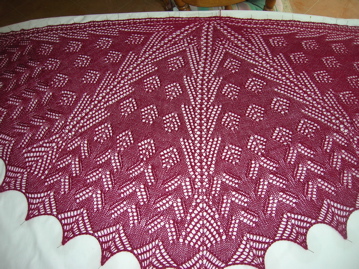 What's not quite right? The last leaf motif is too close to the inverted 'V' lace, and its extra-noticeable because they don't align exactly to flow from one to the other. And the reversing of the diagonal lines along the spines isn't 'neat' enough; it doesn't mirror the ones above, and it seems a bit crowded against the inverted 'V's.
So, I'm planning to keep the diagonal lines continuing in the same pattern right down the spines until the edging. I'll also put some extra space between the leaf motifs and the 'V' motifs, so that the transition isn't crowded. I've charted it all out… now I just have to knit it! One of the advantages, though, of the changes will be keeping the pattern fairly easy to knit, as the rhythm of the spine pattern will continue until the edging rows, rather than changing part-way through. And since rhythm and relative ease of knitting is one of my design criteria, that is a plus!
I'm using KnitPicks Gloss Lace yarn for the second shawl, in a delicate blue/green, and I'm also beading it. Plus, instead of a semi-octagon, with four gores, I'm knitting a 5/8 octagon, adding an extra gore so that the shawl will drape over the shoulders more securely.
Now, I'd better get back to the knitting! According to the handy excel spreadsheet calculation, I've so far knitted only 3792 sts of the total 49570 sts required. (Hmm… 7.65% sounds a little more encouraging!)
5 Responses to Not quite right (yet)