Row by row
My second go at the new shawl design is gradually progressing: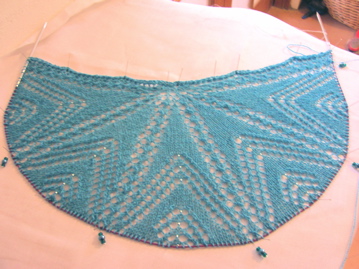 Although the KnitPicks Gloss Lace yarn isn't the softest or highest quality lace yarn around, it is a good weight for lace, and I like it for that reason. It has about 800 metres (880 yards) per 100gms, so it's heavier than some lace yarns. The 70/30 mix of merino & silk also gives it a lovely texture.
I've now knitted 12% of the shawl… so there's only another 43,000 or so stitches to go! Plus beads. Because I love beads. Fortunately, there's not gazillions of them going in, at least in the first half of the shawl, so it's not too slow.
Speaking of row by row, at the spinners and weavers meeting last week, I was discussing with a friend the challenges of using row counters on circular and dp needles, and the need to have some way to hang them from the needle. I promised I'd have a play…. This morning, I rummaged in the knitting tools box, and found that I have (at least) four plastic row counters. This afternoon, I rummaged in the miscellaneous bead bags, and made up these: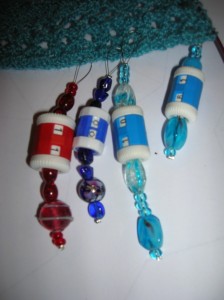 (Not a great photo, I know, but as you can see, one of them's already in use… and I'm too lazy this evening to move away from the table to take a better photo.)
Problem solved – the hanging row counter works fine. Hopefully I'll meet up with my friend for lunch in the next few days, and she can choose one of these for herself.
One Response to Row by row