Aurora's Light?
Thank you to everyone who has made suggestions for the name for the new shawl. I've been looking up goddesses and heroines of legend, trying to find one connected with the sun, stars, or dawn – one with an easy to spell, and pretty name!
I think I've decided on Aurora. In Roman mythology, she is the Goddess of Dawn, and I think the shawl design can be seen to have dawn spreading over forests and streams… However, as there are multiple shawls and other items called 'Aurora' on Ravelry, the name needs something extra – so how does Aurora's Light sound?
And here she is, in the shawlette size: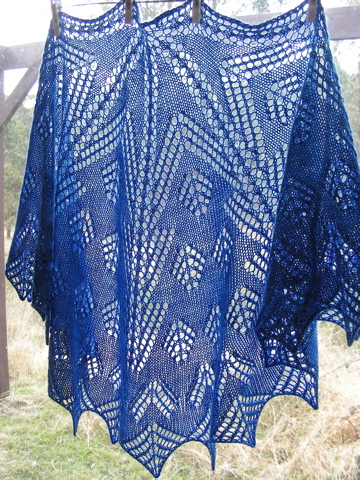 I hope to get some better photos soon, but it was a grey, wet day today, so not much photography was happening!
Now I just have to finish writing up the pattern, send it out to testers, and finish knitting a shawl-size one. In all that spare time I have….
3 Responses to Aurora's Light?