Beautiful blues
It's been a busy few weeks! So, what's been happening?
The weekend before last, Emily (Rav link) and I set up a couple of indigo dye vats, and had a great afternoon gently dunking yarn, fibre and fabric into them, and watching the magic results as we took the dyed items from the vat, and on exposure to the air they gradually changed from green through lovely blue-green shades to blue. I didn't dye a lot (I didn't have a lot prepared), but now I know the process, I'm planning to do it again, very soon. Maybe even tomorrow. I want to re-dip a couple of the skeins I dyed, to get a deeper blue. Plus dye some more things!
It's impossible to photograph things when you have blue-stained rubber gloves on, but fortunately Tara was there, too, and very handy with her camera. She's put a set of photos from the day on Flickr.
A couple of days after the indigo-dyeing, I headed down to Sydney for the Romance Writers of Australia conference at Coogee. Very little in the way of knitting was achieved while I was away, other than a handful of rows on a present (now late) for my nephews birthday. More on that when it's finished! But the conference was, as usual, fantastic, and I'm all energised and motivated to get really cracking with the new book. Although textile work is rewarding, it doesn't pay the bills, so I'm going to have to put my writing work (mostly) first for a while.
However, now that I'm home again, I did finally take some time today to block the shawlette that I finished knitting two weeks ago. It's the second prototype for my new design. I'm mostly happy with it, but in the final pattern I will make the ends of the spines deeper and more pointy over a few more rows, taking them down towards/into the border pattern.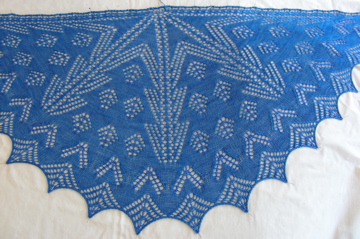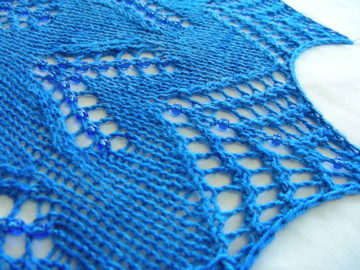 The charts are all done; I 'just' have to finish the general instructions and do the written lace instructions for those who don't like charts.
Oh, and come up with a name for her!!
3 Responses to Beautiful blues