A round of updates
I've been busy with updating and rearranging things, here and there.
I've updated the Brangian pattern. There were no errors in the previous version, but the new version has a better (I hope!) layout, and also includes information about varying the pattern, including instructions for the All-Lace version. Here's my All-Lace one underway: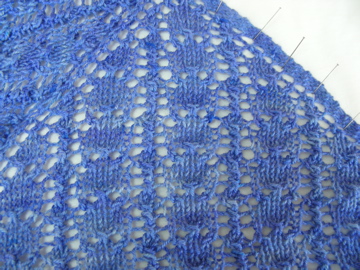 The updated pattern has been uploaded to Ravelry and to the Yarnosophy shop, and I've let Ravelry buyers know to download the new version. I'll be emailing those who have bought the pattern through Yarnosophy shortly.
I've also been doing some updating and reorganising in the Yarnosophy shop. I've set up a number of categories for the stitch markers, so it will be easier for people to find the size and style (rings or loops) that they prefer. I've also changed the default currency setting to Australian dollars; I originally had it set as US dollars, as I advertise on Ravelry and I know that some US people find non-US currencies discouraging, but as most of my buying customers are from Australia, (the postage costs tend to be off-putting for overseas buyers) it makes more sense to use $AUD. So that's all now changed over!
I'm also doing an inventory check, and improving my own behind-the-scenes system. It's not been pretty good and I'm happy with the way they're packaged, but I'm going through and adding a label to each set of markers with all the pertinent info including the name they're listed under, needle size, and price code, and cross-checking that with what's listed – early on, I underestimated the needle sizes that the tigertail loop ones would fit, so I'm updating all of those. This will make it easier for people who buy offline to look through the box and have the info to hand, and also for me to quickly find the right markers when people buy them through the shop. It all takes time, of course! However, now that I've refined the packaging/system/shop catalogue, it will be easier for everyone, including me!
I've found a good source of closed rings, so I've been making some markers with rings rather than loops – but I still use the tigertail to attach the beads. As there's no wrapped wire, they're also snag free. The rings only come in two sizes, so I'm making small markers which fit up to size 3.75mm needles, and medium ones which fit up to 5.5mm needles.
The small ones I've made with 6mm pearls are perfect for lace or baby knitting – and I think they're very sweet!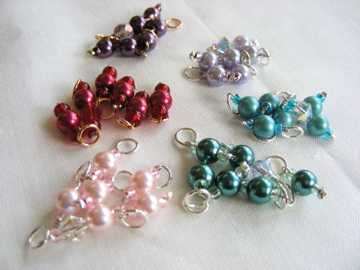 They're now in the shop, and I'll have some more medium ring stitch markers in there in the next few days – I've got a few made already, but they have to be photographed and entered, which all takes time.
When I'm not updating patterns, making stitch markers, or playing shop keeper and tidying up the stock, I'm knitting while I stare at the screen and trying to write. I've started another sample for the new pattern, Aurora's Light. I've still got a few more hours of work on it before the pattern is ready for testing, but hopefully I'll squeeze that in in the next week or so. Here's what I've knitted so far – the yarn is some of Knitabulous' fifty-fifty merino/silk fingering. The yarn colour, Tequila Sunrise, is perfect for Aurora's Light!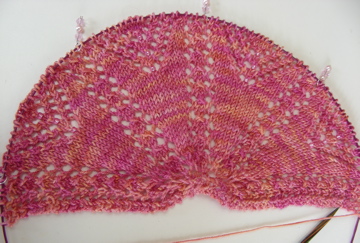 But right now, I'm going to get back to writing the next book!
2 Responses to A round of updates