Decisions
I've been making decisions lately.
I'd originally planned to call my new shawl design Aurora's Light, but I kept looking at it: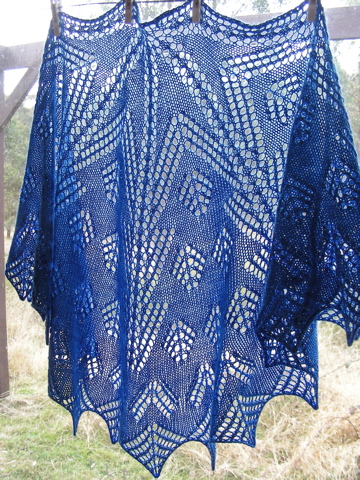 … and the Christmas Trees under the Christmas Star pattern just kept leaping out at me, and I finally decided that it couldn't really be called anything else but Christmas Lights.
The pattern is currently being tested by a small band of enthusiastic testers over on Ravelry. There's still scope for a couple more testers, so if you'd like to join in, see the discussion thread on the Brangian KAL group – the important info about the pattern is in the first post.
In an earlier post, I mentioned starting another sample of the shawl in lovely silk/merino from Knitabulous in a colourway called Tequila Sunrise – gorgeous pink and peach colours. However, having changed the name, I'm decided to put that one aside for a while, and I've started another one, this time for the medium size in a great Christmas green yarn from Saffron Dyeworks: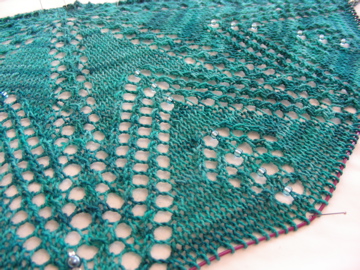 I'm planning to use the Tequila Sunrise yarn for a different pattern, perhaps a new one that may even start with the star, but go quite differently from there…. I'm still thinking about that. And there's plenty of time, because I have to knit the green Christmas Lights first!
The other decision-making currently occupying my mind relates to the cleaning out and tidying I'm doing in our sunroom. When we designed the house, the plan was that one end of the sunroom would be my craft/office space. However, in between the start of building on the house, and moving in, I acquired a large, 12-shaft countermarche loom – which does fit at the end of the room, but takes up rather a lot of it! I also resigned from my full-time job the week that we moved, back in 2001, and although I've had other jobs out at the uni since then, I no longer have an office out there to store all my work-related things. Now I'm working from home, on another career, and it brings its own stack of paperwork, resources, and books. I've got bookshelves overflowing in the guest room, and a tiny desk tucked into a corner there, and a stack of paperwork, books, and fibre/yarn things in the sunroom, which is also home to assorted other bits of furniture and aspects of our life – amongst other things, the washing is frequently hanging up to dry there! And for the past year or so, I've been basically working at the dining table, moving my laptop when we have guests.
I've advertised the large loom for sale a number of times over the past few years, with no luck. I've also got a smaller 4-shaft counterbalance loom, and I'd planned to keep it until I could replace both with a smaller 8-shaft loom. Then the thought finally occurred to me the other day – why not keep the large loom, which will weave just about anything I'll ever want to weave, and sell the smaller loom? If I also find new homes for the rocking chair, the treadmill, & assorted boxes, I could put a desk/table in their place, and shelves/cupboards on the other side of the big loom, rather than trying to work at a desk crammed in there.
Maybe it's because Spring is in the air, or maybe its just the right time to do it, but I've begun the task of decluttering so that I can rearrange things, and although it doesn't look like it just yet, I have made significant progress! The major 'if' of the decision about the looms, though, is that I have to make sure that I can work comfortably at the large loom. In all the years I've had it, I've only woven about 4 warps on it; when I was trying to sell it I wasn't weaving on it, but I'm itching to weave again and I'll wind a warp soon and test out that it will be okay as my only loom. But first I'm going to make apron cloths for the front beams and double back beams, as it doesn't have any and I've always thought it need them. I bought calico for that today… and excavated the sewing machine!
Although there is one decent-sized cupboard in the room, it's not quite large enough for all my stash and paraphenalia, so I've been looking at storage cupboards this week, and think I've found a suitable one to put down one end of the room. I just have to decide what else will go into the not-much space between the loom and the wall, and how I'll configure that. Oh, and how I'll afford it, as well!
And on top of all those decisions, there are a hundred small ones, as I sort through paperwork and other things. I've emptied a filing cabinet, although there's a pile of files that need to be kept; tax paperwork, and family ephemera such as pictures drawn by my niece and nephew when they were little. I've emptied a cane chest, and put an assortment of things into a box to go to the Salvation Army… but there's a jumper I started making for my nephew, when he was 3-ish – it's almost finished, but he's now 16! And a lovely fair-isle cardigan, started 11 yeas ago – for my now 19 year old niece. I'm not sure if I'll finish them, or pass them on to a knitter with small kids to finish. I did put the almost-finished lacy baby jacket and pattern into the Salvos box – hopefully it will find its way to a knitter who likes baby things. I've managed to be firm with decisions about some spinning fibre; bits and pieces of fleece and natural roving are going into my compost bin or will become mulch in the garden. I've still got a box and a bag or three of lovely fibres, but the older, not-special fibres are going out.
There's still a way to go until it's all sorted, but I'm feeling good about progress, and looking forward to eventually having my own space again.
One Response to Decisions