Almost there
I'm getting much closer to releasing the Christmas Lights Shawl pattern. The fantastic group of test-knitters are making great progress, and have provided some valuable feedback on the pattern. I found a tech-editor n Ravelry who is seeking to build up her experience, and she's done a great job, going through the pattern in detail, and making some thoughtful and sensible suggestions for improving it – and picking up a missed 'yo' in the instructions!
On Sunday, after a long day with much knitting, I finished the medium size version of the shawl, and managed to get it all pinned out on the blocking mats before taking the dog to the vet yesterday morning. It was a gorgeous, sunny day, and our sunroom where the shawl was pinned out was toasty cosy – great for drying a shawl! So late afternoon I was able to unpin it, and take a few photos – not that any of them are great! I really need a beautiful garden, and/or some attractive garden furniture, to photograph shawls – our straggly wild bushland just doesn't have anywhere to drape things photogenically. But here it is, hanging on a wall: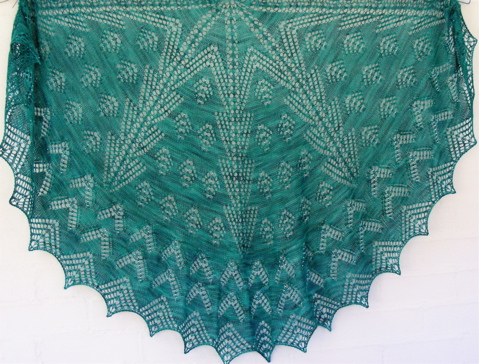 Tomorrow my photographer friend and her model friend and I will head out to the pine forest to take the 'official' shawl photos for the pattern. Then I just have to rearrange the layout of the pattern to fit the photos in, do a final check… and then it can be released into the wilds of Ravelry!
Oh, and you might want some project details!
Pattern: Christmas Lights (of course!)
Yarn: Saffron Dyeworks Enya Sock yarn in Lt Lockwood; 2 skeins
Beads: 4.5mm silver-lined aquamarine seed beads from Empire Beads
Ravelry Project Page
Now that I've finished knitting Christmas Lights (at least for now), I've picked up my all-lace Brangian again. It's nice easy knitting, in a pretty clematis blue-purple silk/merino. I'm also itching to cast on some more socks 🙂