Holey Toes, Batman!
Q. What do the hand-knitted socks in this pile have in common?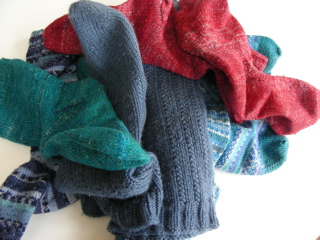 A. One or both of each pair suffers from this: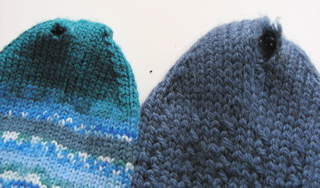 I have been knitting socks for some years, and have been using s standard wedge toe shape, which feels nice and comfy and is easy to do. But I have a prominent big toe, and lovely healthy strong toe nails. Hence many of my socks ending up with a hole in the toe 🙁 They then sit there in the darning pile, waiting for me to organise myself to find yarn, and needle, and time and patience to fix them. I'm perfectly capable of darning them… but it would be so much better f I didn't have to, right?
Now that my Christmas Lights Shawls are finished, I've picked up again a sock that I started knitting back in May. I need to do some serious writing in the next two months, and socks are great writing knitting – they're easy, and the rows are short, so it's a simple matter to drop the sock and type whenever the words come to me. Plus, with all those socks stuck in the darning pile, I need more socks!
As I approached the toe on this sock, I became determined to knit it differently, hoping to avoid the holey toes problem. This morning I flicked through my sock books, but no alternate toe shapes leapt out at me. So off I went (naturally) to Ravelry, and took a look at the Sock Knitters Group – and there was a current discussion about different approaches to toes, and a link to the blog Under Dutch Skies, and a great post about Anatomically correct toes. It was a simple solution to my problem – print some custom graph paper to match your knitting gauge, trace around the top part of your foot, and work out the decreases from that template. Easy!
And here's the result for my sock – a toe shaped for my feet: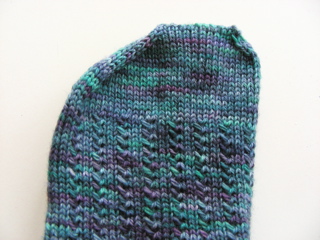 Now I just have to cast on and knit the second sock, with a mirror of that toe, and then I can see how well they wear!
ETA: The yarn is gorgeous, although a little more muted than the photo – it's Amara sock yarn from Saffron Dyeworks. The rib pattern is from the Charade Socks (Rav link) by Sandra Park.
4 Responses to Holey Toes, Batman!