Photoshoot
The lovely Tara, her friend Bella and I went out to the pine forest just north of town this afternoon, with the two Christmas Lights shawls I've knitted. It was a very simple photoshoot – no crowds of makeup artists, photography assistants, or stylists – just the three of us, and the lovely quiet of the pine forest in the spring, with the birds singing in the trees and the grass green from recent rains.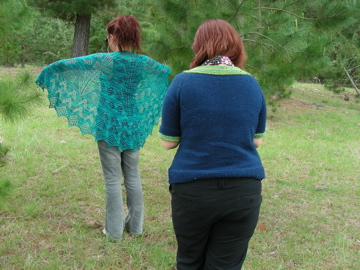 Isn't Tara's jumper great? One of her own knits, featuring her own handspun.
Once Tara's had a chance to go through her photos, I'll select which ones to use for the pattern and the associated Ravelry listing. So, we're getting much, much, closer!
I'd really like to thank Tara and Bella for taking some time out today to help with this at short notice. There are many wonderful people in the world, and they are two of them!