Monkeying around
I managed to drag myself away from playing with sourdough starters and baking bread long enough to finish my latest Monkey socks today. The yarn shade is called Pier, so I call the socks Monkeys on the Pier.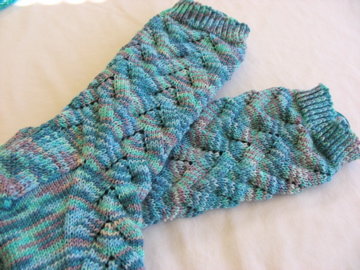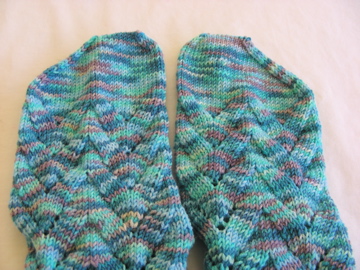 Pattern: I've used the No-Purl version of Cookie A's Monkey Socks pattern = although as usual I've just done my standard heel, and my new standard shaped toes.
Yarn: Morris Empire 4ply, bought from The Granny Square in Newtown, Sydney (as a little present to myself before I went into the hospital – which is just around the corner from the shop).
So, that's one pair of socks off the needles. I've still got two others on the go – one, a plain pair in brown Trekking yarn, is about 40% done and will be the next to be finished. Probably. Then I might get back to the experimental Brangian socks, although whether they'll be finished or frogged I'm not sure.
I'm going to be working full-time at the local uni for first semester, starting in February, so my knitting time will decrease, and therefore I'm going to be strategic about what I choose to knit. It's a interesting challenge, knitting from stash but at the same time making sure I fill up gaps in my wardrobe. I have quite a few hand-knitted socks, but, for example, I only have one pair of red socks, and they're dark red and lacy. Fortunately, I have some Bendigo Luxury 4ply in my stash, in the beautiful Ruby shade. I have a great pair of plain, basic greenish socks – but a lacy teal pair would be good, too… and I do have more Empire 4ply in a deep teal 🙂 So, I can certainly keeping my fingers productively and strategically employed for a while!
Oh, and about that sourdough… this fruit loaf didn't rise as much as I'd hoped, but it is still scrumptious (especially toasted with butter and marmalade):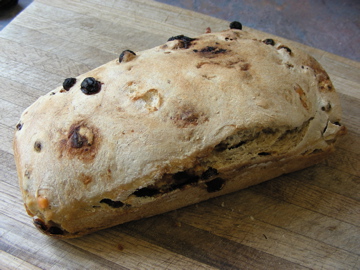 Now, I'd better go and make a sourdough chocolate cake, as we have visitors coming this afternoon!
4 Responses to Monkeying around