Monkeys in the pool
Before I went into hospital, I called into the new yarn shop The Granny Square, a very convenient couple of blocks from the hospital. I decided I deserved a little bit of spoiling, so I bought two balls of Morris Empire yarn for socks – picking a variegated yarn, just for a change.
I didn't get to cast on the socks until after the surgery. I decided to knit the No-Purl version of Cookie A's Monkey Socks from Knitty.com, which I have knitted before. Last time, I started them on 3mm needles, as Cookie's legs are clearly much skinnier than mine. However, I didn't have 3mm needles with me in Sydney, so I started with 2.75mm, hoping they'd be okay. I got almost as far as the ankle, and tried them on… nope, I definitely need the bigger needle size. So, yesterday I cast on with the second ball of yarn using 3mm needles.
It's been interesting watching how the variegation in the yarn knits up and pools with the different gauges. Here's the two socks: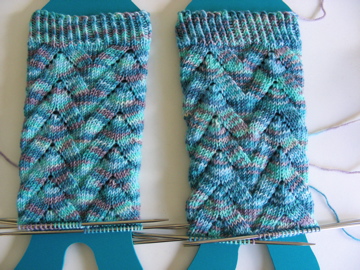 The tighter gauge (2.75mm needles) is on the left, the slightly looser on the right.The pale green shows up more in the first, the blues more in the second. The two balls are from the same dyelot, so it's probably just the knitting tension creating the differences.
However, I'm quite happy with way the yarn is in the looser tension, so I'll frog the first one and reknit it after I finish the other sock. I'm up to knitting the heel on it, and I'll drop down a needle size for the foot. My feet are reasonably slim – it's my calves that are no longer as graceful as they used to be!