The view from here….
We're already two days into the new year, and while I'm recovering well from the surgery, I'm taking it easy and enjoying reading others' blogs about their 2010 achievements, and their plans for 2011.
2010 will probably go down for me as the Year of Knitting Shawls. I did complete the 10 Shawls in 2010 Challenge on Ravelry, with my 10th shawl – an All-Lace Brangian – blocked a few days before I had to go to Sydney last month: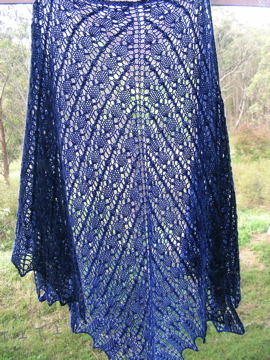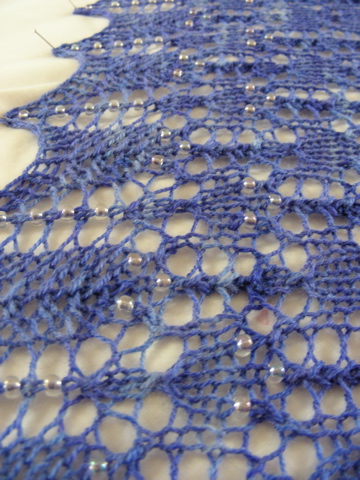 The yarn is another lovely 50/50 silk/wool from Wooltopia, and I knitted the shawl on 4.5mm needles.
Five days connected to a drip in hospital in Sydney before my surgery gave me the opportunity to finish knitting a couple of Christmas gifts, although I'm sorry I don't have great photos of them. However, my nephew's Binary Cable Hat and my niece's Fingerless Lace Mittens were finished well in time for the family's Christmas Day celebration. I wasn't able to go to Canberra to be with them for Christmas, but I was discharged from hospital on Christmas Eve, so Gordon and I were able to enjoy a quiet day together.
My Sydney and hospital knitting has been socks – a plain pair in Zitron Trekking XXL which I love for out-in-the-bush socks: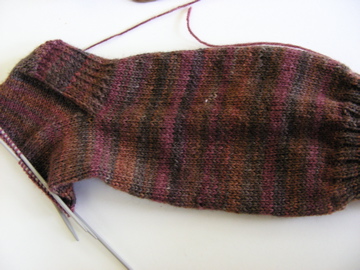 Because the brown is a little dark for knitting at night, I've also started a pair of No-Purl Monkey Socks in Morris Empire 4ply: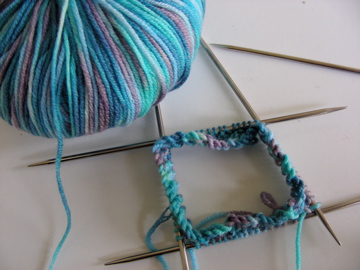 I'm not making resolutions for 2011, but there are certainly some ideas/desires/wishes that I'm contemplating and hoping to put into action in the next 12 months or so:
keeping the stash under control – I'm not going to stick to a firm work-from-stash commitment, as my stash isn't HUGE, but I'd like to be thoughtful in my yarn purchases, and use up some of the yarn that's been idle for some time;
get back into weaving – now that I've sold my smaller floor loom, and made the decision to keep the large 12-shaft loom, I'm hoping to use some of my weaving yarn stash to make cloth for garments and for household items, and at the same time stretch my weaving skills a little by experimenting with yarns, more shafts and weave structures
yarnosophising – I'd like to take time to think and write more about craft and its important role, which will include reading some texts (such as finishing Soetsu Yanagi's The Unknown Craftsman) and participating in the Slow Cloth movement, as well as exploring some ideas about feminism, feminine strengths, and craft work.
clothing – I'd like to make some more of my own clothing, both from knitted and woven cloth
designing – with two successful shawl designs completed in 2010, I'd like to further stretch my design experience in 2011, although I'm not sure yet what shape that will take
I think there's enough there to keep me busy for twelve months!