Finally a FO
I've been working full-time, teaching at the university this semester, and so there has not been much time for knitting. This morning, I finally finished a pair of socks that I started in early February: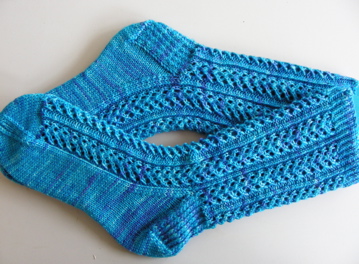 The pattern is the popular Hedera (Rav link) by Cookie A, and this is the second time I've knitted it. As my ankle is thicker than Cookie's, I've again used 3mm needles for the leg, and 2.75mm needle for the foot.
The yarn is Bendigo Luxury 4ply which I dyed myself, some months back; I'm very happy with the saturation of the aqua and the touches of deeper purple. In fact, I love the socks!
Now to cast on for my next project – as knitting time is so limited, I think I'll use some deep blue yarn from Saffron Dyeworks for a pair of plain socks, as I have no dark blue socks in my sock drawer: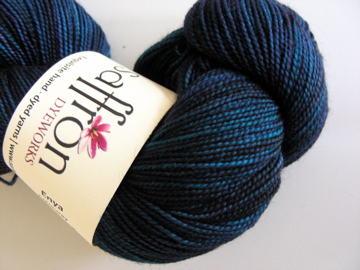 2 Responses to Finally a FO