Rustic Helmi
There's a jumper languishing in my cupboard, with the knitting all finished except for the neckband, and only the shoulder seams sewn up. I really, really don't enjoy picking up stitches for bands, and sewing up seams…
… so I've been looking at top-down seamless patterns. As well as the no-seams, they also have the advantage that they can be tried on as one knits, and fitting adjustments made, rather than discovering when all the knitting and sewing is done that the garment doesn't fit.
There's a lot of top-down patterns out there, but I've been particularly looking for ones with a round, lacey yoke, and they're nowhere near as numerous as raglan patterns. I've found a few, and then had to choose one, based on the cardigan-quantities of yarn in the stash, and what I need most urgently. I narrowed it down to four patterns, but with four patterns and four yarns to choose from, I spent a few days deciding. And swatching.
I finally decided on Helmi
(Rav link), and some russet-coloured 12 ply Rustic yarn from Bendigo Woollen Mills. I am – as usual! – using the pattern as a guide only, and adapting it; a smaller neckline, to start with, and four rows of moss stitch as an edging. I've never been keen on reverse stocking stitch, so I've set the lace against a plain stocking stitch background instead. The sleeves will be full-length, rather than short.
The try-on as you knit thing? Definitely an advantage: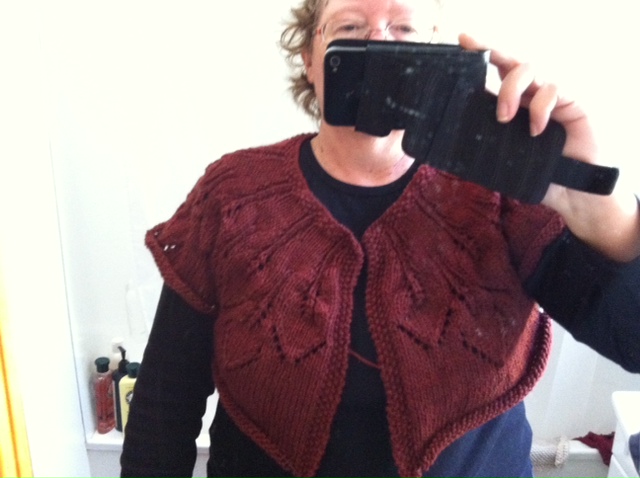 A long car trip today has added a few more inches to the body – still a fair way to go to the finish, but I'm making progress!
(Oh, and yes, there's a glimpse of the post-brain-surgery haircut – the shortest my hair has been since I was 9!)
One Response to Rustic Helmi