Midnight Socks
I've had butt in chair, manuscript open on the laptop, and basic knitting keeping my brain focused and my fingers from clicking all over the internets a lot lately. Here's part of the result – my Midnight Socks: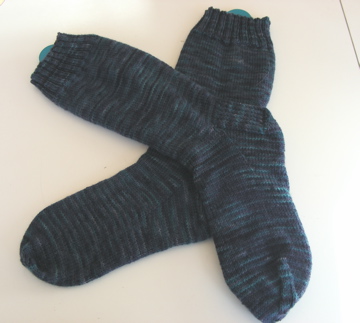 The yarn is my hand-dyed Bendigo Woollen Mills Luxury 4ply, and I love the way the yarn knitted up in the very plain pattern.
The novel's coming along – not quite as fast as I'd like, as the deadline is rapidly approaching, but edging forward every day. So now I'm going to get off the interwebs and go and write some more. Although I might have to cast on another pair of socks to meditate my brain into creative mode!
One Response to Midnight Socks