Ruby Luxury Swap
I don't do a lot of swaps, but last year I signed up for the Indigo Luxury Swap on the Australian Swappers Board on Ravelry, and that was so much fun that this year I signed up for the Ruby Luxury Swap.
After six weeks or so of planning, 'stalking' my swap partner, ordering yarn and making some things, on Wednesday I packaged up the parcel and sent it north. No sneak peeks, I'm afraid, as I didn't get time to photograph things before I wrapped them. Although I did order two skeins of the luscious yarn, one for her and one for me, so I may get a photo of my skein at some stage. I don't think my swap partner will receive her parcel today, since it's going from one regional area to another, and is likely to take some days, despite being 'express'.
Yesterday, I worked at home, and DH phoned me around 6pm to tell me he'd picked up two parcels for me from the Post Office – one some Bendigo yarn I'd ordered, and the other 'might be your swap thingy' he said. So, then I had to wait, bursting with curiosity until he came home about 7.30pm.
When he finally got home, and I opened my parcel, what a wonderful lot of ruby loveliness my swap partner, Heather, sent: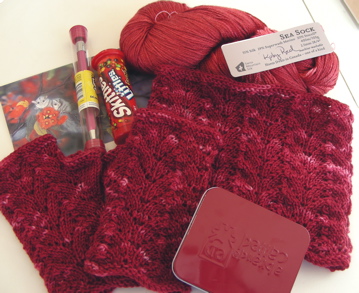 Let's have a close-up of that yarn: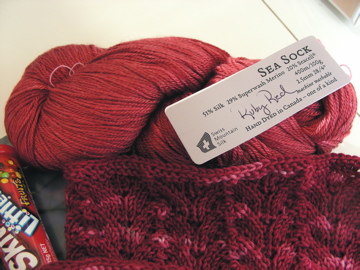 Yes, that's a skein of Handmaiden Sea Sock – 51% silk, 29% merino, and 20% Seacell. Soft, scrumptious, with a lovely sheen to it – it's gorgeous!
In addition to the lovely yarn, Heather knitted a pair of lacy fingerless mitts, and a matching cowl, from Lush Yarn hand-dyed merino. They're pretty and cosy – and perfect for walking dogs on our chilly mornings! (A frosty -6 this morning!)
In a nice little coincidence, or bit of serendipity, the lace pattern that Heather used for the mitts is very similar to the one I used for my niece's lacy fingerless mitts – of which, for various reasons, I have knitted her 2.5 pairs. (No, she didn't lose them. The first pair I stuffed up and one was shorter than the other. I promised her another pair, knitted one on bamboo needles, and discovered my tension was different when I switched to metal dpns. I finally made her the replacement pair for Christmas last year.) Anyway, through that knitting saga, I've always wanted a pair myself, but that hasn't hit the top of the priority list yet – and now I have a pair!
And the extra lovely thing – doesn't wearing something that someone has gift-knitted for you feel just wonderful? Extra-cosy, extra-special. I have a few things that others have made for me – some angora/merino super-toasty fingerless mitts my Mum made me many years ago; a pair of socks made by my wonderful knitting-author friend Rachael Herron, and now this luscious, lacy ruby-red cosy cowl and mitt set. I'm a lucky, lucky woman! Thank you, Heather!
2 Responses to Ruby Luxury Swap