And only socks…
I haven't posted for a while. In between writing and working, there hasn't been much time for knitting! I did finish the novel and sent it in to my publisher; now I'm working madly on revisions – in between uni lecturing and marking.
But I have finished (another) pair of socks. These were cast off last week (or maybe the week before – my brain is in a haze):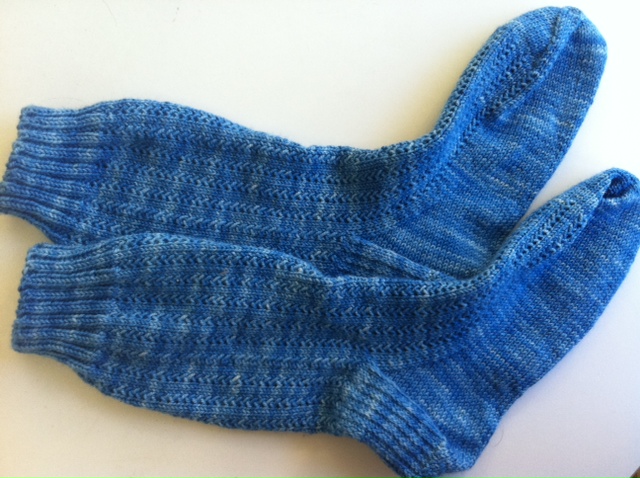 The pattern is my adaptation of Sandra Park's Charade pattern (Rav link). Okay, so it's mostly just the stitch pattern from Charade, with calf-shaping and my standard heel and shaped toes. My Ravelry project page has the details (which I'm too tired to type out here.)
I'm running low on sock yarn – I like lightly variegated or semi-solid ones the most – so for the first time, I used a 50/50 wool/silk mix for socks from my shawl stash. I've not made wool/silk socks before, and I'm a bit nervous about how they'll wear, so I haven't worn these ones yet. Oh, well, they look pretty in my sock drawer! I will put them on at some stage, but I think I'll admire them a little longer before I take that risk.
Not a lot of knitting on the horizon at present due to work pressures – maybe a few rows of some plain socks here and there. Revisions on the book have to be in by November 1, so I'll be glued to the computer until then.
One Response to And only socks…