Majbritt Doily
As I mentioned in my last post, I plan to knit some doilies to go with my new teacup sets. I know some people think doilies are dreadfully old-fashioned and useless, but I'm not one of those people! I love the simple beauty of lace knitting, and to me doilies are both functional and decorative, protecting a table surface as well as being lovely in themselves.
I've finished the one I started a couple of weeks back. At 43cm diameter, it's more of a table centre than a doily, but I'm very happy with it: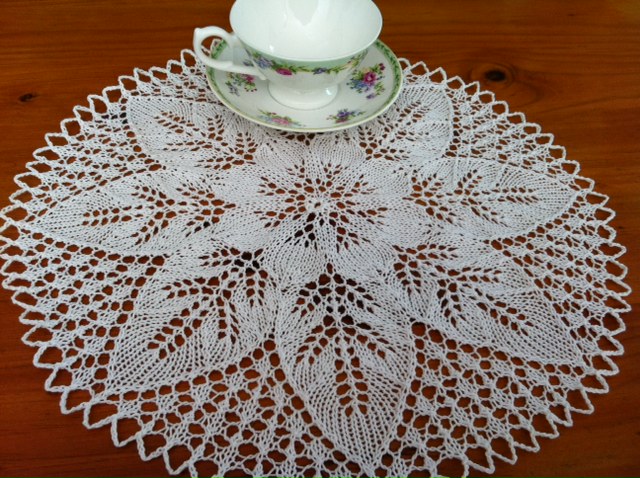 The pattern is Majbritt I (Ravelry link) from the book Handknitted Lace, (Book Depository link) by Sonja Esbensen and Anna Rasmussen, which I bought a couple of months ago and have been itching to knit something from since!
The designs are charted, which I love (hate reading rows upon rows of written directions, especially for lace!)
I had a bit of a panic, though, the other day. After a week of mad work finishing the edits on the latest book, I picked up the doily again for some relaxing knitting. I knitted round 41 and 42 fine (even round are plain rows). I started round 43 – and it Would Not Work. I didn't have enough stitches, and the pattern didn't 'fit'. Something had to be wrong. I spent some time googling for errata, and checking Ravelry to see if anyone else had the same problem. Nothing. Sigh. There has to be a fault with the pattern, right? Sigh again. I'm an experienced knitter. I can look at the picture and work out what it's supposed to be. Looking at my knitting, the error had to be in the previous round's instructions. So I tinked back round 43, and round 42… oh, and the other round 42 – oops, how did THAT happen?… and for good measure, round 41 as well.
(Should I mention here that the mad rush to finish the edits had included an all-nighter? And that I am not as young as I used to be?)
Needless to say, there was no error in the pattern. It was perfectly correct. And it is a lovely pattern!
3 Responses to Majbritt Doily