While I planned to post something today – a catch-up post – I didn't actually plan to give the blog a whole new look. But you know how it goes… the theme I was using needed updating, and so I did the auto-update, and as a result it went all wrong. I could have stuffed around and fixed it (the problem was the widgets, I think), but I'd been planning to do a new theme, and I now have a great little program called Artisteer, so I played around on that and voila! – we have a new design!
So, what have I been up to since last I posted? Not a lot in the way of knitting and crafting, as I've been flat out teaching, marking, finishing a book and revising it. I have a number of wips languishing or receiving only occasional attention – two top-down cardigans, a lace shawl, some mittens for Gordon. But I did finish some red socks for my sister for Christmas: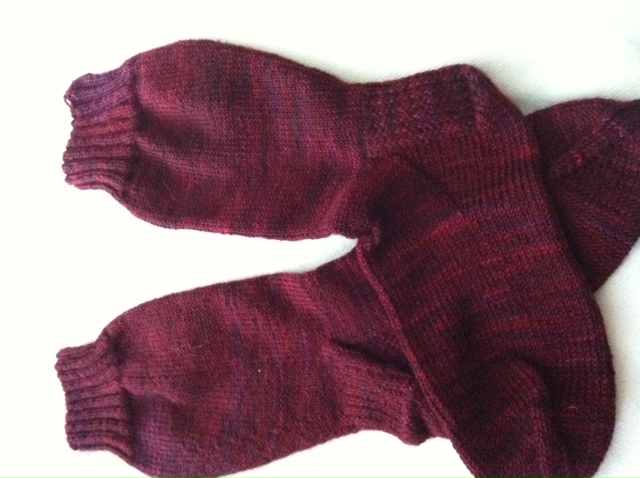 There was also a little Christmas sewing – a roll-up shopping bag for a batty friend who likes bats – the print isn't really bats, but it looks a little like them so we call it bat camouflage: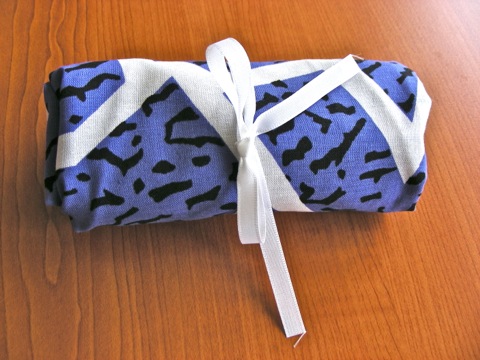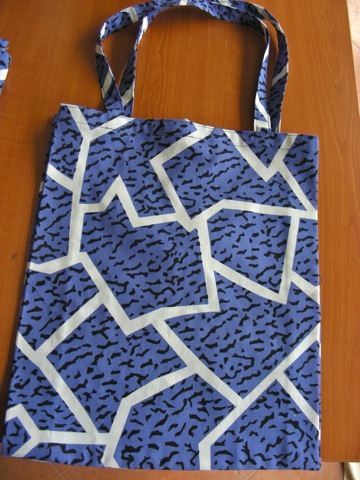 I was in a secret santa swap with the local Ravelry crew, and I made an apron for my cheesecake-baker extraordinaire friend, Amanda: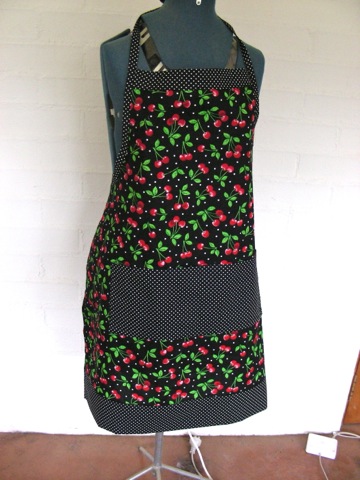 They're not made from yarn or fabric, but I've also made quite a lot of these in the past few weeks: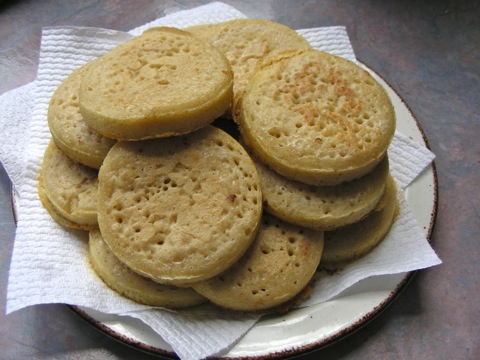 Sourdough crumpets – delicious toasted and spread with a little butter and honey! I stocked up my parents' freezer while I was in Canberra for Christmas, and restocked ours yesterday.
Knitting-wise, I'm currently working on a lace doily: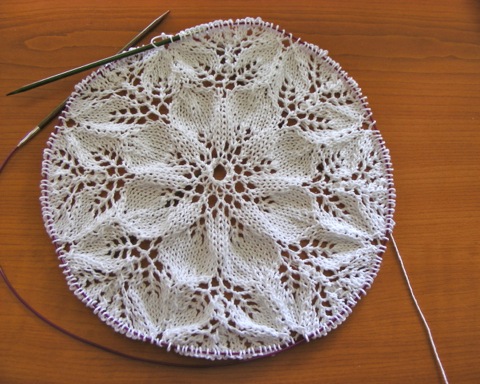 …because I need some lace doilies for the lovely china teacup sets my sister gave me for Christmas: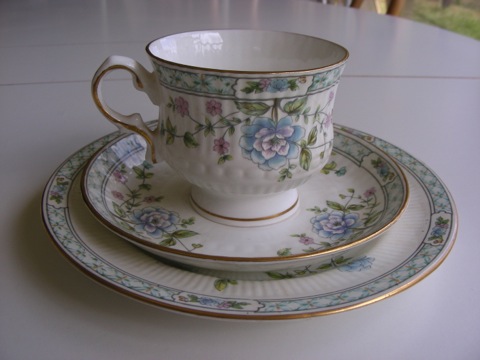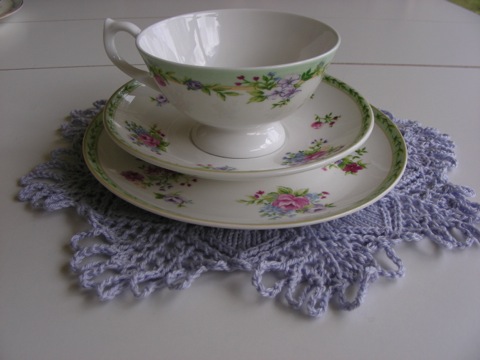 And the last thing I should mention is that we have a new puppy – 9 month old Skye, who joined our household two months ago, after we had to euthanise our beautiful, beloved Princess Dog. Skye loves toys…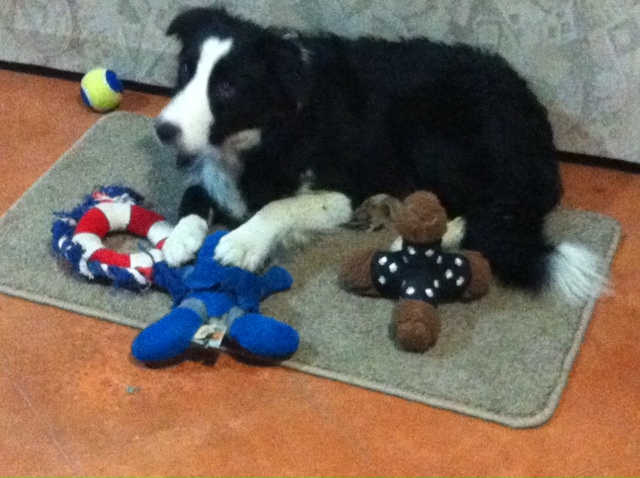 … and is a fibre enthusiast…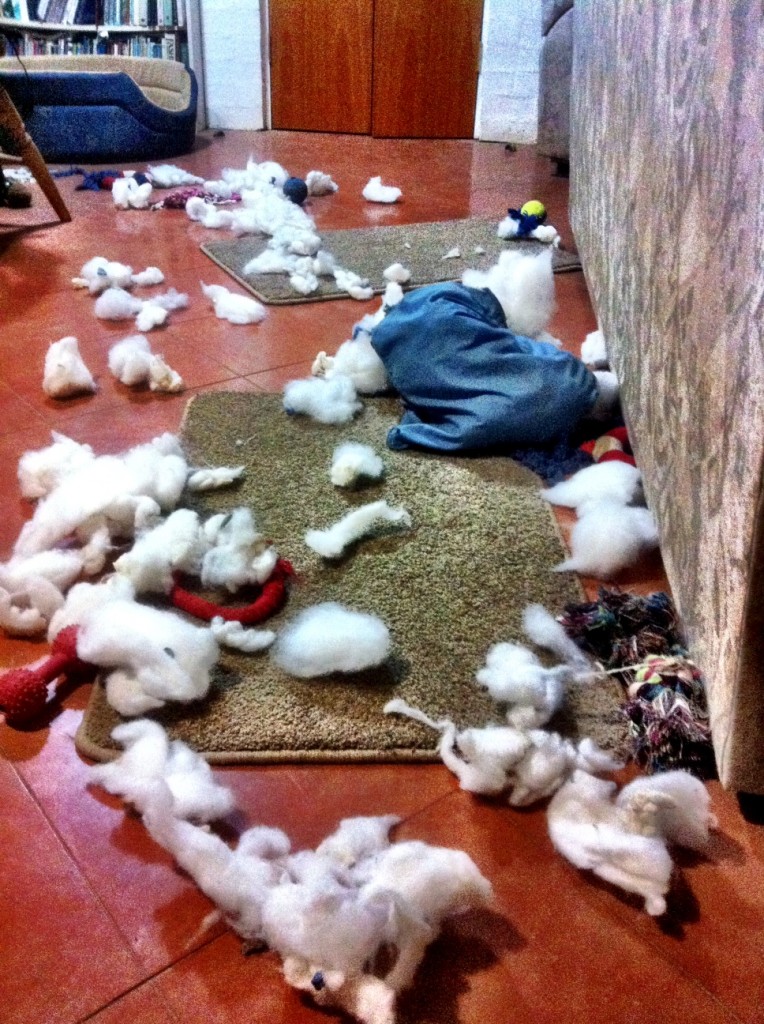 She especially loves the fluffy stuff inside her cushion, and often pulls it all out – it's one of her favourite games!
So, that's my catch-up post for this last day of 2011. I hope you like the new blog design – I do! I'm hoping that 2012 is a great year for all my friends – may there be much making of beautiful, practical things, for all of us, and companionship in the making and sharing 🙂
I haven't posted for a while. In between writing and working, there hasn't been much time for knitting! I did finish the novel and sent it in to my publisher; now I'm working madly on revisions – in between uni lecturing and marking.
But I have finished (another) pair of socks. These were cast off last week (or maybe the week before – my brain is in a haze):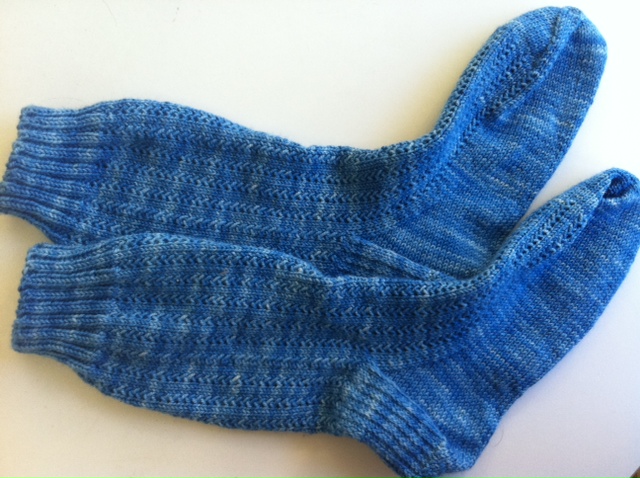 The pattern is my adaptation of Sandra Park's Charade pattern (Rav link). Okay, so it's mostly just the stitch pattern from Charade, with calf-shaping and my standard heel and shaped toes. My Ravelry project page has the details (which I'm too tired to type out here.)
I'm running low on sock yarn – I like lightly variegated or semi-solid ones the most – so for the first time, I used a 50/50 wool/silk mix for socks from my shawl stash. I've not made wool/silk socks before, and I'm a bit nervous about how they'll wear, so I haven't worn these ones yet. Oh, well, they look pretty in my sock drawer! I will put them on at some stage, but I think I'll admire them a little longer before I take that risk.
Not a lot of knitting on the horizon at present due to work pressures – maybe a few rows of some plain socks here and there. Revisions on the book have to be in by November 1, so I'll be glued to the computer until then.
I've had butt in chair, manuscript open on the laptop, and basic knitting keeping my brain focused and my fingers from clicking all over the internets a lot lately. Here's part of the result – my Midnight Socks: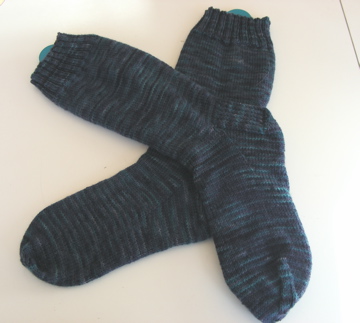 The yarn is my hand-dyed Bendigo Woollen Mills Luxury 4ply, and I love the way the yarn knitted up in the very plain pattern.
The novel's coming along – not quite as fast as I'd like, as the deadline is rapidly approaching, but edging forward every day. So now I'm going to get off the interwebs and go and write some more. Although I might have to cast on another pair of socks to meditate my brain into creative mode!
I don't do a lot of swaps, but last year I signed up for the Indigo Luxury Swap on the Australian Swappers Board on Ravelry, and that was so much fun that this year I signed up for the Ruby Luxury Swap.
After six weeks or so of planning, 'stalking' my swap partner, ordering yarn and making some things, on Wednesday I packaged up the parcel and sent it north. No sneak peeks, I'm afraid, as I didn't get time to photograph things before I wrapped them. Although I did order two skeins of the luscious yarn, one for her and one for me, so I may get a photo of my skein at some stage. I don't think my swap partner will receive her parcel today, since it's going from one regional area to another, and is likely to take some days, despite being 'express'.
Yesterday, I worked at home, and DH phoned me around 6pm to tell me he'd picked up two parcels for me from the Post Office – one some Bendigo yarn I'd ordered, and the other 'might be your swap thingy' he said. So, then I had to wait, bursting with curiosity until he came home about 7.30pm.
When he finally got home, and I opened my parcel, what a wonderful lot of ruby loveliness my swap partner, Heather, sent: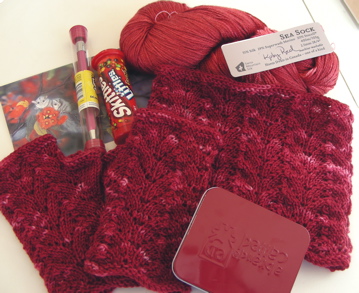 Let's have a close-up of that yarn: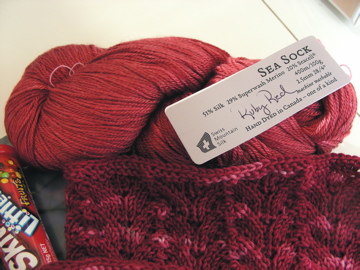 Yes, that's a skein of Handmaiden Sea Sock – 51% silk, 29% merino, and 20% Seacell. Soft, scrumptious, with a lovely sheen to it – it's gorgeous!
In addition to the lovely yarn, Heather knitted a pair of lacy fingerless mitts, and a matching cowl, from Lush Yarn hand-dyed merino. They're pretty and cosy – and perfect for walking dogs on our chilly mornings! (A frosty -6 this morning!)
In a nice little coincidence, or bit of serendipity, the lace pattern that Heather used for the mitts is very similar to the one I used for my niece's lacy fingerless mitts – of which, for various reasons, I have knitted her 2.5 pairs. (No, she didn't lose them. The first pair I stuffed up and one was shorter than the other. I promised her another pair, knitted one on bamboo needles, and discovered my tension was different when I switched to metal dpns. I finally made her the replacement pair for Christmas last year.) Anyway, through that knitting saga, I've always wanted a pair myself, but that hasn't hit the top of the priority list yet – and now I have a pair!
And the extra lovely thing – doesn't wearing something that someone has gift-knitted for you feel just wonderful? Extra-cosy, extra-special. I have a few things that others have made for me – some angora/merino super-toasty fingerless mitts my Mum made me many years ago; a pair of socks made by my wonderful knitting-author friend Rachael Herron, and now this luscious, lacy ruby-red cosy cowl and mitt set. I'm a lucky, lucky woman! Thank you, Heather!
Things have been quiet on the blog because they haven't been quiet in my life! Uni work was quite mad there for a while, with almost 200 essays to mark, and teaching to do, and preparing for this semester's teaching as well. (Yes, I agreed to teach another semester. Darned mortgage has to be paid, and since I haven't had a book out for almost 2 years, there is nothing in the way of royalties coming in.)
Now the uni work is (mostly) under control and manageable, I'm racing to finish writing my current book before the deadline. So, things will continue to be quiet here!
I only just downloaded the photos I took some weeks ago of a couple of the dyed skeins, rewound and looking good: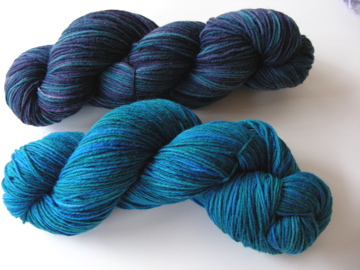 The blue-green one I gave to a friend for her birthday. The purple-teal one (which I love!) is becoming socks for me: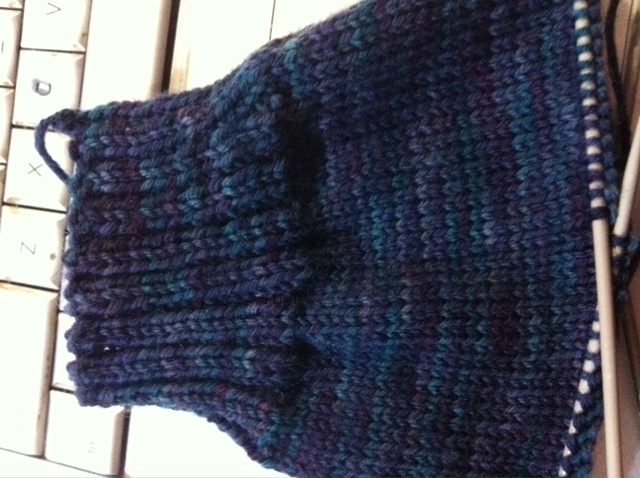 They're just plain socks, easy to knit to keep my hands busy while I'm staring at the screen, thinking of what to write next in the novel. The photo is a little dark, but the colours are coming up beautifully. I'm in love with these socks already.
And in other textile-related news, the long saga of getting the sunroom organised into a proper, workable space for me is one step closer; Gordon decided that he didn't need the hutches on his desks in his study, so I bought two credenzas – low cupboards – to put the hutches on at the end of the sunroom. They were delivered yesterday, and hopefully this weekend G and I will move the hutches into the sunroom and onto the cupboards – thus creating some more wonderful storage space for textile-related stash and books!
I've been itching to dye for a while, as I'm low on hand-dyed sock yarn, but it's been raining, and I've got a book to finish writing so on the few sunny days I've been home, I've told myself I can't afford the time. But for weeks – months, really – I've had a few skeins of yarn all wound and ready to dye, and I've felt so deprived that I wasn't doing it.
Today, the sun shone, it wasn't windy – and I decided I would feel better, and more able to focus on writing, once I'd finally sated the desire to dye some yarn! So here's the results, drying in the winter afternoon sun: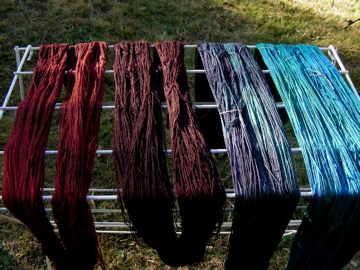 I've finished my modified Helmi cardigan – and I love it!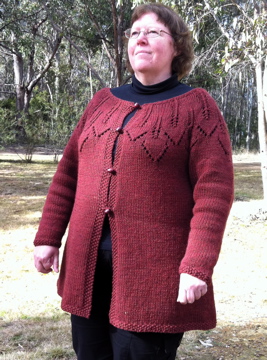 (Okay, so I don't love my over-weight shape, but the cardigan is comfy and warm and should still look fine when I'm skinnier in the tum and butt!)
I didn't do buttonholes in the front band; for the closures, I've used wooden beads I've had in the cupboard for years, and crocheted loops. I'm planning to re-space the 'buttons' so that they're closer together and it doesn't fasten quite so low.
But all in all, I'm regarding this cardigan as a success, and I'm definitely a convert to top-down knitting. This is the first jumper/cardigan I've knitted for some years that I actually like as a finished product on me. And since I've received four cardigan-lots of wool form Bendigo Woollen Mills recently, and we're only part-way through a cold winter, I'd better go and cast on another cardigan!
It's about as neglected and dusty in here on the blog as my house is. In between the more-than-full-time day job, and trying to write a novel, updating the blog has slipped down the list of priorities. G was away for a couple of weeks recently, too, so that meant I had a full load of doggy care, shopping, cooking, fire-lighting, wood fetching etc., on top of my other work.
There has been some knitting – but it does seem like ages since I actually finished something. The Helmi cardigan is gradually progressing – I've almost finished the second sleeve, and then I'll return to knitting the body, now I know I'll have enough yarn. It might be done by the end of this long weekend – maybe!
I started knitting another top-down cardigan, too, adapting a lace collar pattern from an old magazine for the round yoke. I may end up writing up the pattern. With that in mind, I think I'll restart the cardigan in a different yarn, as the yarn I was using – Bendigo Woollen Mills Colonial 8 ply – is no longer in production. A new pattern should ideally use an available yarn. How fortunate that I've recently received two yarn orders from Bendigo, with yarn enough for four more cardigans/jumpers! I desperately need some new winter woollies – my three round-the-house jumpers have been in constant winter use for quite some years now, and I only have two thick cardigans suitable for going out in public, neither of which are beautiful. They are warm, though, and in the Armidale winter, that counts more than beauty! I do have an assortment of bought cardies etc in (thin) wool, but as my office is cold, they're not really warm enough, even with a spencer, a long-sleeved t-shirt and a shawl.
What else is on the needles? A pair of socks for my Mum – I'm down to the heel on the first one. I'm using some of the pale pink Cleckheaton Cocoon that I won at the Armidale Show, and Nancy Bush's Conwy pattern, which I've knitted a few times before.
Gordon's red mittens haven't progressed much at all – I'm up to the tricky bit of knitting the fingers, and just haven't had the combination of time and brainspace to tackle that yet. There's also a pair of 8ply socks for me that I knit a few rows here and there on.
I do really want to get Helmi finished soon. Sadly, I can't knit while marking assignments – there's another pile of 90 of them now waiting for me to tackle it. But on the upside, the unit that I'll be teaching next semester is a film one, on the science fiction genre, so in the next couple of months I'll be watching a fair few DVDs, and I can knit while I'm doing that! The 1950s version of The Day the Earth Stood Still might be on the agenda for this weekend – so I should get a chunk of Helmi done during that!
There's a jumper languishing in my cupboard, with the knitting all finished except for the neckband, and only the shoulder seams sewn up. I really, really don't enjoy picking up stitches for bands, and sewing up seams…
… so I've been looking at top-down seamless patterns. As well as the no-seams, they also have the advantage that they can be tried on as one knits, and fitting adjustments made, rather than discovering when all the knitting and sewing is done that the garment doesn't fit.
There's a lot of top-down patterns out there, but I've been particularly looking for ones with a round, lacey yoke, and they're nowhere near as numerous as raglan patterns. I've found a few, and then had to choose one, based on the cardigan-quantities of yarn in the stash, and what I need most urgently. I narrowed it down to four patterns, but with four patterns and four yarns to choose from, I spent a few days deciding. And swatching.
I finally decided on Helmi
(Rav link), and some russet-coloured 12 ply Rustic yarn from Bendigo Woollen Mills. I am – as usual! – using the pattern as a guide only, and adapting it; a smaller neckline, to start with, and four rows of moss stitch as an edging. I've never been keen on reverse stocking stitch, so I've set the lace against a plain stocking stitch background instead. The sleeves will be full-length, rather than short.
The try-on as you knit thing? Definitely an advantage: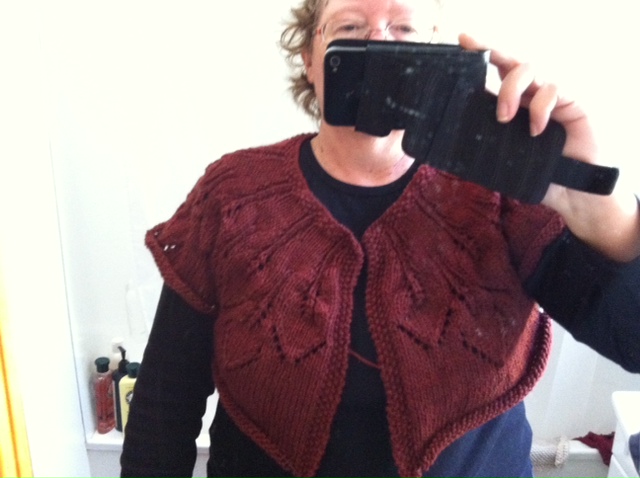 A long car trip today has added a few more inches to the body – still a fair way to go to the finish, but I'm making progress!
(Oh, and yes, there's a glimpse of the post-brain-surgery haircut – the shortest my hair has been since I was 9!)
I've been working full-time, teaching at the university this semester, and so there has not been much time for knitting. This morning, I finally finished a pair of socks that I started in early February: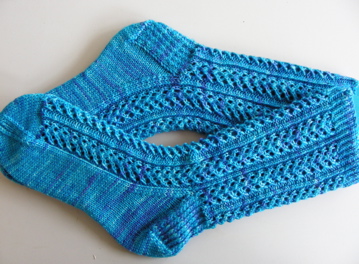 The pattern is the popular Hedera (Rav link) by Cookie A, and this is the second time I've knitted it. As my ankle is thicker than Cookie's, I've again used 3mm needles for the leg, and 2.75mm needle for the foot.
The yarn is Bendigo Luxury 4ply which I dyed myself, some months back; I'm very happy with the saturation of the aqua and the touches of deeper purple. In fact, I love the socks!
Now to cast on for my next project – as knitting time is so limited, I think I'll use some deep blue yarn from Saffron Dyeworks for a pair of plain socks, as I have no dark blue socks in my sock drawer: