I seem to be managing to cross a few things off my to do list lately – not huge things, but some little ones that nevertheless make me feel good! And those I haven't yet crossed off, I'm making good progress on.
Since I'll be in hospital for Christmas and won't be able to visit my parents, I thought I'd knit another lace doily, this time in colours to match the blue and white linen my mother often uses on the table for Christmas dinner. I rummaged around in the stash and found a cone of pale blue cotton I've had for years, and cast on for the a second one of the Little Flower Doily (Rav link) from Bad Cat Designs. It took me a little over 24 hours to knit, and here she is blocking this morning: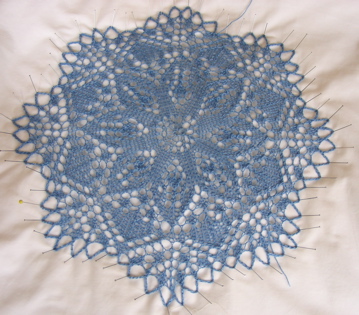 So, I can be at Christmas dinner in spirit – or under a nice glass plate of Mum's fruit mince tarts 🙂
The Christmas knitting – the small amount I am doing – seems reasonably under control. The Binary Cable Hat I started knitting for my nephew before his birthday in August didn't get finished, as I confused myself with how to set the binary code for his name into the cables, and therefore stuffed it up. However, this morning I finally frogged most of what I'd done, back to the first inch, and have restarted again, getting it right this time! So, it's now progressing well, and I hope to have it finished if not today, then tomorrow. I have another gift for him, but this will get popped in with it when it's done: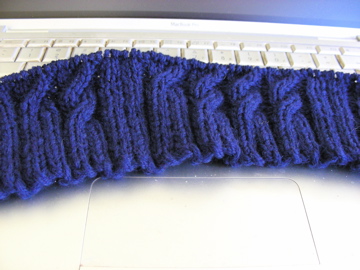 There's another gift I've half-finished, but since the recipient sometimes read this blog, I won't mention it 🙂 (But dear recipient, don't get TOO excited. It's just something I have owed you for …ahem ….a while. This year you might actually get it. Fingers crossed. But I have something else for you, as well!)
When those two things are done, then the next project will be finishing my All-Lace Brangian shawl, which is about half-done. I realised this morning that if I want to actually finish the Ravelry 10 Shawls in 2010 challenge, then I'm going to have to finish that shawl (my 1oth for the year) in the next week or so, in order to get it blocked, photographed, and uploaded to the group before I leave for hospital on the 10th Dec. It's only a small shawl, so that should be doable.
And in pattern news, I have updated the Brangian Progressive Yarn Usage table, and added one for the All-Lace Brangian version, which has slightly different row counts and therefore yarn usage. They can both be downloaded as .pdf files from this page.
Another pair of socks is off the needles – this one a Christmas gift for my brother-in-law, who likes hand-knit socks for chilly Canberra winter mornings. Last year I also gave him a pair of socks – but I hadn't quite finished knitting them before our early family Christmas, so he had a good laugh when he opened his parcel and found 1 finished sock, and 1 still on the needles. I calmly took the half-finished one back from him, and continued knitting 🙂 I finished it a day or two later and gave it back to him.
This year, his socks are done well ahead of time. I love knitting socks in 8ply (DK) yarn – they're so quick, and also warm and cosy!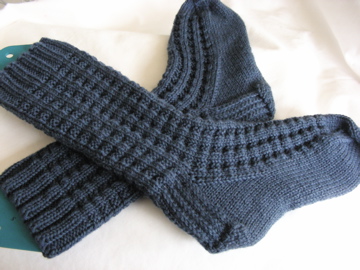 I've used the waffle-rib stitch pattern from the Harris Tweed Socks pattern, but adapted it for thicker yarn, and used my own standard heel and toe patterns. (Ravelry project page.) The yarn is 8 ply Luxury from Bendigo Woollen Mills.
So that's the socks part of this post! Now for the 'stuff'…
I've (finally!) added instructions and photos to my Blocking Shawls page. I hope the instructions are clear and that the images are helpful in demonstrating the process.
I've also added a free pattern preview for the Christmas Lights Shawl – a downloadable, .pdf file with the first two pages of the pattern, which have the yarn and bead requirements and approximate measurements for each size. I hope that will be helpful for people who are considering knitting the pattern but want to check yarn requirements etc before purchasing it.
My table is currently covered with an assortment of 'stuff' – there's socks still to darn (I have done one pair!), a fingerless lace mitten in progress, an ex-biscuit (cookie for my US readers) tin in which I've put an assortment of needles and bits and bobs that I like to keep handy, and the experimental beginning of what might, at some stage, be a new shawl design. I've still got a little Christmas knitting to do, but I'm not stressing about it – I have a gift for everyone already, so the rest is nice but non-essential extras. My major focus at the moment has to be writing, as it's now less than 3 weeks before I head in to hospital for major surgery, and I want to get as much done of the current book as possible before I go. The lace mitten is not the best writing knitting, as the lace pattern is a little distracting – I keep wanting to finish a round/pattern repeat before putting it down to write. So I may have to cast on some simple socks that I can easily pick up and put down, and where the simple repetition aids the writing.
And I think there was something else I was going to mention, but now I can't remember what it is. (Yes, I know, I should blog more often…)
I've finally finished the second of my shaped-toe socks – and even remembered to mirror the toe shaping so I didn't have to wear both socks on the one foot!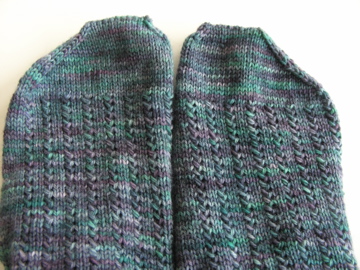 They look fine (at least from a distance) and I love the yarn and the colours. I'm very happy with the toe-shaping – it definitely makes more room for my strong healthy big toe 🙂 However, perhaps due to all the distractions my poor brain has been coping with lately, the socks are far from perfect. Somehow, when knitting the first one, I worked on the wrong needles for the heel, and hence the leg shaping now goes down the inside of my leg, rather than the centre back. That's oops! number one. Oops! number two is that despite taking some notes as I went, and copying the decreasing for the leg from the first sock, I somehow ended up with 60 stitches at the ankle instead of 64. Figuring it wouldn't make much difference, I knitted on, working the rest of the sock over 60 stitches instead of 64. The sock does fit – but it is a bit tight around the ankle, the rib pattern pulling in more so than stocking stitch. Oh, well, I'm going to be losing weight soon, aren't I? And no-one is really going to be looking that closely at my legs to notice the fudges 🙂
Thank you to everyone who has made suggestions for the name for the new shawl. I've been looking up goddesses and heroines of legend, trying to find one connected with the sun, stars, or dawn – one with an easy to spell, and pretty name!
I think I've decided on Aurora. In Roman mythology, she is the Goddess of Dawn, and I think the shawl design can be seen to have dawn spreading over forests and streams… However, as there are multiple shawls and other items called 'Aurora' on Ravelry, the name needs something extra – so how does Aurora's Light sound?
And here she is, in the shawlette size: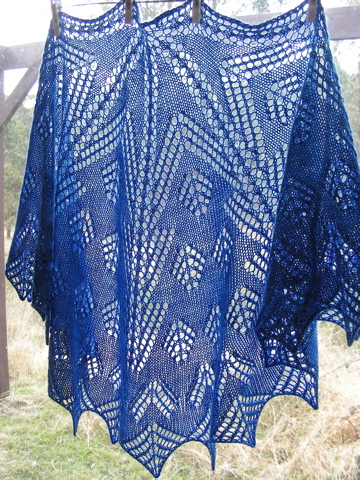 I hope to get some better photos soon, but it was a grey, wet day today, so not much photography was happening!
Now I just have to finish writing up the pattern, send it out to testers, and finish knitting a shawl-size one. In all that spare time I have….
It's been a busy few weeks! So, what's been happening?
The weekend before last, Emily (Rav link) and I set up a couple of indigo dye vats, and had a great afternoon gently dunking yarn, fibre and fabric into them, and watching the magic results as we took the dyed items from the vat, and on exposure to the air they gradually changed from green through lovely blue-green shades to blue. I didn't dye a lot (I didn't have a lot prepared), but now I know the process, I'm planning to do it again, very soon. Maybe even tomorrow. I want to re-dip a couple of the skeins I dyed, to get a deeper blue. Plus dye some more things!
It's impossible to photograph things when you have blue-stained rubber gloves on, but fortunately Tara was there, too, and very handy with her camera. She's put a set of photos from the day on Flickr.
A couple of days after the indigo-dyeing, I headed down to Sydney for the Romance Writers of Australia conference at Coogee. Very little in the way of knitting was achieved while I was away, other than a handful of rows on a present (now late) for my nephews birthday. More on that when it's finished! But the conference was, as usual, fantastic, and I'm all energised and motivated to get really cracking with the new book. Although textile work is rewarding, it doesn't pay the bills, so I'm going to have to put my writing work (mostly) first for a while.
However, now that I'm home again, I did finally take some time today to block the shawlette that I finished knitting two weeks ago. It's the second prototype for my new design. I'm mostly happy with it, but in the final pattern I will make the ends of the spines deeper and more pointy over a few more rows, taking them down towards/into the border pattern.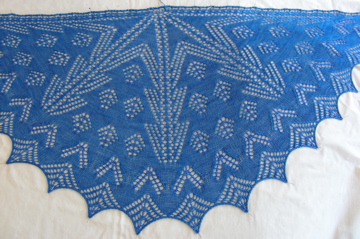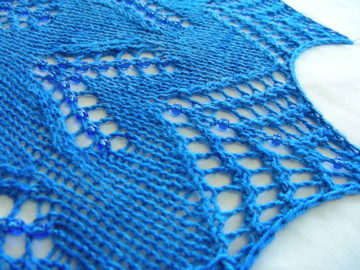 The charts are all done; I 'just' have to finish the general instructions and do the written lace instructions for those who don't like charts.
Oh, and come up with a name for her!!
I did (finally!) finish sewing the seams of my shawl-collar jacket, and though I don't have any beautiful photos of it, I have been wearing it – and it is, if not stunning, at least cosy and warm, which is great in the wintry weather we've been having.
Here's Jane, my dressmaker's model wearing it – although bear in mind that she is a lot skinnier than me!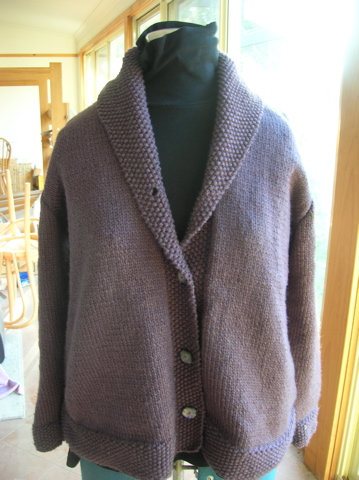 I used a Drops pattern (102-5) as a basic guide but adapted it quite significantly, in particular using moss stitch instead of garter stitch and changing the shaping. The yarn is Jo Sharp Silkroad Aran, which is 85% Wool, 10% Silk, 5% Cashmere – and have I mentioned, deliciously warm?
I'm quite pleased with the overall finished result, although the top button/hole is a bit high, and I've been wearing it without that done up. I may end up removing the button and stitching the buttonhole closed.
I'm currently planning a new, top-down cardigan – no more pesky seams for me! No knitting has been started yet, but any day now I'll raid the stash and cast-on.
What else have I been up to? The prototype for the new shawl is coming along, and although it's only half-knitted, I have done the time-consuming design and test-swatch knitting of the final two charts. Here's a swatch of the edge – although I have changed the way the long diagonal lines will be knitted from how I did these ones (and I'm up to knitting them now in the prototype shawl):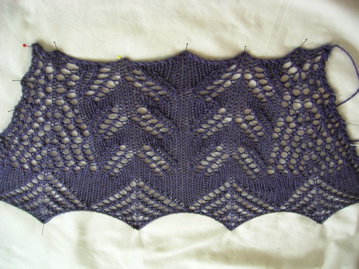 And I've added some new stitch markers to the Yarnosophy shop: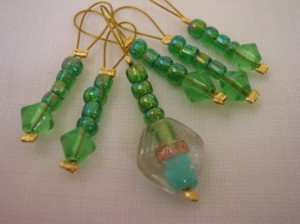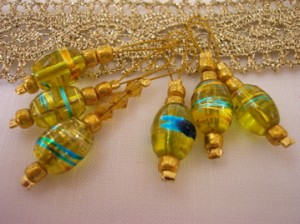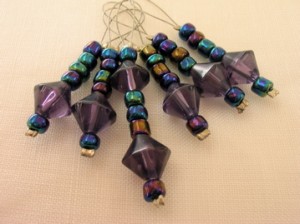 (I liked these purple ones so much that I made a very similar pair of earrings for me!)
Did you ever play at keeping a shop as a kid? I know I did. I've worked in shops since then, and been on quite a few market stalls, but it was still a thrill to package up and get ready to send off the first order from the Yarnosophy shop: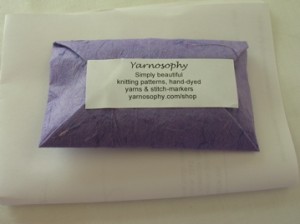 The pattern download function is working fine, too – even if the patterns don't come wrapped in pretty paper! I was a little nervous as I'm by no means a computer programmer, but the system worked for me and then it worked fine for the first 'real' customer, so I'm breathing a little easier now.
I made some more stitchmarkers this afternoon, but they still need to be finished off and photographed before they go into the shop. And I'm hoping to get out to the dyepots tomorrow, if it's not too cold.
My major achievement for today, however, has been finishing the shawl-collar cardigan that has been languishing for a while, waiting for the final seams to be sewn. You may remember this from a week or so back: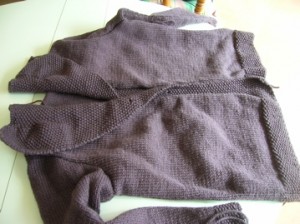 This morning I bit the bullet, and sat down with the cardigan. It took about an hour to sew the last seams, stitch the collar in place, and sew on the buttons. And then I put it on, and wore it into town, and I'm still wearing it now. It's cosy and warm, and fits quite well; it's nothing stunning, but it's fine.
No photos yet – we don't have a mirror, so I couldn't really photograph it on me, and it was too cold today to take it off! Maybe tomorrow I can photograph it laid out in a table or something.
I've been looking at top-down patterns, and I think that's the way I'll be knitting jumpers and cardigans in future. I'll do almost anything to avoid sewing seams and picking up stitches for bands and necklines… although I've conquered this cardigan, there's a jumper lying around, that needs stitches picked up for the neckline. Maybe the burst of enthusiasm for finishing the cardi will carry through and I'll finish the jumper this week… but don't hold your breath!
Knitting on the new shawl is much more fun, and it's coming along. I still haven't finalised the last quarter or so of the design, but I'm not up to knitting that part yet, so I'll have a day or two more to think about it and play with the chart on the Excel spreadsheet.
I knitted my BIL a pair of Thuja socks for Christmas, and then decided to try the pattern in a finer yarn, and make some socks for me – or for my father, if he needed more socks! I finished this pair a couple of days ago, but Dad says he has plenty of socks, so I get to keep them – and I'm wearing them right now 🙂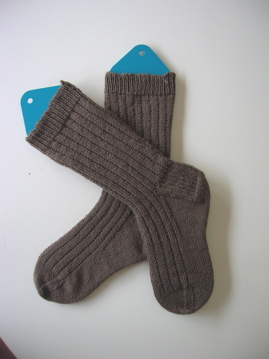 The yarn is Bendigo Woollen Mills Luxury 4 ply – nice and cosy for winter! I have a few more colours, just waiting to become more socks. ('Cos a girl can never have too many hand-knitted socks!)
I adapted the pattern for 4ply yarn, and with some decreasing in the leg because my legs aren't as sylph-like as they used to be.
I started this shawl on January 1st in a burst of enthusiasm for the 10 Shawls in 2010 challenge… and then became sidetracked by designing and knitting Brangian and her variations. So, my Shetland Triangle languished, with me picking it up and knitting a few rows every now and then… but I decided a few weeks ago to start finishing up some wips, and now I've finished this one.
Each year, at the Romance Writers of Australia conference in August, there is a silent auction with all funds raised going to cancer research. Last year, I wanted to donate a lace scarf, but I struck a problem in adapting the pattern and didn't manage to get it finished in time. So, this year, I'll donate this shawl along with some signed books to the auction.
It's a grey, rainy day, so it was a challenge to photograph her: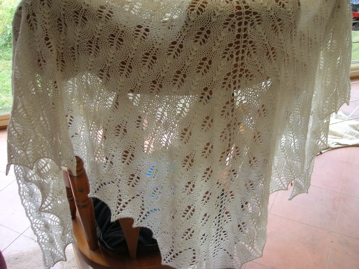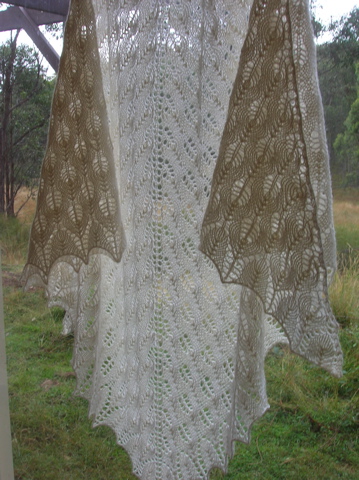 The pattern is the wonderful and easy Shetland Triangle (Ravelry link), by Evelyn Clark. The yarn is 4ply Luxury from Bendigo Woollen Mills. I also added beads from Empire Beads to the last two repeats and the edging (Czech seed beads Round Pearlised White 4.5mm GB5/0):