It's been one of those years – and it's still only April. Life has been a rollercoaster, my knitting mojo has been wandering elsewhere, I've taken up quilting, and I'm itching (still) to get back to weaving.
Knitting-wise, I finished a couple of things in time for the Armidale Show at the end of February – a pair of girly socks for my Mum (who wears a lot of blue and pink) and a Lazy Lara Shawl, which I gave to my sister for her birthday.
The socks won first prize at the Show in their category, the shawl came second in the shawls, and my Majbritt Doily from the previous post won first in its category.
I was working on a new shawl design, but striking problems with it and doing much ripping and tinking trying to get it right… then my Dad died in early March (he was elderly, and wanted to rest, so I can't be too sad that he's out of pain) and my lace-design concentration evaporated. I have done some knitting since then, but simple things – I'm working on a pair of Thuja socks for me, a pair of mittens for DH, and a beret.
Just days before my Dad died, one of my closest friends was diagnosed with a cancer that turned out to be very aggressive… and in just six weeks, she died. In the last terrible week, when we knew the text message could come at any time, I could hardly concentrate on anything. There was nothing I could do to help her; she was sedated, and had asked that nobody but her partner be with her in the hospital. Amongst many other talents and skills, she was a beautiful quilter, and so in that week as a way to connect with her and hold her closely in my thoughts, I turned to the pieces of patchwork fabric and supplies I'd been starting to collect and began to teach myself patchwork and quilting. I had her in mind as I did, especially her careful approach to crafting, and her attention to detail, inspiring me to be less slap-dash than I might usually be – with, of course, good results.
Here's my first quilted 9-patch square – finished and bound so that I can use it as a teapot mat:
I just wish that she was still here, as we often shared a pot of tea.
My next project was one I'd been mulling for a while – a pouch for my laptop (it's been in use, so please forgive the creases!):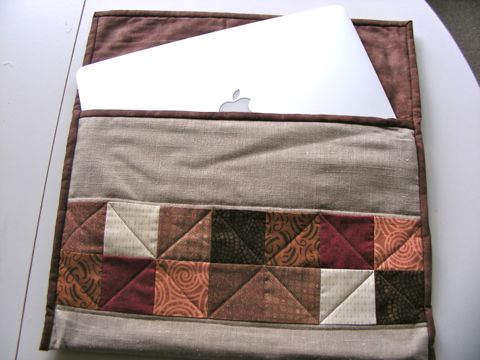 And then I decided to have a go at a more complex star square, and hand-quilting.. and i have another tea-pot mat (but maybe I need a brown teapot to go with it… or perhaps I should make a blue one next):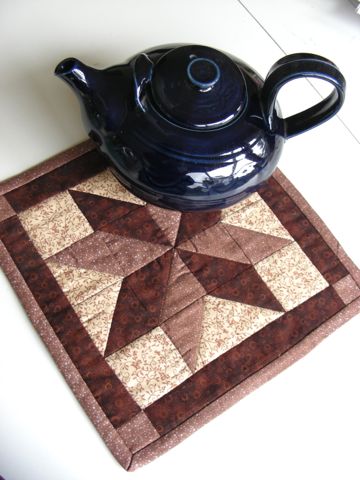 I'm planning to try my hand at a quilt soon, and some fat quarters and jellyrolls may have followed me home. I've washed and ironed a range of blue fabrics, so I might start a sample square or two soon – just as soon as I finish some work projects.
I've also been in the drafting stages of planning a blanket warp for the loom – I have the draft (8-shaft block twill in three colours), but have to get the yarn before I can really start it.
So that's where I've been, these blog-silent months, stitching in various ways through the ups and downs of life.
Things have been quiet on the blog because they haven't been quiet in my life! Uni work was quite mad there for a while, with almost 200 essays to mark, and teaching to do, and preparing for this semester's teaching as well. (Yes, I agreed to teach another semester. Darned mortgage has to be paid, and since I haven't had a book out for almost 2 years, there is nothing in the way of royalties coming in.)
Now the uni work is (mostly) under control and manageable, I'm racing to finish writing my current book before the deadline. So, things will continue to be quiet here!
I only just downloaded the photos I took some weeks ago of a couple of the dyed skeins, rewound and looking good: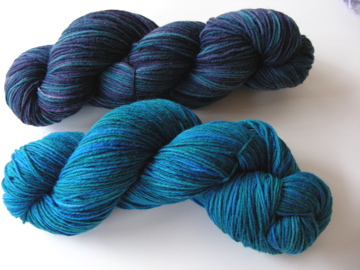 The blue-green one I gave to a friend for her birthday. The purple-teal one (which I love!) is becoming socks for me: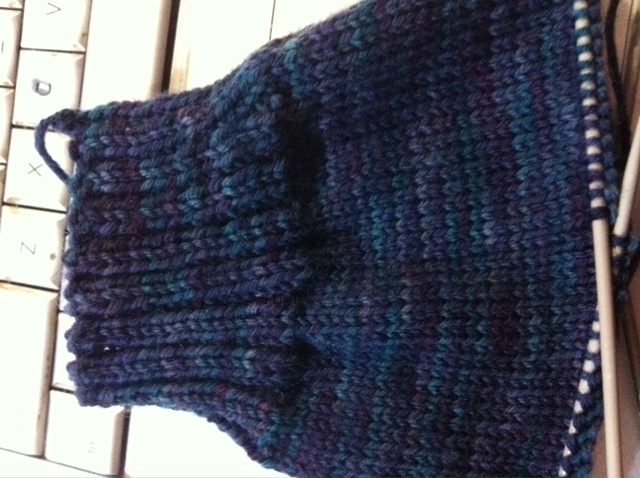 They're just plain socks, easy to knit to keep my hands busy while I'm staring at the screen, thinking of what to write next in the novel. The photo is a little dark, but the colours are coming up beautifully. I'm in love with these socks already.
And in other textile-related news, the long saga of getting the sunroom organised into a proper, workable space for me is one step closer; Gordon decided that he didn't need the hutches on his desks in his study, so I bought two credenzas – low cupboards – to put the hutches on at the end of the sunroom. They were delivered yesterday, and hopefully this weekend G and I will move the hutches into the sunroom and onto the cupboards – thus creating some more wonderful storage space for textile-related stash and books!
Lately, I've been contemplating the connections and overlaps between my various areas of interest. Until recently, I'd thought of my textile work and my Honours thesis on 18th century British Worsted Textiles as being quite unconnected to my writing interests, and my current PhD research interests on the romance genre, genre readers and their perspectives. But underlying these diverse interests are common themes for me – I'm interested in people, in their everyday experiences, and in the relationships and connections they make. Far from being irrelevant, my first degree in history (predominantly social history) is a good grounding for my current work – both my own writing, and my research. There are overlaps, too, in that textiles, knitting, romance reading (in fact, most reading!), and many informal book discussions, online and offline, are places where women's voices are heard – which has me also contemplating, across all these areas, feminism, the feminine, and the domestic spheres.
I haven't formed coherent, easily articulated thoughts about all these overlaps yet – but the overlaps are interesting me! And I came across another one yesterday: I've returned to the local university this past week as I have a 5-month contract to teach a course in Digital Media and Interactive Entertainment. In 2009, I had a similar contract to teach the same course – then, it hadn't been revised for ahem some years, so I did some quick revising on-the-go as I taught it. Now it needs not just revising but an overhaul, and I've been doing some work on it since late November, when I knew I'd be teaching it this year (assuming my surgery went fine.) I'm still madly trying to pull together resources, and in my researching yesterday, I came across this video from David Gauntlett, a social media researcher, which again weaves together a number of things I'm interested in – including knitting!
I don't quite agree with everything he says, but there's a lot to think about in there, and I look forward to reading his book when it comes out next month.
I'm a tad more positive about TV watching than he is, although I do very little of it myself these days. However, if one equates TV watching with reading as forms of entertainment, then he'd have to be just as critical of readers as TV watchers. I do think there's an important role for Story and Storytelling in our lives, a role that books, TV, films, even video/computer games can contribute to.
I do agree with the notion of 'Making is Connecting'. I've long believed (although not researched to find evidence for!) that making things – whether fabric, wood, metal, digital – contributes to a stronger sense of self: I make, therefore I am. I'd love to see children and young people more involved in hands-on creativity, in a far deeper way then the standard 40-minute class lesson in school can accomplish. And I suspect those who have experience in making things that take hours, days, weeks to produce are more likely to respect others' work and property, and far less likely to vandalise things.
Lots to think about – but with a course to write, a book to finish, a PhD to progress on, a loom needing a warp, and a pair of socks 85% complete, my brain isn't equipped for more than a brief rambling blog post at present!
Queensland has certainly been doing it tough in the past couple of months. On top of the devastating floods across much of the state, the north had to contend with one of the biggest cyclones in living memory just this week – fortunately it made landfall in a more sparsely populated region, so although there has been significant property damage to homes, farms and businesses, the death and serious injury toll is low.
Thank you to everyone who purchased patterns during January – as I promised, all profits from my pattern sales have now been donated to the Queensland Premier's Disaster Relief Appeal.
As I want this to be transparent, here's the information about pattern sales, net income calculation, and donation:
$130.00 Income from pattern sales minus $5.00 Ravelry fees minus 8.25 Paypal fees (details in spreadsheet here)
= $116.75 Profit from pattern sales
I rounded that back up to $120.00 and made the donation this morning:
Thank you again to everyone who contributed! I wish I could do more, but my own financial situation has been somewhat tight lately, so I appreciate you all being part of a team effort to enable the donation!
I managed to drag myself away from playing with sourdough starters and baking bread long enough to finish my latest Monkey socks today. The yarn shade is called Pier, so I call the socks Monkeys on the Pier.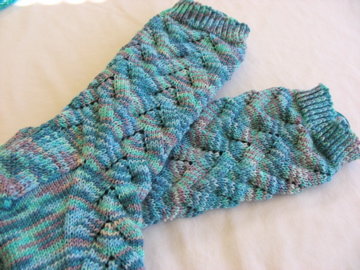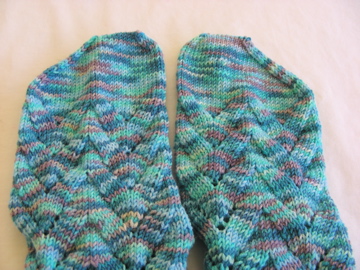 Pattern: I've used the No-Purl version of Cookie A's Monkey Socks pattern = although as usual I've just done my standard heel, and my new standard shaped toes.
Yarn: Morris Empire 4ply, bought from The Granny Square in Newtown, Sydney (as a little present to myself before I went into the hospital – which is just around the corner from the shop).
So, that's one pair of socks off the needles. I've still got two others on the go – one, a plain pair in brown Trekking yarn, is about 40% done and will be the next to be finished. Probably. Then I might get back to the experimental Brangian socks, although whether they'll be finished or frogged I'm not sure.
I'm going to be working full-time at the local uni for first semester, starting in February, so my knitting time will decrease, and therefore I'm going to be strategic about what I choose to knit. It's a interesting challenge, knitting from stash but at the same time making sure I fill up gaps in my wardrobe. I have quite a few hand-knitted socks, but, for example, I only have one pair of red socks, and they're dark red and lacy. Fortunately, I have some Bendigo Luxury 4ply in my stash, in the beautiful Ruby shade. I have a great pair of plain, basic greenish socks – but a lacy teal pair would be good, too… and I do have more Empire 4ply in a deep teal 🙂 So, I can certainly keeping my fingers productively and strategically employed for a while!
Oh, and about that sourdough… this fruit loaf didn't rise as much as I'd hoped, but it is still scrumptious (especially toasted with butter and marmalade):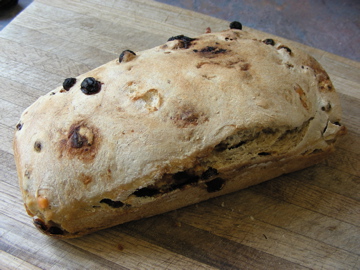 Now, I'd better go and make a sourdough chocolate cake, as we have visitors coming this afternoon!
(Cross-posted from my writing blog)
Tomorrow is the big day – the surgery to bypass the aneurism-affected artery in my head. I really appreciate all the good wishes and positive thoughts and prayers from my many online and offline friends. My neuro-surgeon is highly regarded and well-liked and respected by the staff here, and the whole neuro care team is fantastic – skilled, caring, and focused on patient well-being, so I'm in excellent hands. And the doctors have promised that they're going to have an early night tonight, and a good night's sleep, so they'll be fresh and ready in the morning 🙂 They have the hard work to do; I'll just be snoozling through it all!
The surgery itself is quite lengthy, so I may not be settled into ICU until the evening, and they're planning to keep me unconscious until well into Friday. I'll be in ICU for some days, and in hospital for maybe up to two weeks, so I probably won't be online again for a little while.
Gordon will post updates to my writing blog with news on my progress; it may not be tomorrow night, as it will be a long day for him, and he may not see the doctors until evening. But he'll post when he can. So please check over there for news.
Thanks again for all the good wishes. They do matter. I'm planning on getting through this fine, and getting back to writing books and knitting and weaving very soon!
Oh, and I finished the Christmas knitting on my first day on hospital last week – so I'm all organised, although it's probable I'll be spending Christmas in hospital. I still have plenty of knitting to keep me occupied during my recovery 🙂
Another pair of socks is off the needles – this one a Christmas gift for my brother-in-law, who likes hand-knit socks for chilly Canberra winter mornings. Last year I also gave him a pair of socks – but I hadn't quite finished knitting them before our early family Christmas, so he had a good laugh when he opened his parcel and found 1 finished sock, and 1 still on the needles. I calmly took the half-finished one back from him, and continued knitting 🙂 I finished it a day or two later and gave it back to him.
This year, his socks are done well ahead of time. I love knitting socks in 8ply (DK) yarn – they're so quick, and also warm and cosy!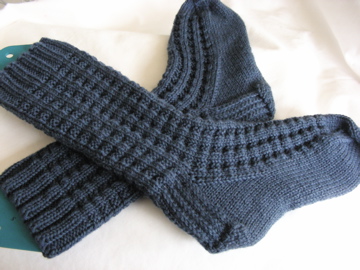 I've used the waffle-rib stitch pattern from the Harris Tweed Socks pattern, but adapted it for thicker yarn, and used my own standard heel and toe patterns. (Ravelry project page.) The yarn is 8 ply Luxury from Bendigo Woollen Mills.
So that's the socks part of this post! Now for the 'stuff'…
I've (finally!) added instructions and photos to my Blocking Shawls page. I hope the instructions are clear and that the images are helpful in demonstrating the process.
I've also added a free pattern preview for the Christmas Lights Shawl – a downloadable, .pdf file with the first two pages of the pattern, which have the yarn and bead requirements and approximate measurements for each size. I hope that will be helpful for people who are considering knitting the pattern but want to check yarn requirements etc before purchasing it.
My table is currently covered with an assortment of 'stuff' – there's socks still to darn (I have done one pair!), a fingerless lace mitten in progress, an ex-biscuit (cookie for my US readers) tin in which I've put an assortment of needles and bits and bobs that I like to keep handy, and the experimental beginning of what might, at some stage, be a new shawl design. I've still got a little Christmas knitting to do, but I'm not stressing about it – I have a gift for everyone already, so the rest is nice but non-essential extras. My major focus at the moment has to be writing, as it's now less than 3 weeks before I head in to hospital for major surgery, and I want to get as much done of the current book as possible before I go. The lace mitten is not the best writing knitting, as the lace pattern is a little distracting – I keep wanting to finish a round/pattern repeat before putting it down to write. So I may have to cast on some simple socks that I can easily pick up and put down, and where the simple repetition aids the writing.
And I think there was something else I was going to mention, but now I can't remember what it is. (Yes, I know, I should blog more often…)
I've been making decisions lately.
I'd originally planned to call my new shawl design Aurora's Light, but I kept looking at it: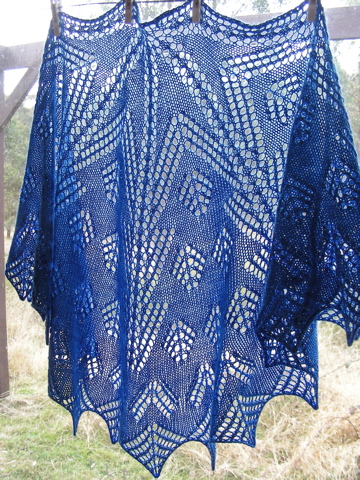 … and the Christmas Trees under the Christmas Star pattern just kept leaping out at me, and I finally decided that it couldn't really be called anything else but Christmas Lights.
The pattern is currently being tested by a small band of enthusiastic testers over on Ravelry. There's still scope for a couple more testers, so if you'd like to join in, see the discussion thread on the Brangian KAL group – the important info about the pattern is in the first post.
In an earlier post, I mentioned starting another sample of the shawl in lovely silk/merino from Knitabulous in a colourway called Tequila Sunrise – gorgeous pink and peach colours. However, having changed the name, I'm decided to put that one aside for a while, and I've started another one, this time for the medium size in a great Christmas green yarn from Saffron Dyeworks: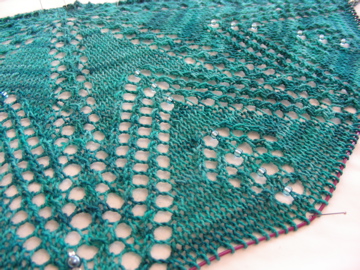 I'm planning to use the Tequila Sunrise yarn for a different pattern, perhaps a new one that may even start with the star, but go quite differently from there…. I'm still thinking about that. And there's plenty of time, because I have to knit the green Christmas Lights first!
The other decision-making currently occupying my mind relates to the cleaning out and tidying I'm doing in our sunroom. When we designed the house, the plan was that one end of the sunroom would be my craft/office space. However, in between the start of building on the house, and moving in, I acquired a large, 12-shaft countermarche loom – which does fit at the end of the room, but takes up rather a lot of it! I also resigned from my full-time job the week that we moved, back in 2001, and although I've had other jobs out at the uni since then, I no longer have an office out there to store all my work-related things. Now I'm working from home, on another career, and it brings its own stack of paperwork, resources, and books. I've got bookshelves overflowing in the guest room, and a tiny desk tucked into a corner there, and a stack of paperwork, books, and fibre/yarn things in the sunroom, which is also home to assorted other bits of furniture and aspects of our life – amongst other things, the washing is frequently hanging up to dry there! And for the past year or so, I've been basically working at the dining table, moving my laptop when we have guests.
I've advertised the large loom for sale a number of times over the past few years, with no luck. I've also got a smaller 4-shaft counterbalance loom, and I'd planned to keep it until I could replace both with a smaller 8-shaft loom. Then the thought finally occurred to me the other day – why not keep the large loom, which will weave just about anything I'll ever want to weave, and sell the smaller loom? If I also find new homes for the rocking chair, the treadmill, & assorted boxes, I could put a desk/table in their place, and shelves/cupboards on the other side of the big loom, rather than trying to work at a desk crammed in there.
Maybe it's because Spring is in the air, or maybe its just the right time to do it, but I've begun the task of decluttering so that I can rearrange things, and although it doesn't look like it just yet, I have made significant progress! The major 'if' of the decision about the looms, though, is that I have to make sure that I can work comfortably at the large loom. In all the years I've had it, I've only woven about 4 warps on it; when I was trying to sell it I wasn't weaving on it, but I'm itching to weave again and I'll wind a warp soon and test out that it will be okay as my only loom. But first I'm going to make apron cloths for the front beams and double back beams, as it doesn't have any and I've always thought it need them. I bought calico for that today… and excavated the sewing machine!
Although there is one decent-sized cupboard in the room, it's not quite large enough for all my stash and paraphenalia, so I've been looking at storage cupboards this week, and think I've found a suitable one to put down one end of the room. I just have to decide what else will go into the not-much space between the loom and the wall, and how I'll configure that. Oh, and how I'll afford it, as well!
And on top of all those decisions, there are a hundred small ones, as I sort through paperwork and other things. I've emptied a filing cabinet, although there's a pile of files that need to be kept; tax paperwork, and family ephemera such as pictures drawn by my niece and nephew when they were little. I've emptied a cane chest, and put an assortment of things into a box to go to the Salvation Army… but there's a jumper I started making for my nephew, when he was 3-ish – it's almost finished, but he's now 16! And a lovely fair-isle cardigan, started 11 yeas ago – for my now 19 year old niece. I'm not sure if I'll finish them, or pass them on to a knitter with small kids to finish. I did put the almost-finished lacy baby jacket and pattern into the Salvos box – hopefully it will find its way to a knitter who likes baby things. I've managed to be firm with decisions about some spinning fibre; bits and pieces of fleece and natural roving are going into my compost bin or will become mulch in the garden. I've still got a box and a bag or three of lovely fibres, but the older, not-special fibres are going out.
There's still a way to go until it's all sorted, but I'm feeling good about progress, and looking forward to eventually having my own space again.
I've been busy with updating and rearranging things, here and there.
I've updated the Brangian pattern. There were no errors in the previous version, but the new version has a better (I hope!) layout, and also includes information about varying the pattern, including instructions for the All-Lace version. Here's my All-Lace one underway: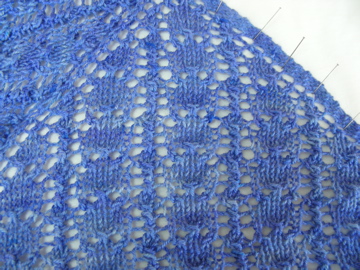 The updated pattern has been uploaded to Ravelry and to the Yarnosophy shop, and I've let Ravelry buyers know to download the new version. I'll be emailing those who have bought the pattern through Yarnosophy shortly.
I've also been doing some updating and reorganising in the Yarnosophy shop. I've set up a number of categories for the stitch markers, so it will be easier for people to find the size and style (rings or loops) that they prefer. I've also changed the default currency setting to Australian dollars; I originally had it set as US dollars, as I advertise on Ravelry and I know that some US people find non-US currencies discouraging, but as most of my buying customers are from Australia, (the postage costs tend to be off-putting for overseas buyers) it makes more sense to use $AUD. So that's all now changed over!
I'm also doing an inventory check, and improving my own behind-the-scenes system. It's not been pretty good and I'm happy with the way they're packaged, but I'm going through and adding a label to each set of markers with all the pertinent info including the name they're listed under, needle size, and price code, and cross-checking that with what's listed – early on, I underestimated the needle sizes that the tigertail loop ones would fit, so I'm updating all of those. This will make it easier for people who buy offline to look through the box and have the info to hand, and also for me to quickly find the right markers when people buy them through the shop. It all takes time, of course! However, now that I've refined the packaging/system/shop catalogue, it will be easier for everyone, including me!
I've found a good source of closed rings, so I've been making some markers with rings rather than loops – but I still use the tigertail to attach the beads. As there's no wrapped wire, they're also snag free. The rings only come in two sizes, so I'm making small markers which fit up to size 3.75mm needles, and medium ones which fit up to 5.5mm needles.
The small ones I've made with 6mm pearls are perfect for lace or baby knitting – and I think they're very sweet!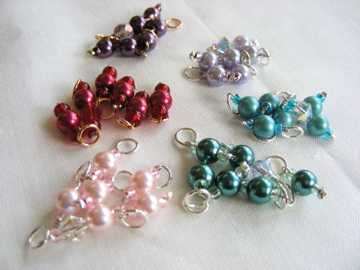 They're now in the shop, and I'll have some more medium ring stitch markers in there in the next few days – I've got a few made already, but they have to be photographed and entered, which all takes time.
When I'm not updating patterns, making stitch markers, or playing shop keeper and tidying up the stock, I'm knitting while I stare at the screen and trying to write. I've started another sample for the new pattern, Aurora's Light. I've still got a few more hours of work on it before the pattern is ready for testing, but hopefully I'll squeeze that in in the next week or so. Here's what I've knitted so far – the yarn is some of Knitabulous' fifty-fifty merino/silk fingering. The yarn colour, Tequila Sunrise, is perfect for Aurora's Light!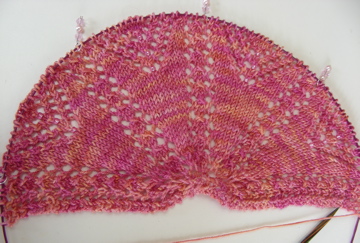 But right now, I'm going to get back to writing the next book!
A few weeks back, I signed up for the Indigo Luxury Swap in the Australian Swappers group on Ravelry. I don't usually do swaps – only because of a lack of time – but I couldn't resist the ideas of indigo and luxury, especially as, as you'll have gathered from my last few posts, I love blues, have always wanted to play with indigo, and when it comes to yarns, I'm all for luxury ones!
It's been a fun time, stalking my swap partner, finding out about her likes, and thinking of things to add in to the parcel for her. I ordered the yarn just after partners were allocated, and it arrived about two weeks back – it's beautiful, and I hope she'll love it. participating in the swap has prompted me to try out some new things – the indigo dyeing and shibori I've already posted about, making little boxes, and I got the sewing machine out again today for the first time in months. Today I put the finishing touches to her package, and posted it off. I won't put the details here until after she's received it, but here's a sneak peek: