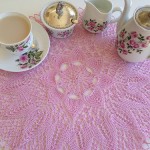 When I posted yesterday about my Lerke doily, I hadn't quite finished another one. But now it's finished, blocked, dried – and tested!
I'm home by myself today, and usually I'd have my early afternoon cup of tea in one of my lovely stoneware mugs. But as I wanted to photograph the newest doily, I brought out the bone china again. I also cleaned the little silver teaspoons that I didn't have time to clean for my afternoon tea last week. (I don't think my old t-shirt and comfy cotton trousers come anywhere near the elegance of the tea set and doily – but no-one can see me!)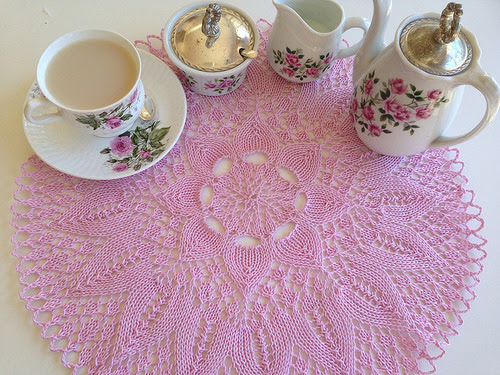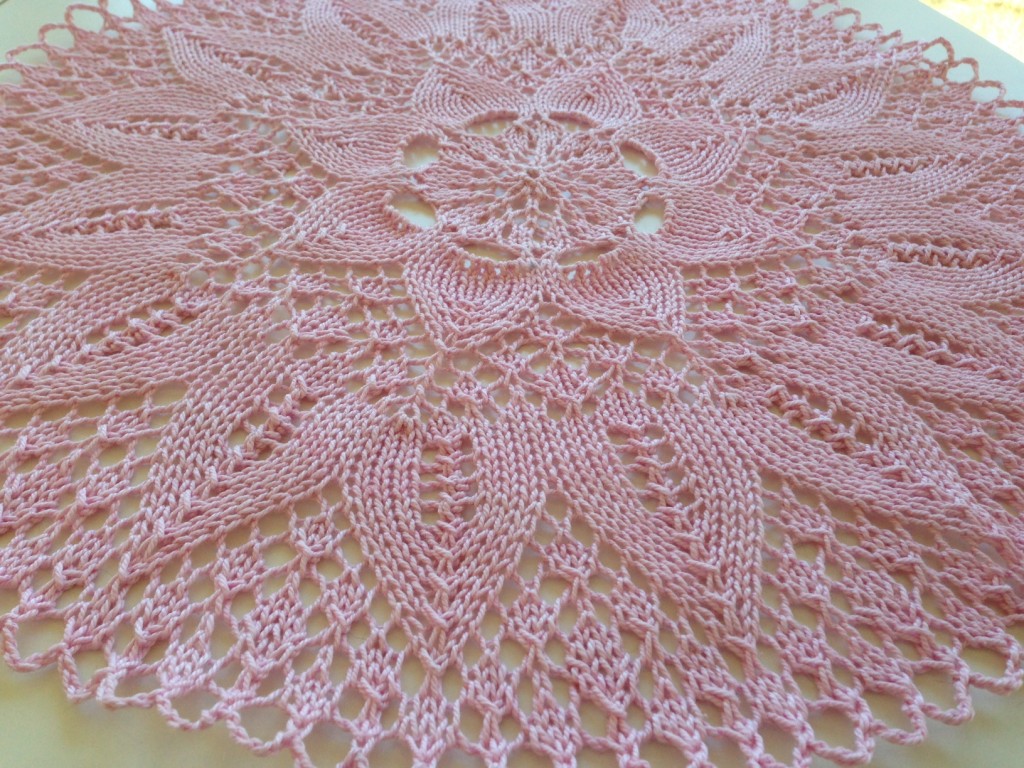 This is another pattern from the book Knitted Lace by Sonja Esbensen and Anna Rasmussen – this pattern is 'Marie'. As with all the doilies I've knitted so far, I've used fingering-weight cotton instead of the finer cotton recommended in the pattern – which of course makes my doilies bigger, more like table centres. I do have some slightly finer cottolin in my weaving stash, so maybe my next one will use that, as a comparison. My next one? I'm not sure yet – I'm very tempted by a few in the book. And there's also a Marianne Kinzel book on my shelves, and I also have a couple of Gloria Penning's lace doily books… between them, they'll keep me busy for a few years!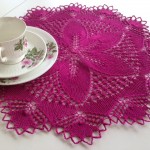 I love knitting doilies; they're interesting projects, easy to carry around, relatively quick to finish, and they are practical as well as beautiful!
I've mentioned before the lovely book, Knitted Lace, by Sonja Esbensen and Anna Rasmussen – I knitted the Majbritt doily from it a couple of years ago. So when the fingers started to itch again for another small lace project, out came the book again, and I chose the design Lerke III. This is the largest of three similar designs.
I wanted a large doily to go with one of my tea sets, which is white with pink roses, so I went stash-diving for pink fingering-weight cotton… and discovered that although I had several pinkish balls (ahem!) skeins, they were too apricot, or otherwise Not Right. But I did find some wonderful deep pink cotton and decided to use that.
I love the result: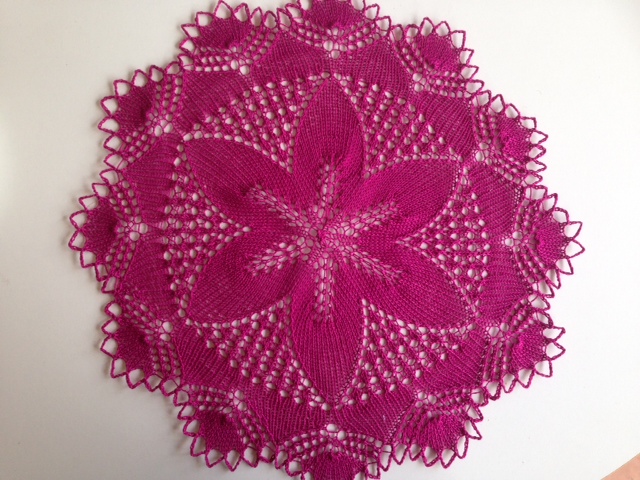 It matches my tea set perfectly: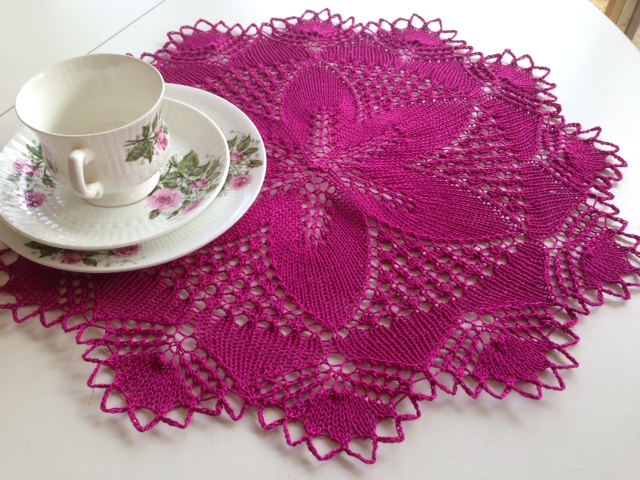 Now, our dining antidepressants table is my main work space at present (the sunroom is too hot during the day), so it's usually covered in papers, books, laptops etc and we clear just enough space to eat in the evenings. Not a lot of space for a doily! On Thursday, I invited a few friends around for afternoon tea, rushed around cleaning and tidying the visible bits of the house, and set the table with my tea set and yes, my bright pink doily!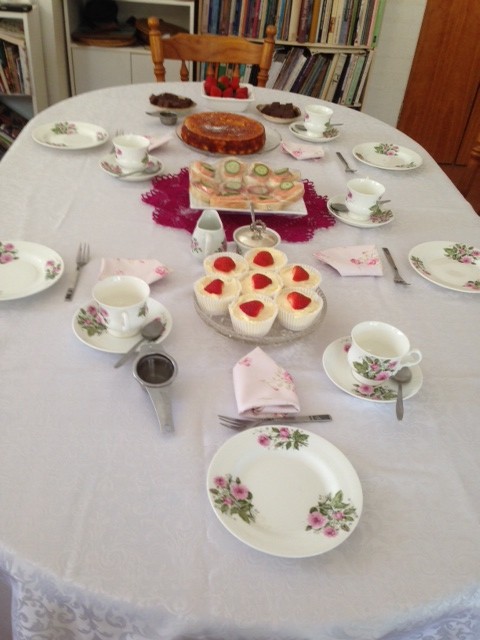 It was a lovely afternoon with great conversation, and I thoroughly enjoyed seeing some of my lovely things in use. The crystal plate with the mini-cheesecakes on was my paternal grandmother's; the small dishes at the back with the chocolate fudge were my maternal grandmother's. Now I just need to organise a garden, so that I can someday have fresh-cut flowers on the table, too!
In between writing and teaching and travelling and other life priorities, I have managed a little craft work in the past 12 months… but very little blogging!
Finished things:
A quilt for my Mum, last Christmas: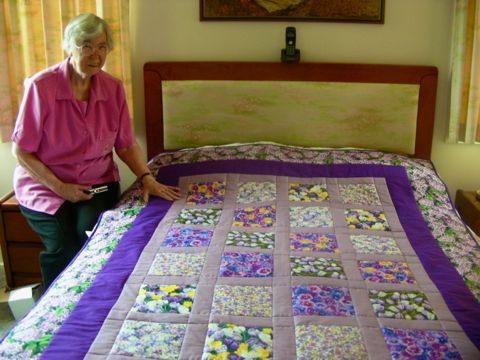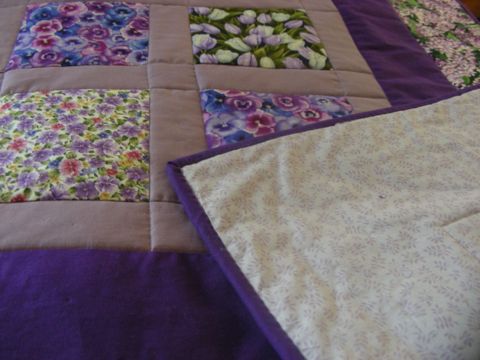 Some lacy socks: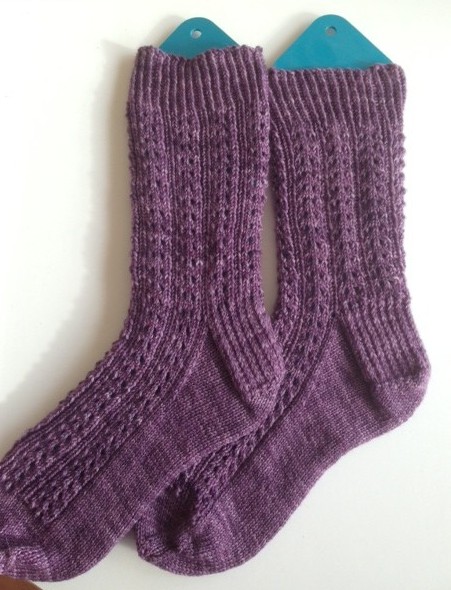 Some plain socks: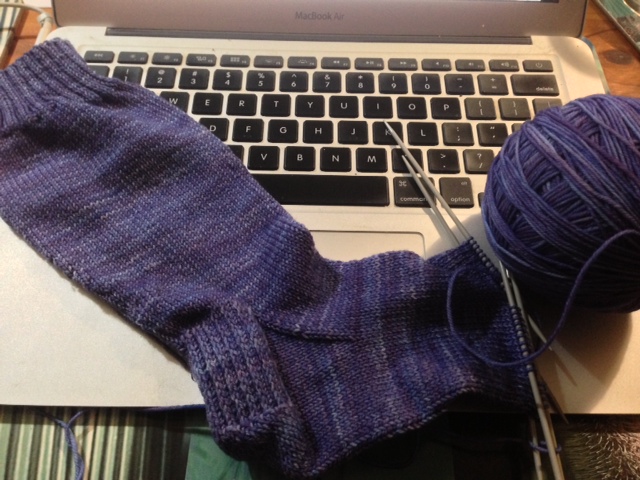 And some more plain socks: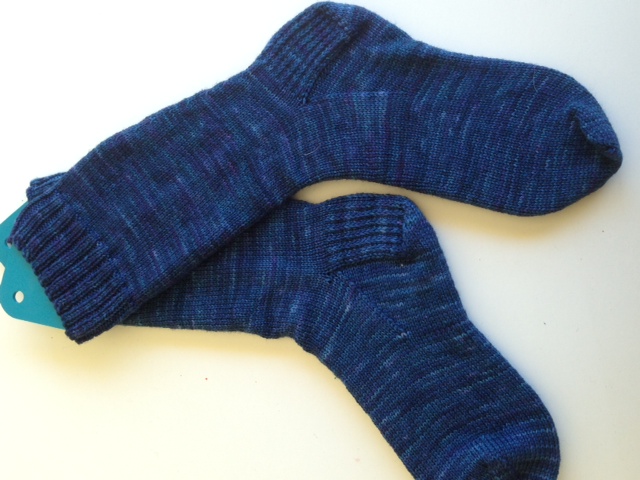 A rustic, comfy top-down cardigan: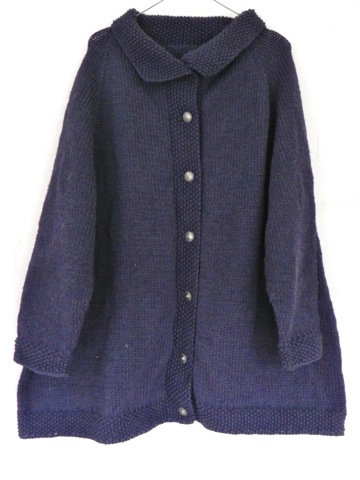 Oh, and my other finished creative work – a book!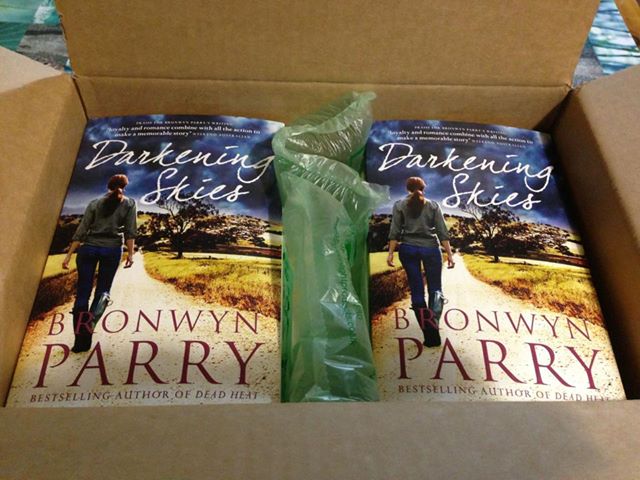 Unfinished projects:
Sadly, most of the projects mentioned in my previous posts last year are still languishing unfinished, although I have made a little progress on some.
The aqua quilt is pin basted and part-quilted – just over a third of the 63 blocks are done.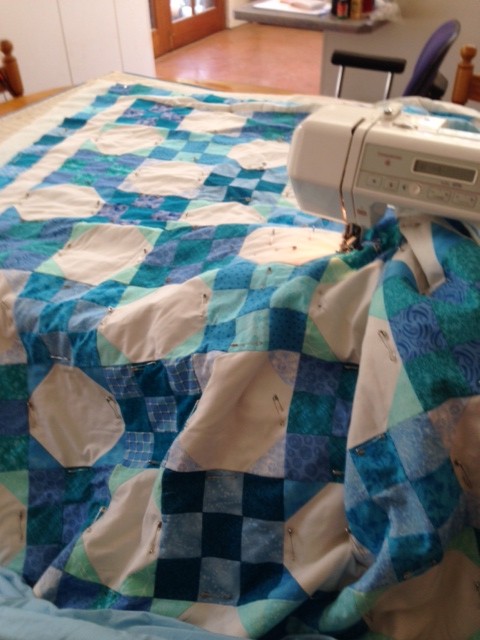 I have to clear the dining table for quilting a whole quilt, so I have been trying to keep it a little tidier than usual so that I can quickly set the machine up there if I have an hour or so to play.
I've temporarily put the aqua quilt aside again though to work on the quilt for my nephew – I finished all 48 blocks and here's all of them laid out in one of the patterns he designed: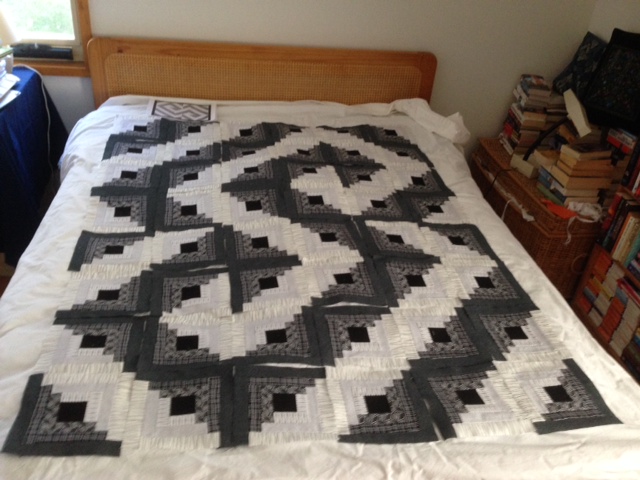 I finished sewing them all together this evening, but haven't pressed the final lot of seams yet. I'll probably add a narrow white border, then a black border, and I think I'll back it with a grey fabric if I can find a suitable one. I'm not sure yet how I'm going to quilt it, but it won't be too fancy.
The lace shawl I was designing early last year is still not finished. One day…
So, that's a quick summary of a year's creativity! Now, must get back to writing the next book!
It's a month since I last posted. I don't have a lot of textile work to show for that month, but there is some progress.
The aqua quilt is pin basted,and waiting to be machine quilted. It may be waiting a while.
I now have 4 blue and teal star blocks, but that project is on hold for now.
My new shawl design is also on hold, as is the cardigan I've been knitting for a while.
I have finished something – a pair of plain socks. I'm calling them my lumberjack socks, since they're good boot socks and the greens remind me of pines. The yarn is Cleckheaton Country Tartan 8 ply.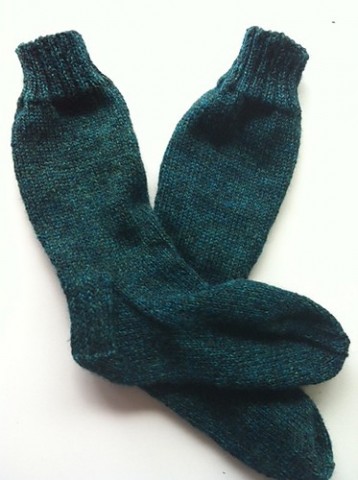 I knit while I'm writing, and plain socks are best. I'm a slow writer, so I spend a lot of time staring at the screen, searching for the right words. The knitting is a kind of meditation; it helps to shift my brain into a creative mode, and keeps my hands busy so that I don't go clicking all over the internet. With plain socks, I'm not reciting a pattern in my head and I can drop them the moment words come to me so I can type. I've got a lot of writing to do in the next few months; I have two more lots of the Cleckheaton yarn (blue and red), so I see some more socks in my future.
The only other creative project I'll be working on for the next month or so is a quilt for my nephew's 18th birthday. It may not get done in time but we'll see. I had some black and white fabrics, and bought some more on Friday – although it's pretty hard to find non-floral B&W (not grey) fabrics in our town; I went to the quilt shop, Lincraft, the other fabric shop, and raided Big W's fat quarters, but there wasn't a huge choice anywhere.
However, today I've selected the ones I'll use; I've made 4 blocks so far, and cut up most of the fabric for the remaining 44 blocks. I will have to get a little extra of 2 of the fabrics but I have enough to go on with for now and will go to the local quilt store during the week. My plan is that when I need a break from writing, I'll make blocks.
My nephew plans to be an architect – so what better structure to use than log cabin 🙂 I haven't decided how I'll put the blocks together yet. I've been playing with the 4 completed ones to see the different effects – isn't log cabin such a versatile and magical block – so many possibilities!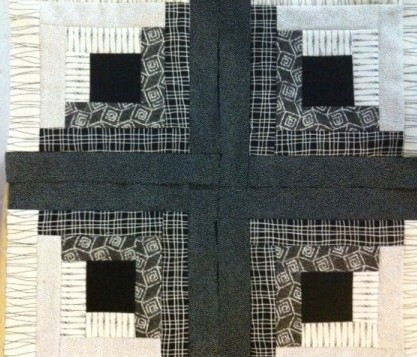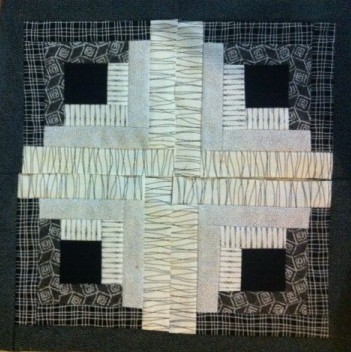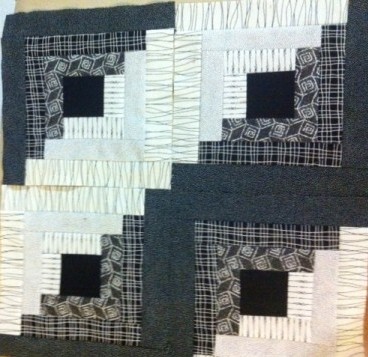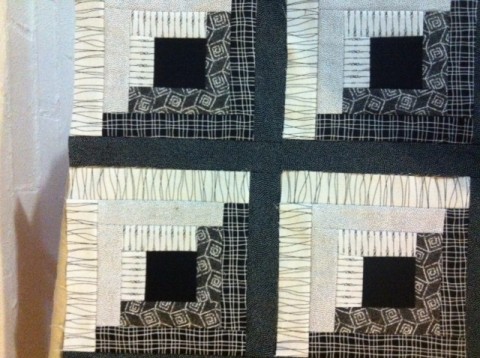 I'm a learn-as-I-do kind of person, and I'm enjoying learning about patchwork and quilting. I'd love to spend more time on it – on all my textile work! – but work and writing claim a lot of my time and brain power. However, on Sunday, after finishing uni marking on Friday and teaching an all-day writing workshop on Saturday, I declared Sunday a rare holiday from work, and spent all day playing with fabrics. As a result, my first quilt top is now finished: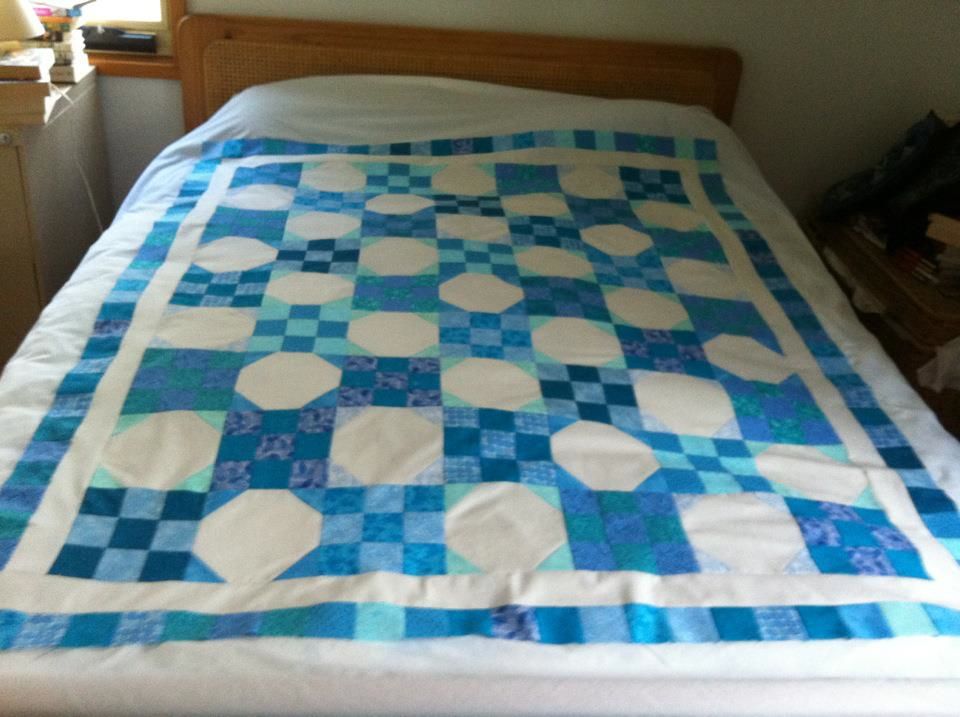 (I'm also more relaxed… I should declare holidays more often!)
I did think about making it larger, and I made a few extra blocks… but then I decided to leave it as is, my logic being that I didn't want to have to quilt a huge quilt for my first one. So, I put the extra 9 blocks together into a small piece, and quilted it for practice: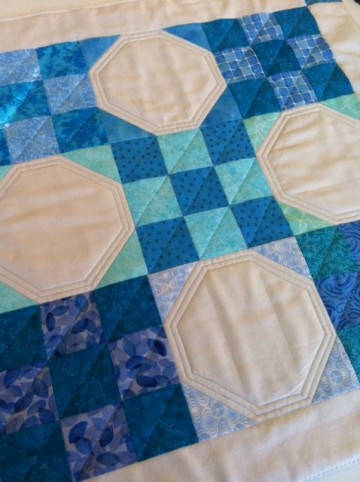 I'm glad I did this; it enabled me to get more used to machine quilting and handling a (somewhat) larger piece without being too concerned about making mistakes. I'll have a go at free-motion quilting in the sashing, although I need to get the right foot for my machine to do that. Then I'll bind this piece – although what I'll do with it, I don't know. I suppose it's about the right size to put over a new-born in a bassinet; with all my nieces and nephews in their late teens and early twenties, maybe there'll be a new-born sometime in the next decade!
I had work to do last night, but in the disjointed couple of hours in the late afternoon when there's dog walking and dog feeding and dog playing and making dinner and such, I also made a patchwork star: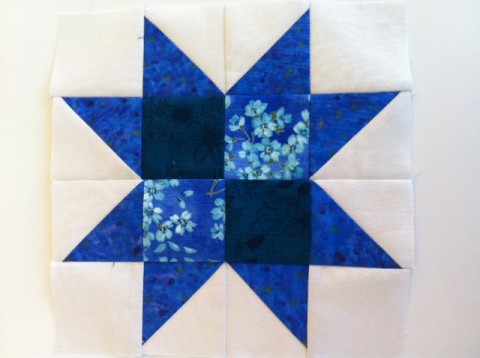 Maybe it will just be a practice block. Maybe there'll be more. Maybe there might even be a quilt one day – I  love blues and whites and stars…)
Maybe I'd better concentrate on finishing knitting a shawl (I worked out some problem rows last night!), and writing a book, and earning a living!!
My knitting mojo has returned, but it's battling for time with the quilting mojo, and the writing and working demands – oh, what lovely things I could make if I didn't have to work in addition to my writing!
The new shawl design is coming along, and there's light at the end of the tunnel – and some order coming to the design chart! Here's a little sneak preview: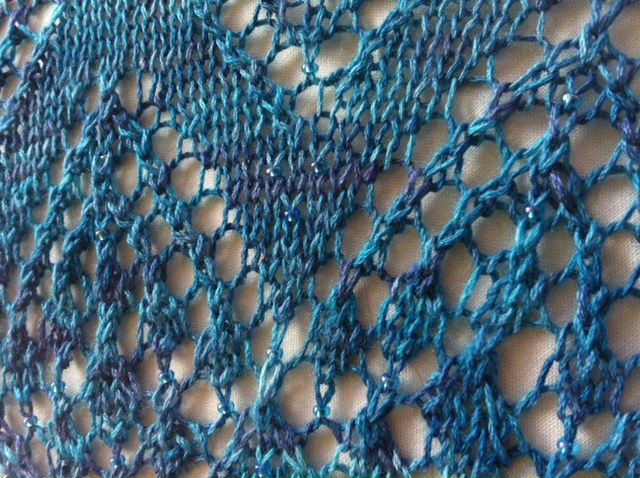 The yarn I'm using is my favourite 50/50 silk/merino blend, hand-dyed by Spinning a Yarn. It's a beautiful heavy lace-weight yarn, about 600 metres per 100grams, with a smooth feel and lovely sheen from the silk. Hopefully I'll have the border finalised and this sample completed in the next week or two; then I'll need to write up the pattern (charts and written instructions), work out additional sizes, have it tested knitted, have the pattern tech-edited, photograph the shawl/s… and then it will be ready for publication.
My quilting has taken a slight hiatus; I was away in Canberra & Sydney for 10 days, and now I'm back I have a stack of uni marking to finish this weekend, so no quilting for me until that's done. My first quilt top is coming along, but I'm looking forward to getting back to it and finishing it: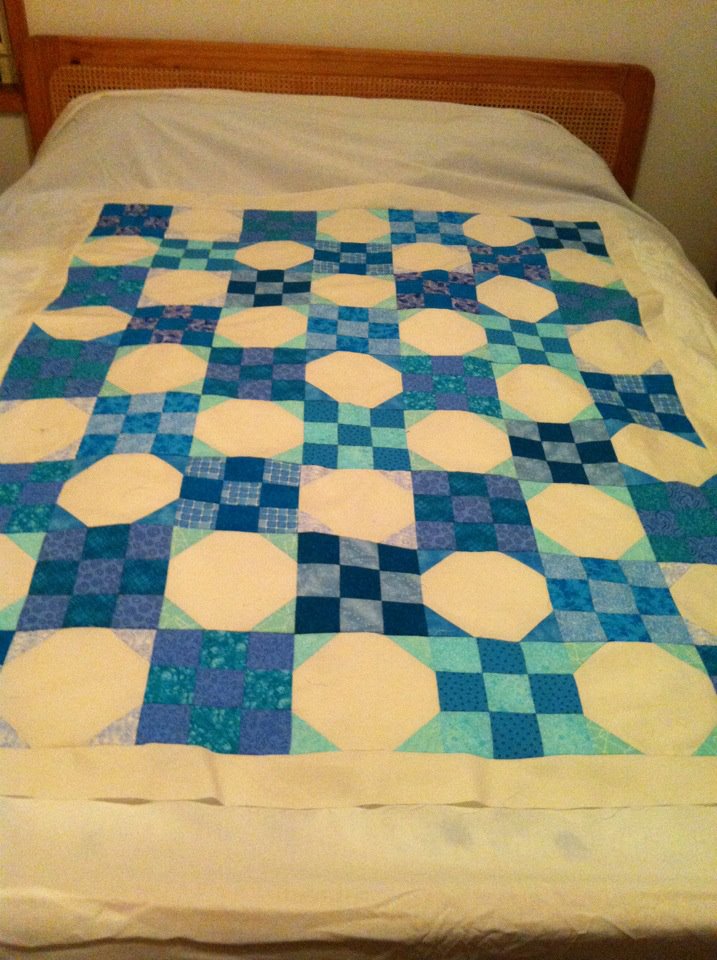 I have to redo the sashing, piece border strips and sew them on, and am also going to piece a strip in the backing fabric to make it wide enough. Then there's the actual quilting – I'm thinking about simple machine-sewn diagonals in the 9-patch blocks, and maybe handquilting the snowball blocks – but I could also machine-quilt them, which might give me a chance of actually finishing the project!!
I used as a pattern guide a project from the book 'Two From One: Jelly Roll Quilts" by Pam and Nikki Lintott (Book depository link) (Goodreads link). I didn't follow the pattern exactly – I used birth control assorted fat quarters and scraps, not jellyrolls, and made it bigger – but I found the instructions, diagrams and photos clear and helpful for me as a beginner quilter. I do recommend the book; I've even bought another book by the Lintotts – Jelly Roll Sampler Quilts. (Book Depository link) (Goodreads link).
Of course, although I am only a beginner quilter, I have adopted very quickly the stashing habit! I have quite enough fat quarters and leftovers from this project to do another in similar shades; I have also stashed sufficient fabrics for at least three other quilts. They're only in the dreaming/vague planning stages at present, but there is one I'd like to make in the next few months for a special person, and I ordered some fabrics for it from equilter.com when they were on special a couple of weeks ago. I have in mind a relatively simple quilt, highlighting the fabric rather than the patchwork, so it might be doable by the desired date in amongst all the other demands on my time.
In a quick round up of other news, my sourdough baking repertoire now includes cinnamon scrolls: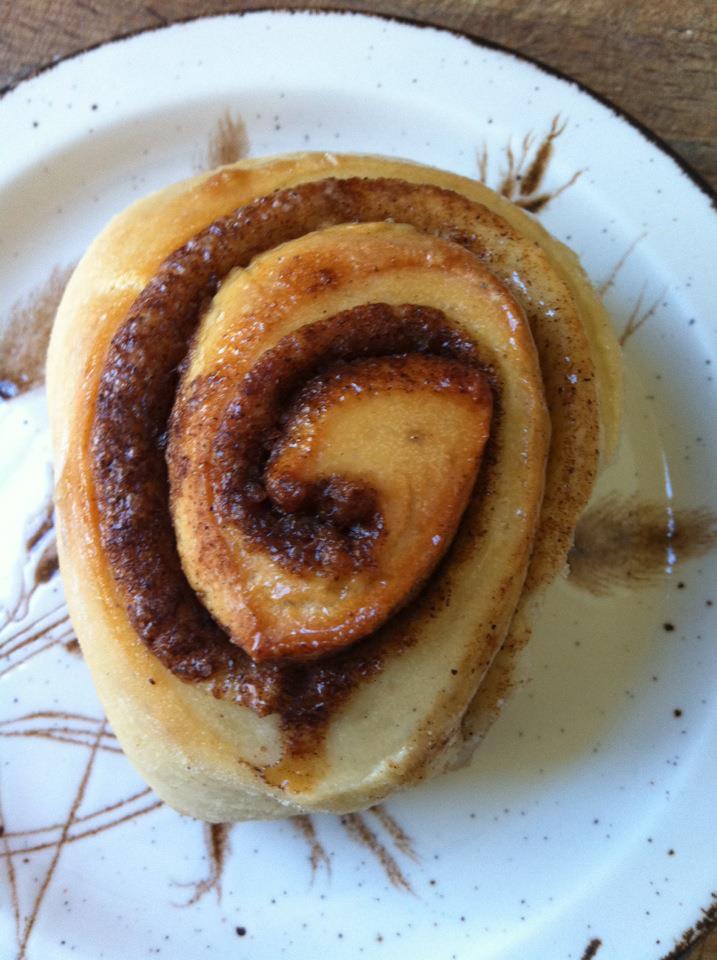 I'm also just baking my second loaf of sourdough chocolate bread, inspired by my niece who loved it when she stayed in France, and who is now a sourdough baker herself. It's very delicious!
Skye the now 15-month-old 'puppy' is still keeping us on our toes – she loves her toys and she's full-on play, play, play – until she's ready to sleep for a while!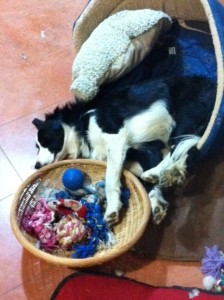 Oh, and have I mentioned that I have to write my next book by the end of September? No? Needless to say, I shouldn't be here…! There may not be a whole lot of blogging in the next few months, but I hope to squeeze in some textile creativity, to help inspire the creative writing imagination!
It's been one of those years – and it's still only April. Life has been a rollercoaster, my knitting mojo has been wandering elsewhere, I've taken up quilting, and I'm itching (still) to get back to weaving.
Knitting-wise, I finished a couple of things in time for the Armidale Show at the end of February – a pair of girly socks for my Mum (who wears a lot of blue and pink) and a Lazy Lara Shawl, which I gave to my sister for her birthday.
The socks won first prize at the Show in their category, the shawl came second in the shawls, and my Majbritt Doily from the previous post won first in its category.
I was working on a new shawl design, but striking problems with it and doing much ripping and tinking trying to get it right… then my Dad died in early March (he was elderly, and wanted to rest, so I can't be too sad that he's out of pain) and my lace-design concentration evaporated. I have done some knitting since then, but simple things – I'm working on a pair of Thuja socks for me, a pair of mittens for DH, and a beret.
Just days before my Dad died, one of my closest friends was diagnosed with a cancer that turned out to be very aggressive… and in just six weeks, she died. In the last terrible week, when we knew the text message could come at any time, I could hardly concentrate on anything. There was nothing I could do to help her; she was sedated, and had asked that nobody but her partner be with her in the hospital. Amongst many other talents and skills, she was a beautiful quilter, and so in that week as a way to connect with her and hold her closely in my thoughts, I turned to the pieces of patchwork fabric and supplies I'd been starting to collect and began to teach myself patchwork and quilting. I had her in mind as I did, especially her careful approach to crafting, and her attention to detail, inspiring me to be less slap-dash than I might usually be – with, of course, good results.
Here's my first quilted 9-patch square – finished and bound so that I can use it as a teapot mat:
I just wish that she was still here, as we often shared a pot of tea.
My next project was one I'd been mulling for a while – a pouch for my laptop (it's been in use, so please forgive the creases!):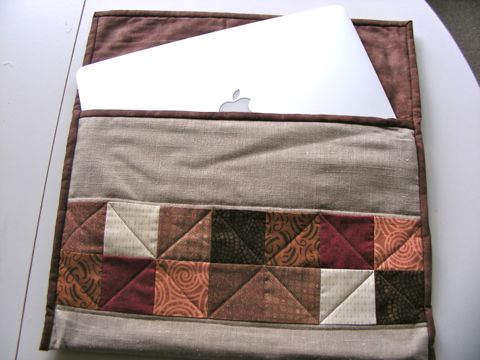 And then I decided to have a go at a more complex star square, and hand-quilting.. and i have another tea-pot mat (but maybe I need a brown teapot to go with it… or perhaps I should make a blue one next):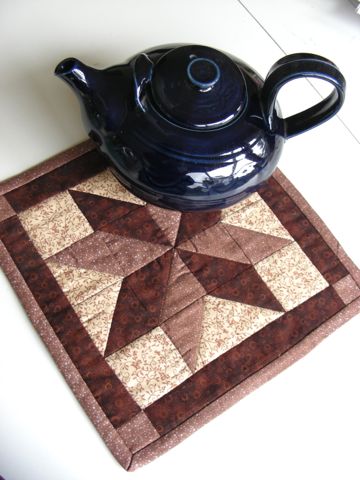 I'm planning to try my hand at a quilt soon, and some fat quarters and jellyrolls may have followed me home. I've washed and ironed a range of blue fabrics, so I might start a sample square or two soon – just as soon as I finish some work projects.
I've also been in the drafting stages of planning a blanket warp for the loom – I have the draft (8-shaft block twill in three colours), but have to get the yarn before I can really start it.
So that's where I've been, these blog-silent months, stitching in various ways through the ups and downs of life.
As I mentioned in my last post, I plan to knit some doilies to go with my new teacup sets. I know some people think doilies are dreadfully old-fashioned and useless, but I'm not one of those people! I love the simple beauty of lace knitting, and to me doilies are both functional and decorative, protecting a table surface as well as being lovely in themselves.
I've finished the one I started a couple of weeks back. At 43cm diameter, it's more of a table centre than a doily, but I'm very happy with it: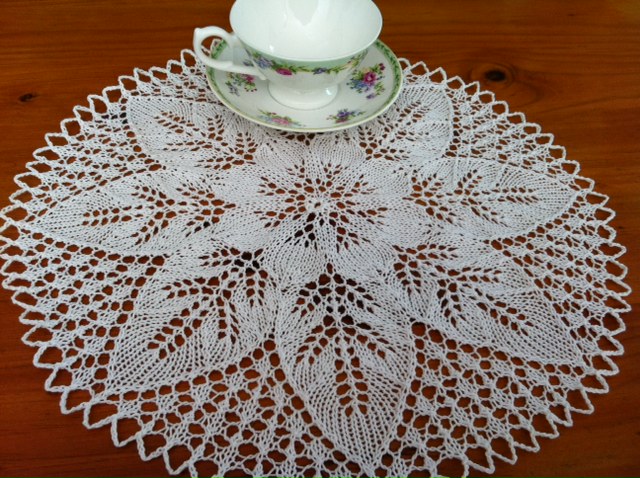 The pattern is Majbritt I (Ravelry link) from the book Handknitted Lace, (Book Depository link) by Sonja Esbensen and Anna Rasmussen, which I bought a couple of months ago and have been itching to knit something from since!
The designs are charted, which I love (hate reading rows upon rows of written directions, especially for lace!)
I had a bit of a panic, though, the other day. After a week of mad work finishing the edits on the latest book, I picked up the doily again for some relaxing knitting. I knitted round 41 and 42 fine (even round are plain rows). I started round 43 – and it Would Not Work. I didn't have enough stitches, and the pattern didn't 'fit'. Something had to be wrong. I spent some time googling for errata, and checking Ravelry to see if anyone else had the same problem. Nothing. Sigh. There has to be a fault with the pattern, right? Sigh again. I'm an experienced knitter. I can look at the picture and work out what it's supposed to be. Looking at my knitting, the error had to be in the previous round's instructions. So I tinked back round 43, and round 42… oh, and the other round 42 – oops, how did THAT happen?… and for good measure, round 41 as well.
(Should I mention here that the mad rush to finish the edits had included an all-nighter? And that I am not as young as I used to be?)
Needless to say, there was no error in the pattern. It was perfectly correct. And it is a lovely pattern!
I haven't posted for a while. In between writing and working, there hasn't been much time for knitting! I did finish the novel and sent it in to my publisher; now I'm working madly on revisions – in between uni lecturing and marking.
But I have finished (another) pair of socks. These were cast off last week (or maybe the week before – my brain is in a haze):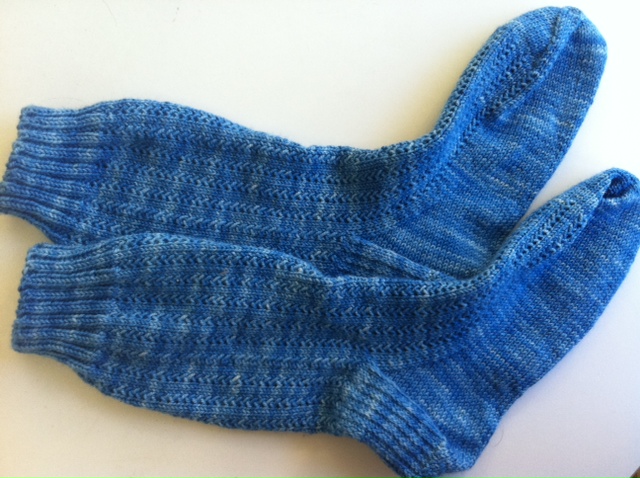 The pattern is my adaptation of Sandra Park's Charade pattern (Rav link). Okay, so it's mostly just the stitch pattern from Charade, with calf-shaping and my standard heel and shaped toes. My Ravelry project page has the details (which I'm too tired to type out here.)
I'm running low on sock yarn – I like lightly variegated or semi-solid ones the most – so for the first time, I used a 50/50 wool/silk mix for socks from my shawl stash. I've not made wool/silk socks before, and I'm a bit nervous about how they'll wear, so I haven't worn these ones yet. Oh, well, they look pretty in my sock drawer! I will put them on at some stage, but I think I'll admire them a little longer before I take that risk.
Not a lot of knitting on the horizon at present due to work pressures – maybe a few rows of some plain socks here and there. Revisions on the book have to be in by November 1, so I'll be glued to the computer until then.
I've had butt in chair, manuscript open on the laptop, and basic knitting keeping my brain focused and my fingers from clicking all over the internets a lot lately. Here's part of the result – my Midnight Socks: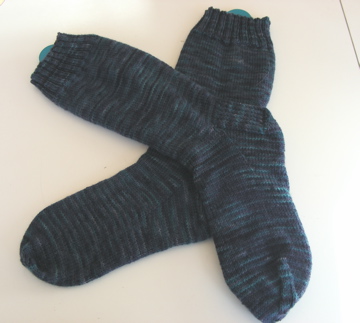 The yarn is my hand-dyed Bendigo Woollen Mills Luxury 4ply, and I love the way the yarn knitted up in the very plain pattern.
The novel's coming along – not quite as fast as I'd like, as the deadline is rapidly approaching, but edging forward every day. So now I'm going to get off the interwebs and go and write some more. Although I might have to cast on another pair of socks to meditate my brain into creative mode!