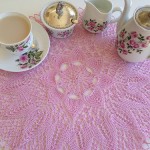 When I posted yesterday about my Lerke doily, I hadn't quite finished another one. But now it's finished, blocked, dried – and tested!
I'm home by myself today, and usually I'd have my early afternoon cup of tea in one of my lovely stoneware mugs. But as I wanted to photograph the newest doily, I brought out the bone china again. I also cleaned the little silver teaspoons that I didn't have time to clean for my afternoon tea last week. (I don't think my old t-shirt and comfy cotton trousers come anywhere near the elegance of the tea set and doily – but no-one can see me!)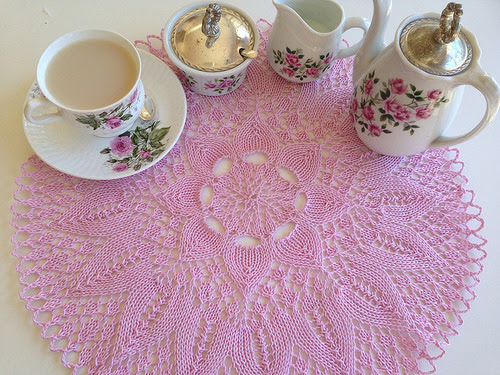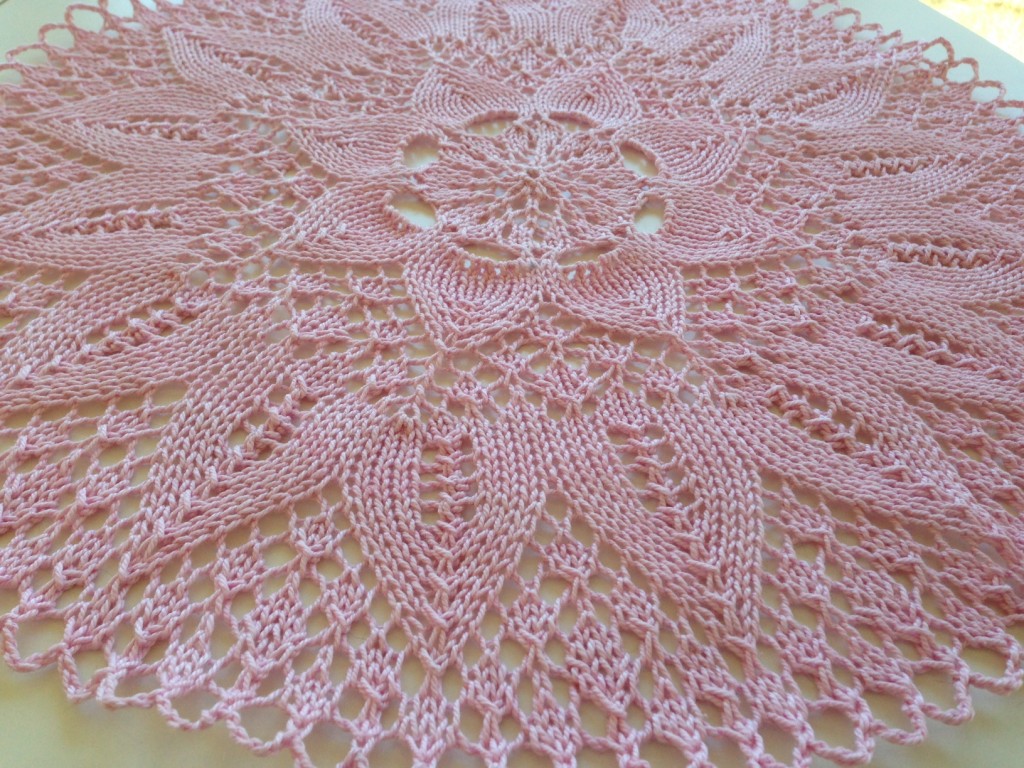 This is another pattern from the book Knitted Lace by Sonja Esbensen and Anna Rasmussen – this pattern is 'Marie'. As with all the doilies I've knitted so far, I've used fingering-weight cotton instead of the finer cotton recommended in the pattern – which of course makes my doilies bigger, more like table centres. I do have some slightly finer cottolin in my weaving stash, so maybe my next one will use that, as a comparison. My next one? I'm not sure yet – I'm very tempted by a few in the book. And there's also a Marianne Kinzel book on my shelves, and I also have a couple of Gloria Penning's lace doily books… between them, they'll keep me busy for a few years!
My knitting mojo has returned, but it's battling for time with the quilting mojo, and the writing and working demands – oh, what lovely things I could make if I didn't have to work in addition to my writing!
The new shawl design is coming along, and there's light at the end of the tunnel – and some order coming to the design chart! Here's a little sneak preview: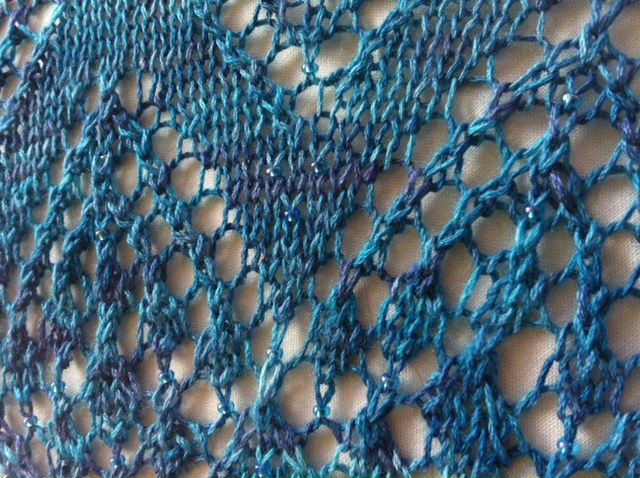 The yarn I'm using is my favourite 50/50 silk/merino blend, hand-dyed by Spinning a Yarn. It's a beautiful heavy lace-weight yarn, about 600 metres per 100grams, with a smooth feel and lovely sheen from the silk. Hopefully I'll have the border finalised and this sample completed in the next week or two; then I'll need to write up the pattern (charts and written instructions), work out additional sizes, have it tested knitted, have the pattern tech-edited, photograph the shawl/s… and then it will be ready for publication.
My quilting has taken a slight hiatus; I was away in Canberra & Sydney for 10 days, and now I'm back I have a stack of uni marking to finish this weekend, so no quilting for me until that's done. My first quilt top is coming along, but I'm looking forward to getting back to it and finishing it: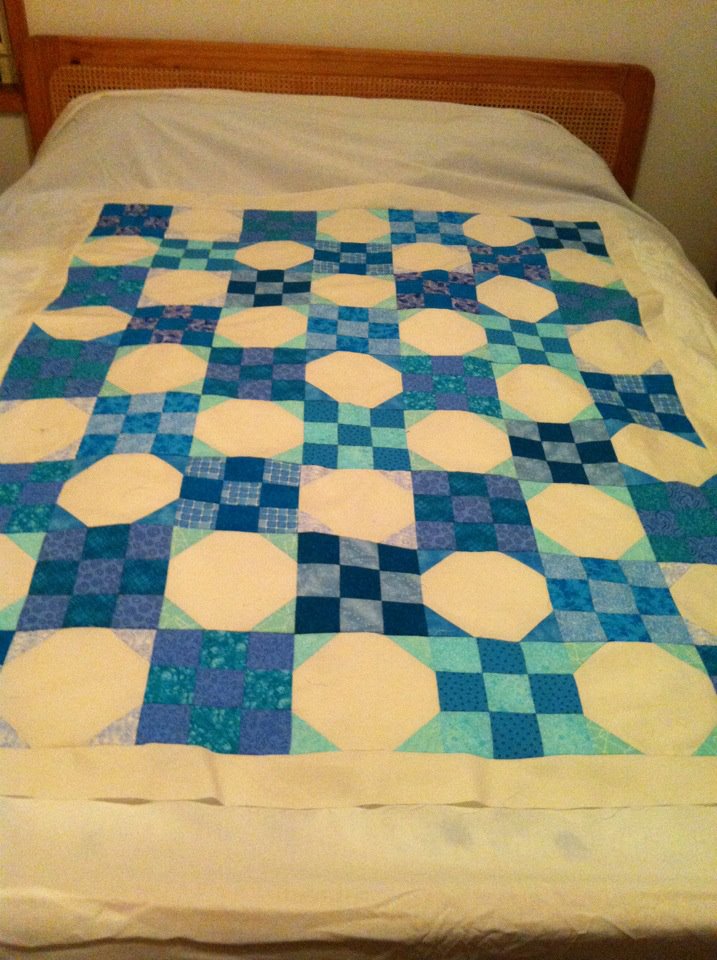 I have to redo the sashing, piece border strips and sew them on, and am also going to piece a strip in the backing fabric to make it wide enough. Then there's the actual quilting – I'm thinking about simple machine-sewn diagonals in the 9-patch blocks, and maybe handquilting the snowball blocks – but I could also machine-quilt them, which might give me a chance of actually finishing the project!!
I used as a pattern guide a project from the book 'Two From One: Jelly Roll Quilts" by Pam and Nikki Lintott (Book depository link) (Goodreads link). I didn't follow the pattern exactly – I used birth control assorted fat quarters and scraps, not jellyrolls, and made it bigger – but I found the instructions, diagrams and photos clear and helpful for me as a beginner quilter. I do recommend the book; I've even bought another book by the Lintotts – Jelly Roll Sampler Quilts. (Book Depository link) (Goodreads link).
Of course, although I am only a beginner quilter, I have adopted very quickly the stashing habit! I have quite enough fat quarters and leftovers from this project to do another in similar shades; I have also stashed sufficient fabrics for at least three other quilts. They're only in the dreaming/vague planning stages at present, but there is one I'd like to make in the next few months for a special person, and I ordered some fabrics for it from equilter.com when they were on special a couple of weeks ago. I have in mind a relatively simple quilt, highlighting the fabric rather than the patchwork, so it might be doable by the desired date in amongst all the other demands on my time.
In a quick round up of other news, my sourdough baking repertoire now includes cinnamon scrolls: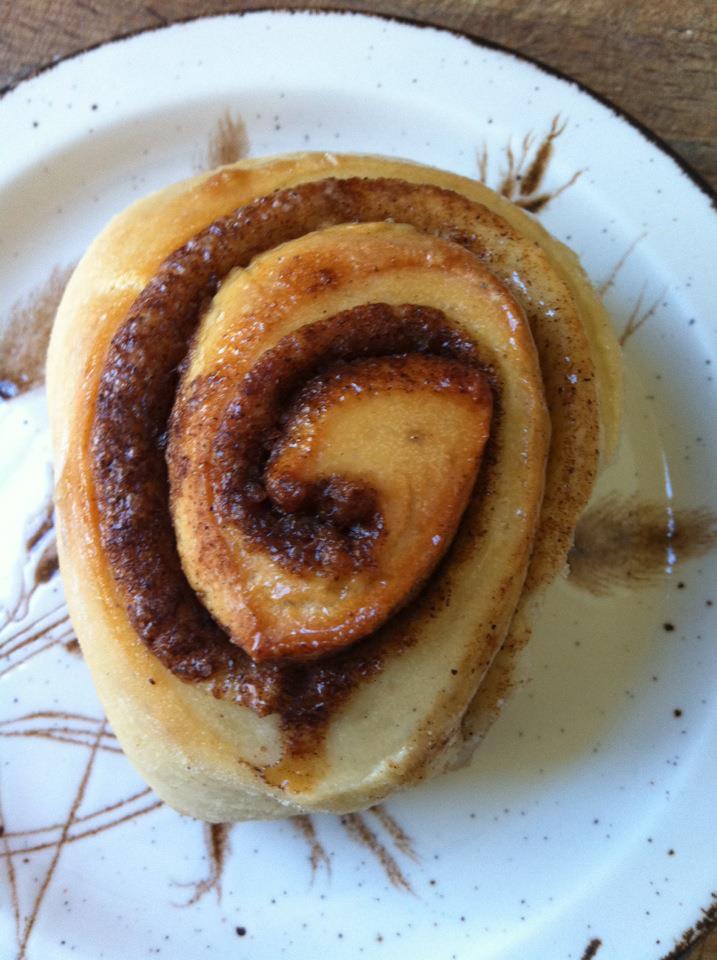 I'm also just baking my second loaf of sourdough chocolate bread, inspired by my niece who loved it when she stayed in France, and who is now a sourdough baker herself. It's very delicious!
Skye the now 15-month-old 'puppy' is still keeping us on our toes – she loves her toys and she's full-on play, play, play – until she's ready to sleep for a while!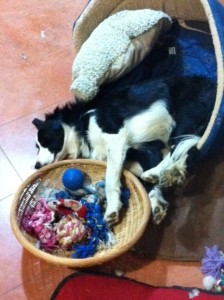 Oh, and have I mentioned that I have to write my next book by the end of September? No? Needless to say, I shouldn't be here…! There may not be a whole lot of blogging in the next few months, but I hope to squeeze in some textile creativity, to help inspire the creative writing imagination!
As I mentioned in my last post, I plan to knit some doilies to go with my new teacup sets. I know some people think doilies are dreadfully old-fashioned and useless, but I'm not one of those people! I love the simple beauty of lace knitting, and to me doilies are both functional and decorative, protecting a table surface as well as being lovely in themselves.
I've finished the one I started a couple of weeks back. At 43cm diameter, it's more of a table centre than a doily, but I'm very happy with it: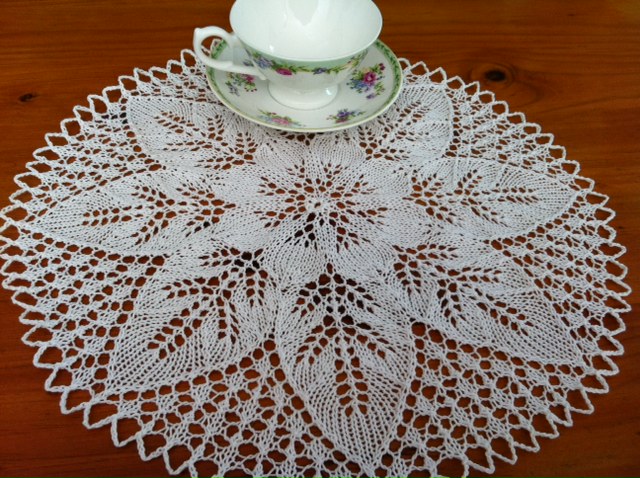 The pattern is Majbritt I (Ravelry link) from the book Handknitted Lace, (Book Depository link) by Sonja Esbensen and Anna Rasmussen, which I bought a couple of months ago and have been itching to knit something from since!
The designs are charted, which I love (hate reading rows upon rows of written directions, especially for lace!)
I had a bit of a panic, though, the other day. After a week of mad work finishing the edits on the latest book, I picked up the doily again for some relaxing knitting. I knitted round 41 and 42 fine (even round are plain rows). I started round 43 – and it Would Not Work. I didn't have enough stitches, and the pattern didn't 'fit'. Something had to be wrong. I spent some time googling for errata, and checking Ravelry to see if anyone else had the same problem. Nothing. Sigh. There has to be a fault with the pattern, right? Sigh again. I'm an experienced knitter. I can look at the picture and work out what it's supposed to be. Looking at my knitting, the error had to be in the previous round's instructions. So I tinked back round 43, and round 42… oh, and the other round 42 – oops, how did THAT happen?… and for good measure, round 41 as well.
(Should I mention here that the mad rush to finish the edits had included an all-nighter? And that I am not as young as I used to be?)
Needless to say, there was no error in the pattern. It was perfectly correct. And it is a lovely pattern!
While I planned to post something today – a catch-up post – I didn't actually plan to give the blog a whole new look. But you know how it goes… the theme I was using needed updating, and so I did the auto-update, and as a result it went all wrong. I could have stuffed around and fixed it (the problem was the widgets, I think), but I'd been planning to do a new theme, and I now have a great little program called Artisteer, so I played around on that and voila! – we have a new design!
So, what have I been up to since last I posted? Not a lot in the way of knitting and crafting, as I've been flat out teaching, marking, finishing a book and revising it. I have a number of wips languishing or receiving only occasional attention – two top-down cardigans, a lace shawl, some mittens for Gordon. But I did finish some red socks for my sister for Christmas: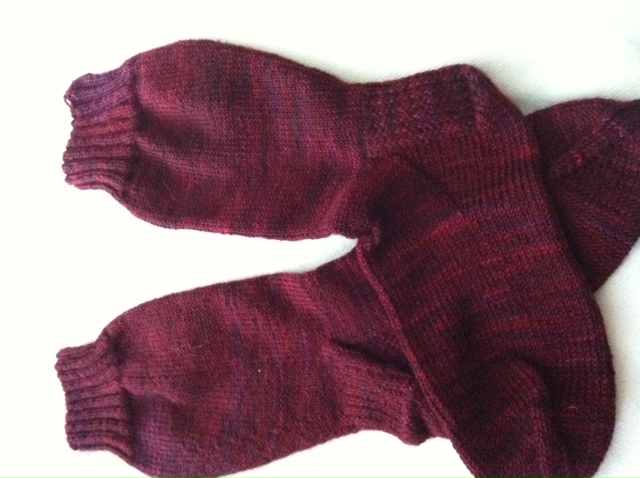 There was also a little Christmas sewing – a roll-up shopping bag for a batty friend who likes bats – the print isn't really bats, but it looks a little like them so we call it bat camouflage: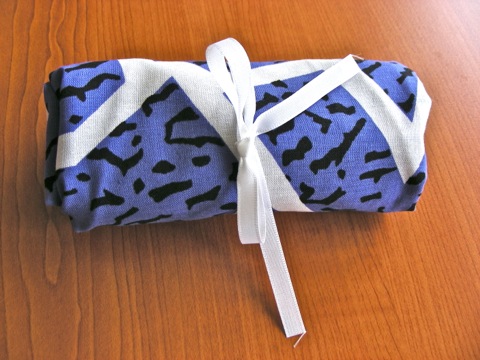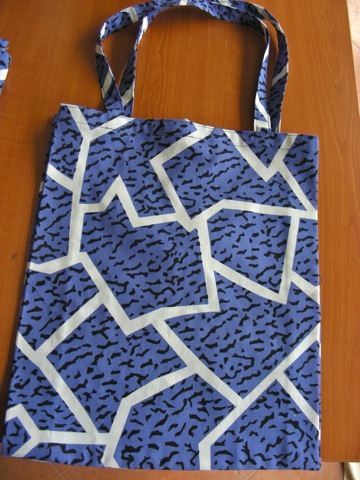 I was in a secret santa swap with the local Ravelry crew, and I made an apron for my cheesecake-baker extraordinaire friend, Amanda: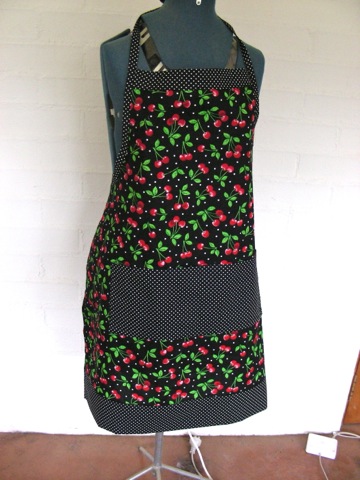 They're not made from yarn or fabric, but I've also made quite a lot of these in the past few weeks: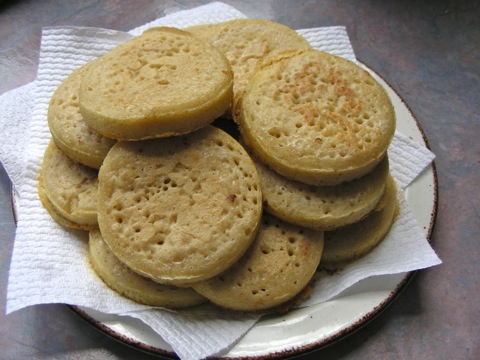 Sourdough crumpets – delicious toasted and spread with a little butter and honey! I stocked up my parents' freezer while I was in Canberra for Christmas, and restocked ours yesterday.
Knitting-wise, I'm currently working on a lace doily: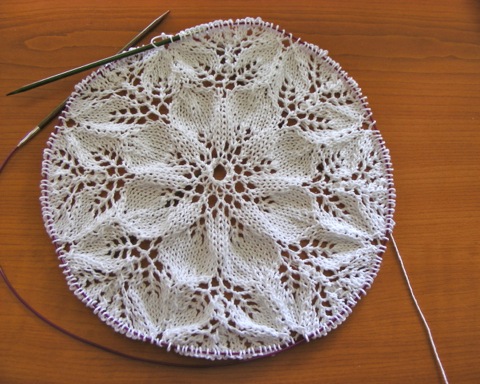 …because I need some lace doilies for the lovely china teacup sets my sister gave me for Christmas: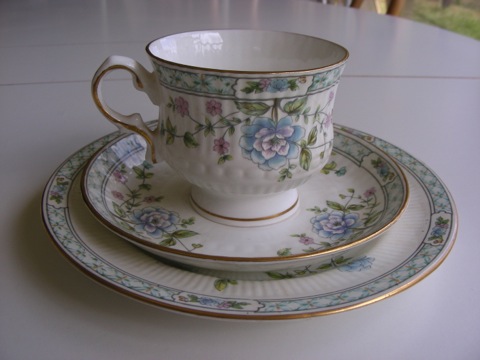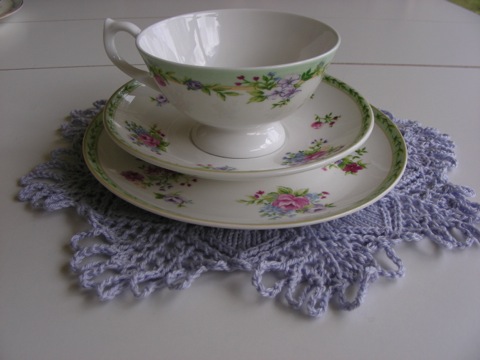 And the last thing I should mention is that we have a new puppy – 9 month old Skye, who joined our household two months ago, after we had to euthanise our beautiful, beloved Princess Dog. Skye loves toys…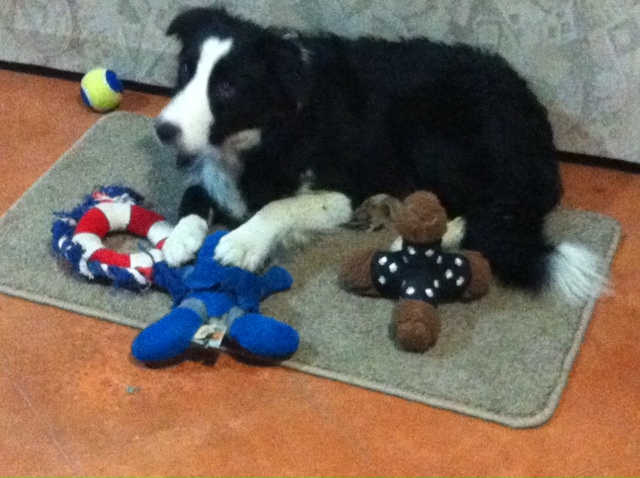 … and is a fibre enthusiast…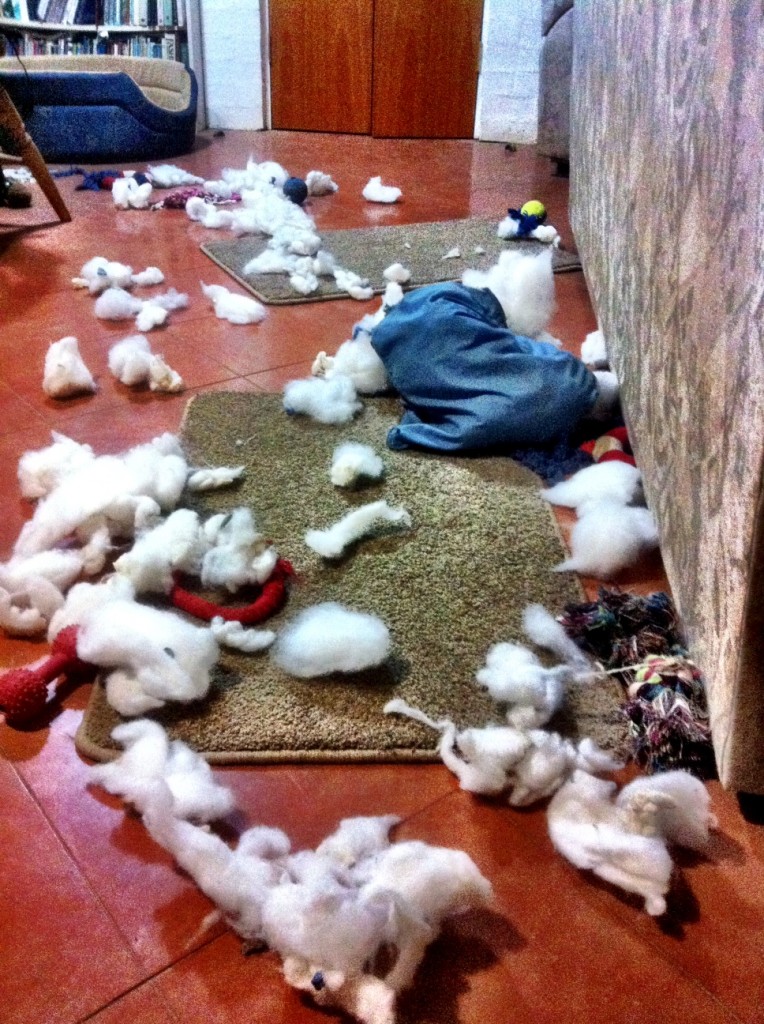 She especially loves the fluffy stuff inside her cushion, and often pulls it all out – it's one of her favourite games!
So, that's my catch-up post for this last day of 2011. I hope you like the new blog design – I do! I'm hoping that 2012 is a great year for all my friends – may there be much making of beautiful, practical things, for all of us, and companionship in the making and sharing 🙂
I've finished my modified Helmi cardigan – and I love it!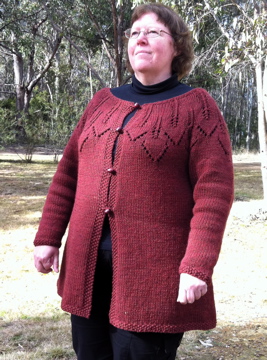 (Okay, so I don't love my over-weight shape, but the cardigan is comfy and warm and should still look fine when I'm skinnier in the tum and butt!)
I didn't do buttonholes in the front band; for the closures, I've used wooden beads I've had in the cupboard for years, and crocheted loops. I'm planning to re-space the 'buttons' so that they're closer together and it doesn't fasten quite so low.
But all in all, I'm regarding this cardigan as a success, and I'm definitely a convert to top-down knitting. This is the first jumper/cardigan I've knitted for some years that I actually like as a finished product on me. And since I've received four cardigan-lots of wool form Bendigo Woollen Mills recently, and we're only part-way through a cold winter, I'd better go and cast on another cardigan!
I've been working full-time, teaching at the university this semester, and so there has not been much time for knitting. This morning, I finally finished a pair of socks that I started in early February: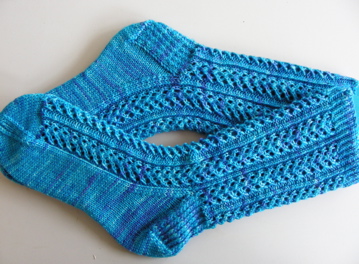 The pattern is the popular Hedera (Rav link) by Cookie A, and this is the second time I've knitted it. As my ankle is thicker than Cookie's, I've again used 3mm needles for the leg, and 2.75mm needle for the foot.
The yarn is Bendigo skin care Luxury 4ply which I dyed myself, some months back; I'm very happy with the saturation of the aqua and the touches of deeper purple. In fact, I love the socks!
Now to cast on for my next project – as knitting time is so limited, I think I'll use some deep blue yarn from Saffron Dyeworks for a pair of plain socks, as I have no dark blue socks in my sock drawer: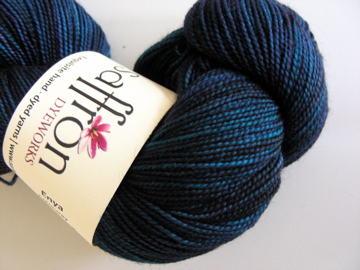 I seem to be managing to cross a few things off my to do list lately – not huge things, but some little ones that nevertheless make me feel good! And those I haven't yet crossed off, I'm making good progress on.
Since I'll be in hospital for Christmas and won't be able to visit my parents, I thought I'd knit another lace doily, this time in colours to match the blue and white linen my mother often uses on the table for Christmas dinner. I rummaged around in the stash and found a cone of pale blue cotton I've had for years, and cast on for the a second one of the Little Flower Doily (Rav link) from Bad Cat Designs. It took me a little over 24 hours to knit, and here she is blocking this morning: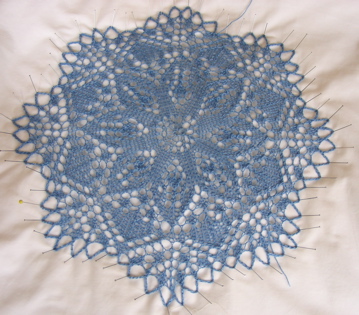 So, I can be at Christmas dinner in spirit – or under a nice glass plate of Mum's fruit mince tarts 🙂
The Christmas knitting – the small amount I am doing – seems reasonably under control. The Binary Cable Hat I started knitting for my nephew before his birthday in August didn't get finished, as I confused myself with how to set the binary code for his name into the cables, and therefore stuffed it up. However, this morning I finally frogged most of what I'd done, back to the first inch, and have restarted again, getting it right this time! So, it's now progressing well, and I hope to have it finished if not today, then tomorrow. I have another gift for him, but this will get popped in with it when it's done: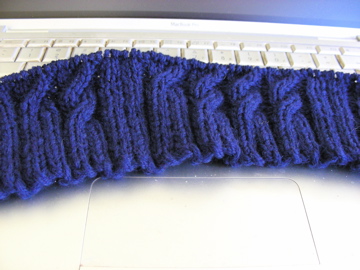 There's another gift I've half-finished, but since the recipient sometimes read this blog, I won't mention it 🙂 (But dear recipient, don't get TOO excited. It's just something I have owed you for …ahem ….a while. This year you might actually get it. Fingers crossed. But I have something else for you, as well!)
When those two things are done, then the next project will be finishing my All-Lace Brangian shawl, which is about half-done. I realised this morning that if I want to actually finish the Ravelry 10 Shawls in 2010 challenge, then I'm going to have to finish that shawl (my 1oth for the year) in the next week or so, in order to get it blocked, photographed, and uploaded to the group before I leave for hospital on the 10th Dec. It's only a small shawl, so that should be doable.
And in pattern news, I have updated the Brangian Progressive Yarn Usage table, and added one for the All-Lace Brangian version, which has slightly different row counts and therefore yarn usage. They can both be downloaded as .pdf files from this page.
This afternoon, after checking over the pattern again, I created a pattern page on Ravelry for the Christmas Lights Shawl and made it available for sale. I've also updated my pattern section here, and added the pattern into the Yarnosophy shop, but I'm sure Ravelry will be the place that most people go! (Which is fine by me, as Jess & Casey have created such an amazing community there that I like to support them as much as possible.)
Here's some of Tara's photos of the sample shawls, taken at our photoshoot yesterday: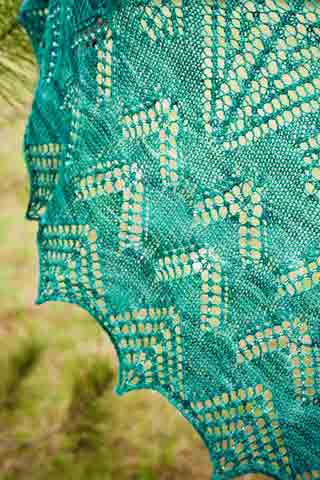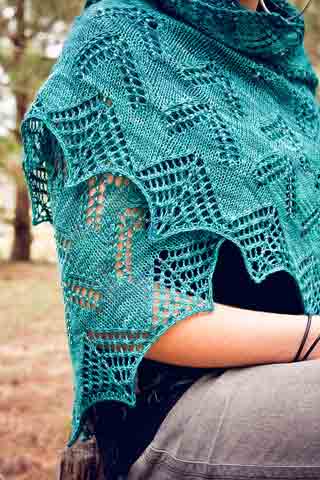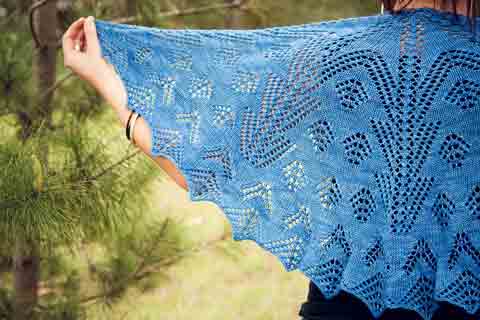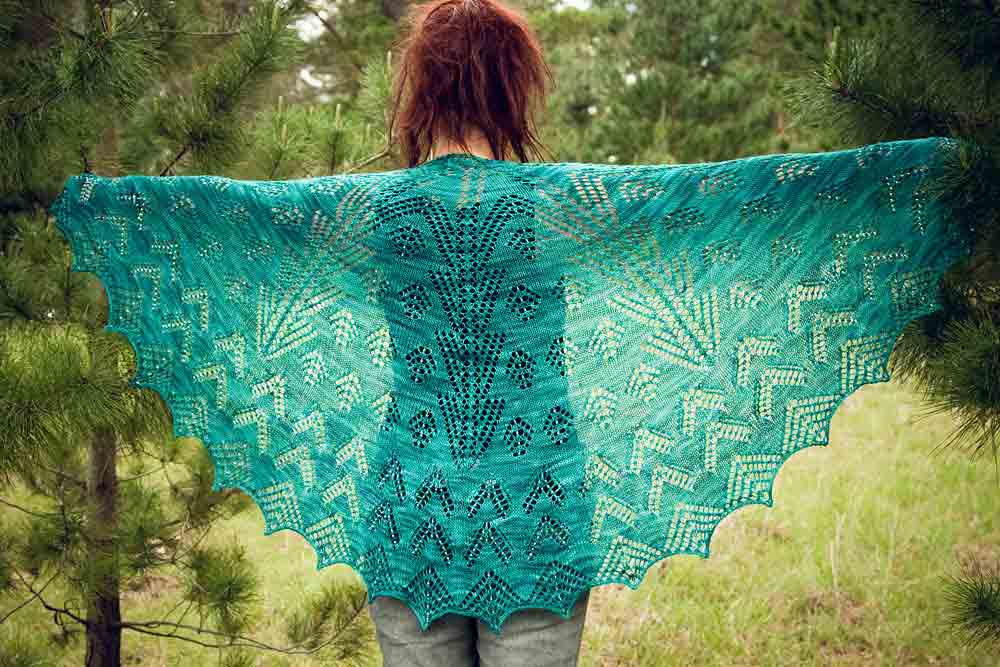 So, after months of knitting and calculating and charting and drafting and checking and rechecking and knitting… it's finally done and out there!
I'm getting much closer to releasing the Christmas Lights Shawl pattern. The fantastic group of test-knitters are making great progress, and have provided some valuable feedback on the pattern. I found a tech-editor n Ravelry who is seeking to build up her experience, and she's done a great job, going through the pattern in detail, and making some thoughtful and sensible suggestions for improving it – and picking up a missed 'yo' in the instructions!
On Sunday, after a long day with much knitting, I finished the medium size version of the shawl, and managed to get it all pinned out on the blocking mats before taking the dog to the vet yesterday morning. It was a gorgeous, sunny day, and our sunroom where the shawl was pinned out was toasty cosy – great for drying a shawl! So late afternoon I was able to unpin it, and take a few photos – not that any of them are great! I really need a beautiful garden, and/or some attractive garden furniture, to photograph shawls – our straggly wild bushland just doesn't have anywhere to drape things photogenically. But here it is, hanging on a wall: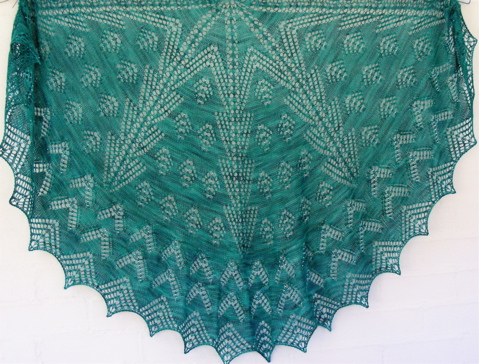 Tomorrow my photographer friend and her model friend and I will head out to the pine forest to take the 'official' shawl photos for the pattern. Then I just have to rearrange the layout of the pattern to fit the photos in, do a final check… and then it can be released into the wilds of Ravelry!
Oh, and you might want some project details!
Pattern: Christmas Lights (of course!)
Yarn: Saffron Dyeworks Enya Sock yarn in Lt Lockwood; 2 skeins
Beads: 4.5mm silver-lined aquamarine seed beads from Empire Beads
Ravelry Project Page
Now that I've finished knitting Christmas Lights (at least for now), I've picked up my all-lace Brangian again. It's nice easy knitting, in a pretty clematis blue-purple silk/merino. I'm also itching to cast on some more socks 🙂