In between writing and teaching and travelling and other life priorities, I have managed a little craft work in the past 12 months… but very little blogging!
Finished things:
A quilt for my Mum, last Christmas: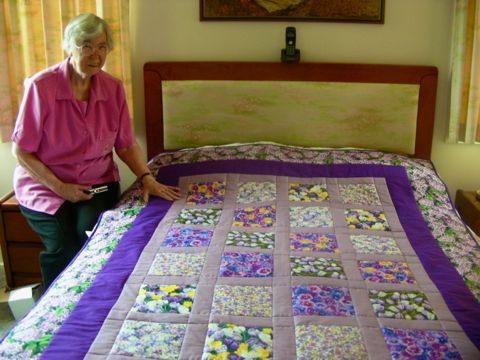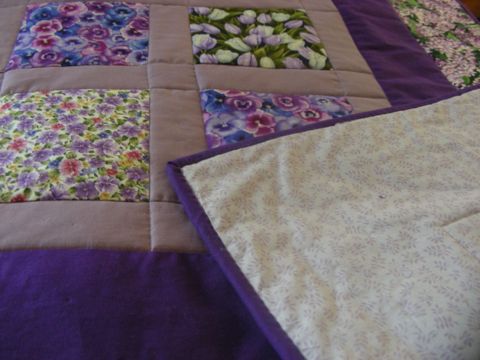 Some lacy socks: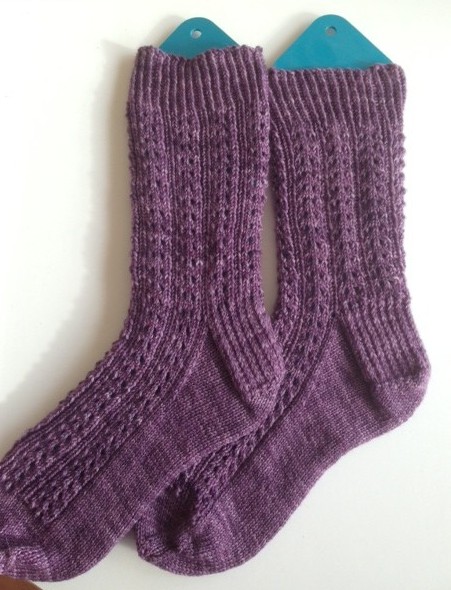 Some plain socks: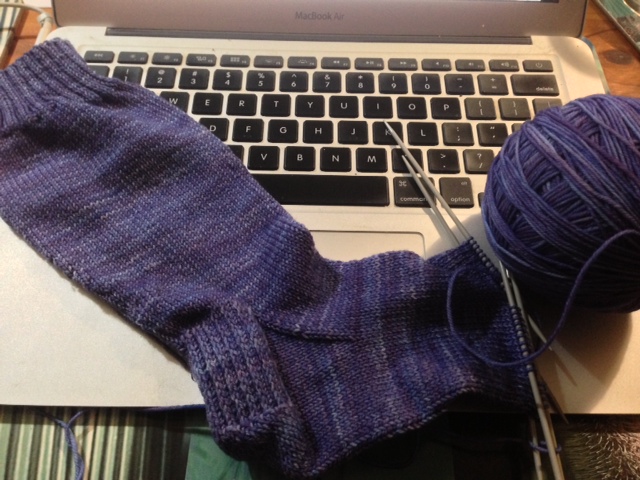 And some more plain socks: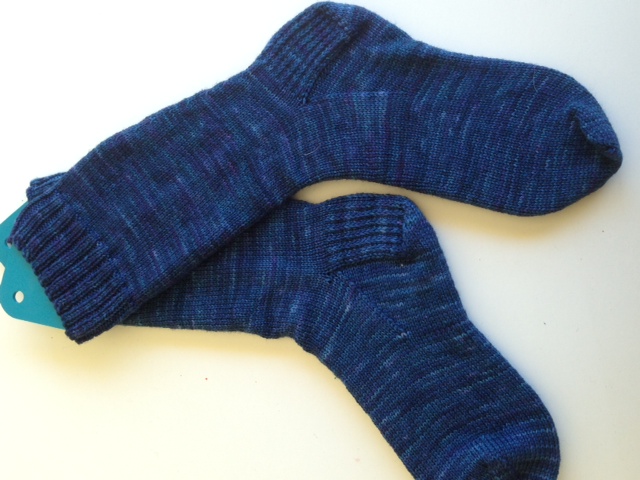 A rustic, comfy top-down cardigan: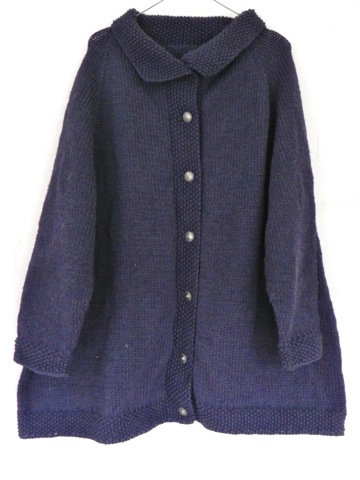 Oh, and my other finished creative work – a book!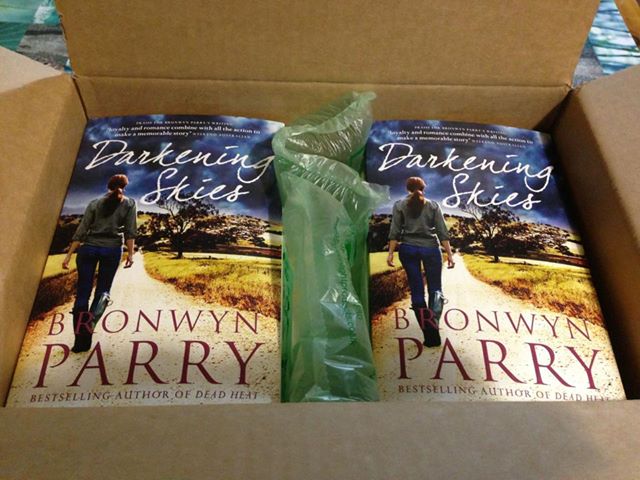 Unfinished projects:
Sadly, most of the projects mentioned in my previous posts last year are still languishing unfinished, although I have made a little progress on some.
The aqua quilt is pin basted and part-quilted – just over a third of the 63 blocks are done.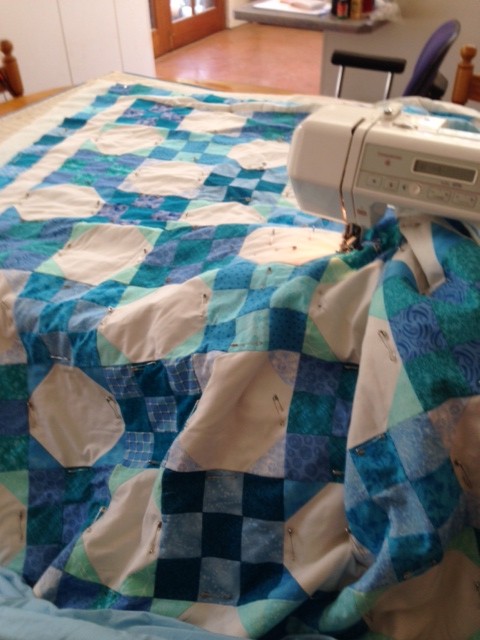 I have to clear the dining table for quilting a whole quilt, so I have been trying to keep it a little tidier than usual so that I can quickly set the machine up there if I have an hour or so to play.
I've temporarily put the aqua quilt aside again though to work on the quilt for my nephew – I finished all 48 blocks and here's all of them laid out in one of the patterns he designed: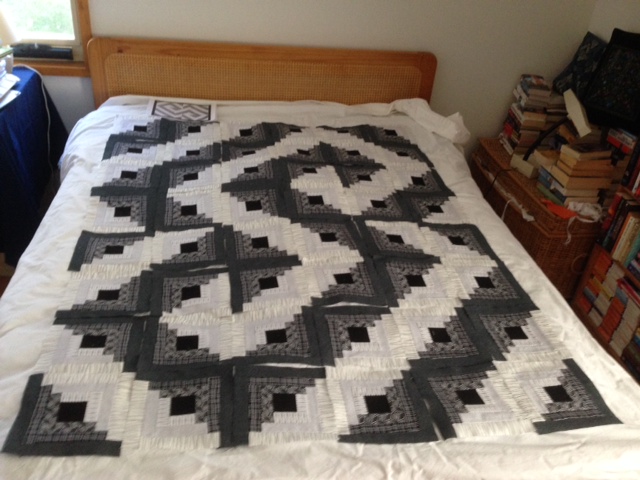 I finished sewing them all together this evening, but haven't pressed the final lot of seams yet. I'll probably add a narrow white border, then a black border, and I think I'll back it with a grey fabric if I can find a suitable one. I'm not sure yet how I'm going to quilt it, but it won't be too fancy.
The lace shawl I was designing early last year is still not finished. One day…
So, that's a quick summary of a year's creativity! Now, must get back to writing the next book!
It's a month since I last posted. I don't have a lot of textile work to show for that month, but there is some progress.
The aqua quilt is pin basted,and waiting to be machine quilted. It may be waiting a while.
I now have 4 blue and teal star blocks, but that project is on hold for now.
My new shawl design is also on hold, as is the cardigan I've been knitting for a while.
I have finished something – a pair of plain socks. I'm calling them my lumberjack socks, since they're good boot socks and the greens remind me of pines. The yarn is Cleckheaton Country Tartan 8 ply.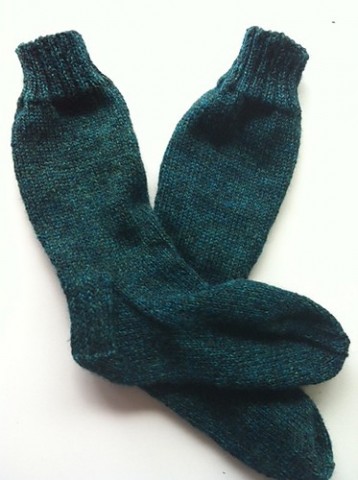 I knit while I'm writing, and plain socks are best. I'm a slow writer, so I spend a lot of time staring at the screen, searching for the right words. The knitting is a kind of meditation; it helps to shift my brain into a creative mode, and keeps my hands busy so that I don't go clicking all over the internet. With plain socks, I'm not reciting a pattern in my head and I can drop them the moment words come to me so I can type. I've got a lot of writing to do in the next few months; I have two more lots of the Cleckheaton yarn (blue and red), so I see some more socks in my future.
The only other creative project I'll be working on for the next month or so is a quilt for my nephew's 18th birthday. It may not get done in time but we'll see. I had some black and white fabrics, and bought some more on Friday – although it's pretty hard to find non-floral B&W (not grey) fabrics in our town; I went to the quilt shop, Lincraft, the other fabric shop, and raided Big W's fat quarters, but there wasn't a huge choice anywhere.
However, today I've selected the ones I'll use; I've made 4 blocks so far, and cut up most of the fabric for the remaining 44 blocks. I will have to get a little extra of 2 of the fabrics but I have enough to go on with for now and will go to the local quilt store during the week. My plan is that when I need a break from writing, I'll make blocks.
My nephew plans to be an architect – so what better structure to use than log cabin 🙂 I haven't decided how I'll put the blocks together yet. I've been playing with the 4 completed ones to see the different effects – isn't log cabin such a versatile and magical block – so many possibilities!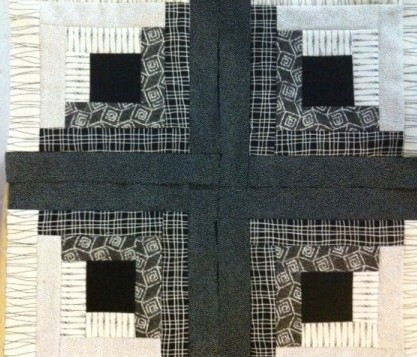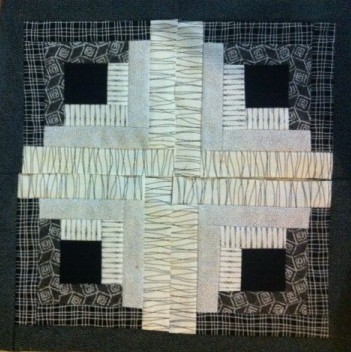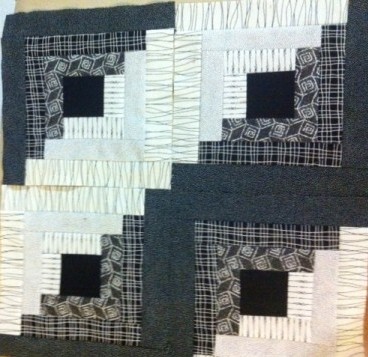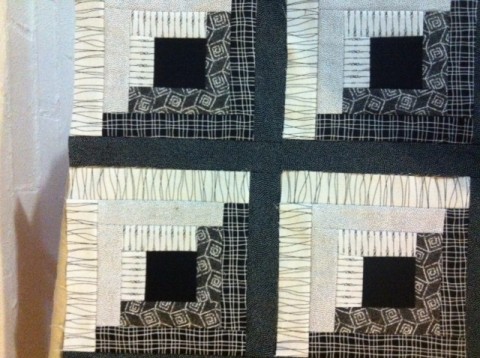 I haven't posted for a while. In between writing and working, there hasn't been much time for knitting! I did finish the novel and sent it in to my publisher; now I'm working madly on revisions – in between uni lecturing and marking.
But I have finished (another) pair of socks. These were cast off last week (or maybe the week before – my brain is in a haze):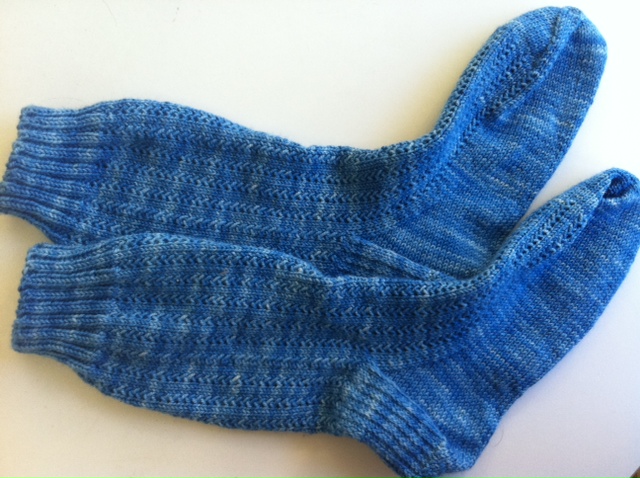 The pattern is my adaptation of Sandra Park's Charade pattern (Rav link). Okay, so it's mostly just the stitch pattern from Charade, with calf-shaping and my standard heel and shaped toes. My Ravelry project page has the details (which I'm too tired to type out here.)
I'm running low on sock yarn – I like lightly variegated or semi-solid ones the most – so for the first time, I used a 50/50 wool/silk mix for socks from my shawl stash. I've not made wool/silk socks before, and I'm a bit nervous about how they'll wear, so I haven't worn these ones yet. Oh, well, they look pretty in my sock drawer! I will put them on at some stage, but I think I'll admire them a little longer before I take that risk.
Not a lot of knitting on the horizon at present due to work pressures – maybe a few rows of some plain socks here and there. Revisions on the book have to be in by November 1, so I'll be glued to the computer until then.
I've had butt in chair, manuscript open on the laptop, and basic knitting keeping my brain focused and my fingers from clicking all over the internets a lot lately. Here's part of the result – my Midnight Socks: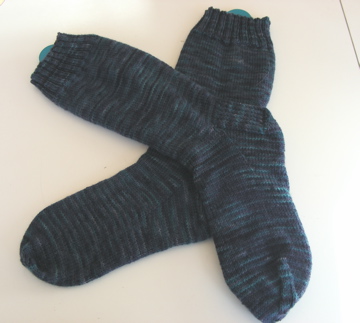 The yarn is my hand-dyed Bendigo Woollen Mills Luxury 4ply, and I love the way the yarn knitted up in the very plain pattern.
The novel's coming along – not quite as fast as I'd like, as the deadline is rapidly approaching, but edging forward every day. So now I'm going to get off the interwebs and go and write some more. Although I might have to cast on another pair of socks to meditate my brain into creative mode!
I've been working full-time, teaching at the university this semester, and so there has not been much time for knitting. This morning, I finally finished a pair of socks that I started in early February: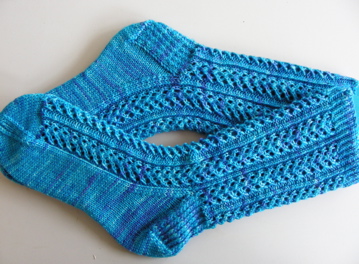 The pattern is the popular Hedera (Rav link) by Cookie A, and this is the second time I've knitted it. As my ankle is thicker than Cookie's, I've again used 3mm needles for the leg, and 2.75mm needle for the foot.
The yarn is Bendigo skin care Luxury 4ply which I dyed myself, some months back; I'm very happy with the saturation of the aqua and the touches of deeper purple. In fact, I love the socks!
Now to cast on for my next project – as knitting time is so limited, I think I'll use some deep blue yarn from Saffron Dyeworks for a pair of plain socks, as I have no dark blue socks in my sock drawer: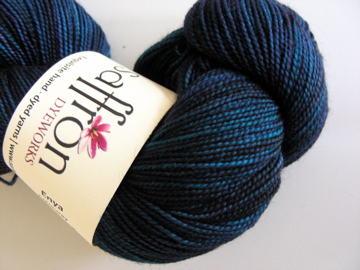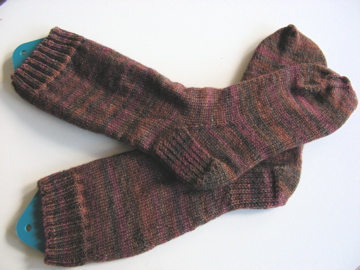 They're not fancy. There's no lace, or cables, or other decorative stitches, just simple rib and stocking stitch teamed with a subtly striped yarn. I have another pair like this, in greens, and I love them as much as my fancier socks. The yarn is Trekking anti inflammatories XXL, a good hard-wearing yarn with colour schemes that blend into each other. The pattern was a Patons pattern that I have memorised – and possibly adapted – over the years. It works. I added my shaped toe.
Plain socks, perfect socks.
I managed to drag myself away from playing with sourdough starters and baking bread long enough to finish my latest Monkey socks today. The yarn shade is called Pier, so I call the socks Monkeys on the Pier.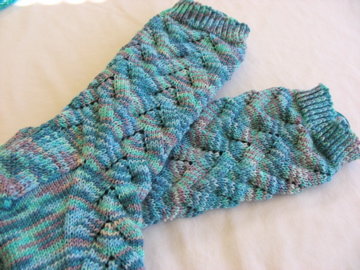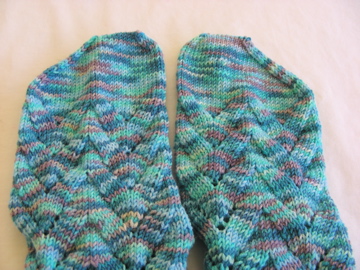 Pattern: I've used the No-Purl version of Cookie A's Monkey Socks pattern = although as usual I've just done my standard heel, and my new standard shaped toes.
Yarn: Morris Empire 4ply, bought from The Granny Square in Newtown, Sydney (as a little present to myself before I went into the hospital – which is just around the corner from the shop).
So, that's one pair of socks off the needles. I've still got two others on the go – one, a plain pair in brown Trekking yarn, is about 40% done and will be the next to be finished. Probably. Then I might get back to the experimental Brangian socks, although whether they'll be finished or frogged I'm not sure.
I'm going to be working full-time at the local uni for first semester, starting in February, so my knitting time will decrease, and therefore I'm going to be strategic about what I choose to knit. It's a interesting challenge, knitting from stash but at the same time making sure I fill up gaps in my wardrobe. I have quite a few hand-knitted socks, but, for example, I only have one pair of red socks, and they're dark red and lacy. Fortunately, I have some Bendigo Luxury 4ply in my stash, in the beautiful Ruby shade. I have a great pair of plain, basic greenish socks – but a lacy teal pair would be good, too… and I do have more Empire 4ply in a deep teal 🙂 So, I can certainly keeping my fingers productively and strategically employed for a while!
Oh, and about that sourdough… this fruit loaf didn't rise as much as I'd hoped, but it is still scrumptious (especially toasted with butter and marmalade):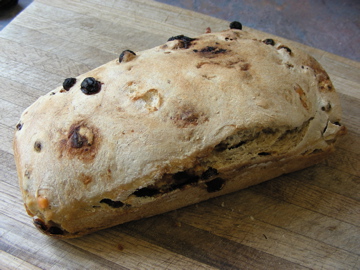 Now, I'd better go and make a sourdough chocolate cake, as we have visitors coming this afternoon!
Before I went into hospital, I called into the new yarn shop The Granny Square, a very convenient couple of blocks from the hospital. I decided I deserved a little bit of spoiling, so I bought two balls of Morris Empire yarn for socks – picking a variegated yarn, just for a change.
I didn't get to cast on the socks until after the surgery. I decided to knit the No-Purl version of Cookie A's Monkey Socks from Knitty.com, which I have knitted before. Last time, I started them on 3mm needles, as Cookie's legs are clearly much skinnier than mine. However, I didn't have 3mm needles with me in Sydney, so I started with 2.75mm, hoping they'd be okay. I got almost as far as the ankle, and tried them on… nope, I definitely need the bigger needle size. So, yesterday I cast on with the second ball of yarn using 3mm needles.
It's been interesting watching how the variegation in the yarn knits up and pools with the different gauges. Here's the two socks: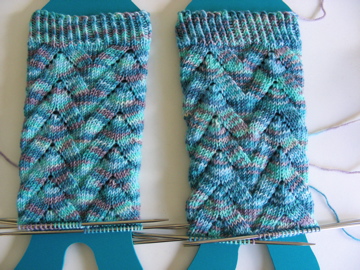 The tighter gauge (2.75mm needles) is on the left, the slightly looser on the right.The pale green shows up more in the first, the blues more in the second. The two balls are from the same dyelot, so it's probably just the knitting tension creating the differences.
However, I'm quite happy with way the yarn is in the looser tension, so I'll frog the first one and reknit it after I finish the other sock. I'm up to knitting the heel on it, and I'll drop down a needle size for the foot. My feet are reasonably slim – it's my calves that are no longer as graceful as they used to be!
Another pair of socks is off the needles – this one a Christmas gift for my brother-in-law, who likes hand-knit socks for chilly Canberra winter mornings. Last year I also gave him a pair of socks – but I hadn't quite finished knitting them before our early family Christmas, so he had a good laugh when he opened his parcel and found 1 finished sock, and 1 still on the needles. I calmly took the half-finished one back from him, and continued knitting 🙂 I finished it a day or two later and gave it back to him.
This year, his socks are done well ahead of time. I love knitting socks in 8ply (DK) yarn – they're so quick, and also warm and cosy!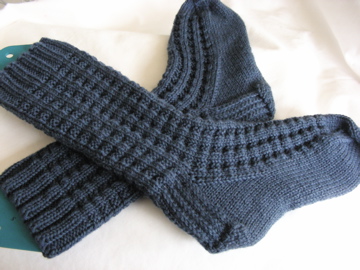 I've used the waffle-rib stitch pattern from the Harris Tweed Socks pattern, but adapted it for thicker yarn, and used my own standard heel and toe patterns. (Ravelry project page.) The yarn is 8 ply Luxury from Bendigo Woollen Mills.
So that's the socks part of this post! Now for the 'stuff'…
I've (finally!) added instructions and photos to my Blocking Shawls page. I hope the instructions are clear and that the images are helpful in demonstrating the process.
I've also added a free pattern preview for the Christmas Lights Shawl – a downloadable, .pdf file with the first two pages of the pattern, which have the yarn and bead requirements and approximate measurements for each size. I hope that will be helpful for people who are considering knitting the pattern but want to check yarn requirements etc before purchasing it.
My table is currently covered with an assortment of 'stuff' – there's socks still to darn (I have done one pair!), a fingerless lace mitten in progress, an ex-biscuit (cookie for my US readers) tin in which I've put an assortment of needles and bits and bobs that I like to keep handy, and the experimental beginning of what might, at some stage, be a new shawl design. I've still got a little Christmas knitting to do, but I'm not stressing about it – I have a gift for everyone already, so the rest is nice but non-essential extras. My major focus at the moment has to be writing, as it's now less than 3 weeks before I head in to hospital for major surgery, and I want to get as much done of the current book as possible before I go. The lace mitten is not the best writing knitting, as the lace pattern is a little distracting – I keep wanting to finish a round/pattern repeat before putting it down to write. So I may have to cast on some simple socks that I can easily pick up and put down, and where the simple repetition aids the writing.
And I think there was something else I was going to mention, but now I can't remember what it is. (Yes, I know, I should blog more often…)
I've finally finished the second of my shaped-toe socks – and even remembered to mirror the toe shaping so I didn't have to wear both socks on the one foot!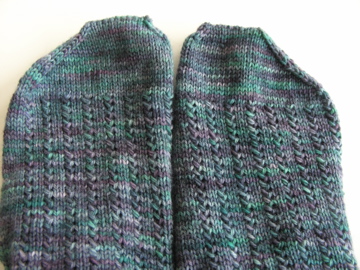 They look fine (at least from a distance) and I love the yarn and the colours. I'm very happy with the toe-shaping – it definitely makes more room for my strong healthy big toe 🙂 However, perhaps due to all the distractions my poor brain has been coping with lately, the socks are far from perfect. Somehow, when knitting the first one, I worked on the wrong needles for the heel, and hence the leg shaping now goes down the inside of my leg, rather than the centre back. That's oops! number one. Oops! number two is that despite taking some notes as I went, and copying the decreasing for the leg from the first sock, I somehow ended up with 60 stitches at the ankle instead of 64. Figuring it wouldn't make much difference, I knitted on, working the rest of the sock over 60 stitches instead of 64. The sock does fit – but it is a bit tight around the ankle, the rib pattern pulling in more so than stocking stitch. Oh, well, I'm going to be losing weight soon, aren't I? And no-one is really going to be looking that closely at my legs to notice the fudges 🙂