Yes, I have a book to write. Yes, I have some Christmas knitting to do. And yes, I was even working on some yesterday, until the combination of post-migraine head, dark blue yarn, and fading light got too much for me. Tinking multiple cabled rows in dark blue yarn is not the easiest task.
Did I mention the post-migraine head? Which couldn't come up with much in the way of words, let alone coherent, effective story-telling ones?
Procrastination got to me. Much easier to look at pretty things on Raverly than to strain my brain. Earlier in the year, one of my lace goals was to work a shawl in the round. Nope, haven't done that yet. But I have been noticing round-lace patterns for a while, and feeling tempted by many. Some of the prettiest started their lives as patterns for doilies or tablecloths. They've always reminded me of the many hand-made things from my mother's generation, and generations before that, that decorated our family home, and those of my aunts and uncles. Afternoon tea was served in floral teacups on tables or trays adorned with beautiful lace work or embroidery. Ever since the grandson of my eldest aunt (she passed away many years ago) visited us in July, I've hankered after some of those pretty things – the teacup sets, the lovely table linens.
I was also thinking and reading yesterday about the Slow Cloth idea, and the principles behind it, as well as my own approaches to textile crafts – beauty and purpose, enlivening simple everyday life with beauty and joy. One of the things I always felt, sitting down as a girl to those afternoon teas, sharing food and drink and talk with these lovely items around us, was that we mattered.
So I cast on a doily 🙂
The pattern is the Little Flower Doily (Ravelry link), a free pattern from Bad Cat Designs. I'm regarding this simply as an experiment for myself, a test piece, so I just grabbed some mauve 4ply cotton that was sitting on the table.
It took me about 4 goes to get the cast-on and the 1st couple of rows (mostly) right; it worked better when I dug out the shorter (10cm) dpns that I bought a little while I go. I graduated after a few rounds to 15cm dpns, and now, on round 23 of 37, I've moved up to 20cm long dpns.
It's coming along nicely, and I may be finished today. If so, I guess (in the absence of fine china tea sets) I'll have to have a celebratory cup of tea in the lovely, hand-painted mug a friend made for me many years ago: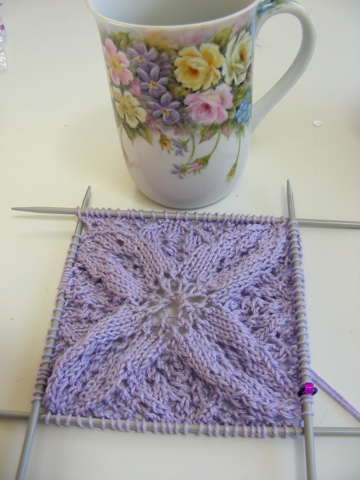 This afternoon, after checking over the pattern again, I created a pattern page on Ravelry for the Christmas Lights Shawl and made it available for sale. I've also updated my pattern section here, and added the pattern into the Yarnosophy shop, but I'm sure Ravelry will be the place that most people go! (Which is fine by me, as Jess & Casey have created such an amazing community there that I like to support them as much as possible.)
Here's some of Tara's photos of the sample shawls, taken at our photoshoot yesterday: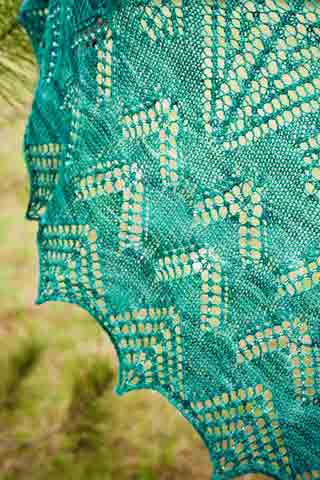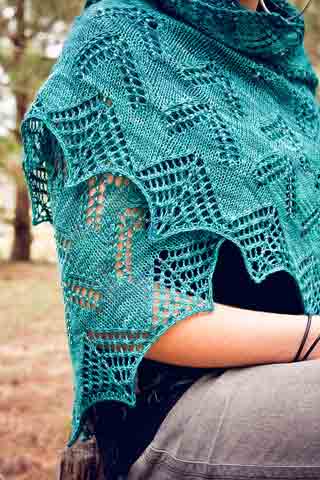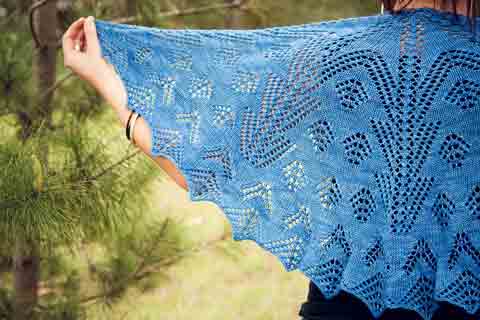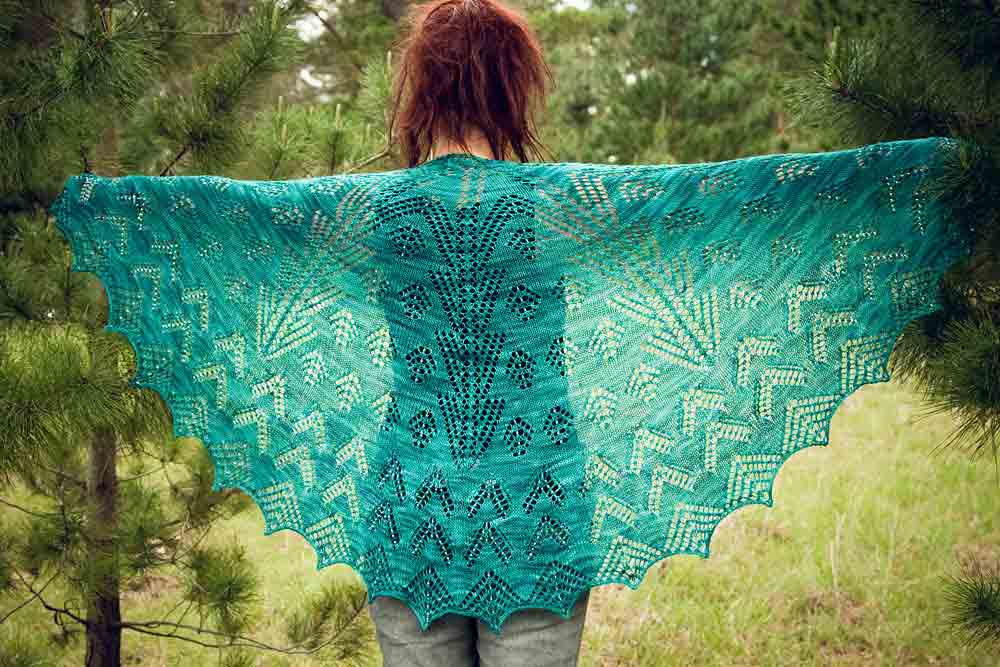 So, after months of knitting and calculating and charting and drafting and checking and rechecking and knitting… it's finally done and out there!
I've now been through and checked all the shop inventory and added in some new sets of stitch markers. As I've probably mentioned, I've sourced some closed rings and so now can offer both rings and loops; the rings only come in two sizes, but the tigertail loop ones are in varying sizes, from small to larger. Here's a selection of some of the newest ones: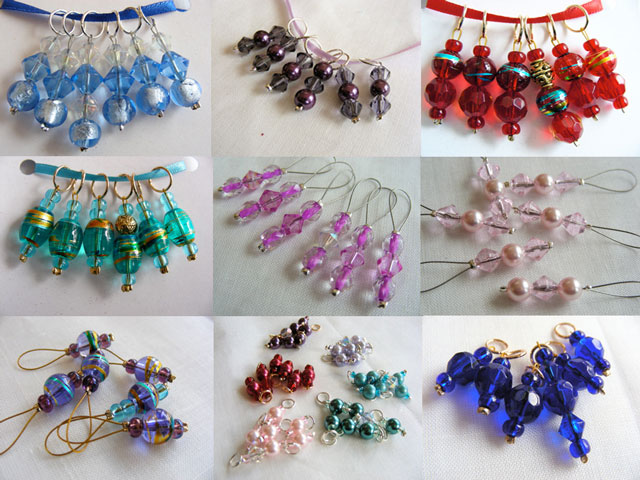 Top row: Ice Blue; Dusk; Firebirds;
Middle row: Tropical Lagoon; Hot Ice; Margot Fonteyn;
Bottom row: Mauve and Turquoise Orbs; the tiny pearl lace markers I posted about yesterday; and Royal Blue.
I feel better now that the job is done – and just as well it is done, because I've got plenty of other things to be getting on with!!
Because I'll be away in hospital for a few weeks in September or October, I'm having a sale in the Yarnosophy shop during this last week or so of August to clear some stock before I have to close the shop while I'm away.
From now until the end of the month, there's 15% off stitch markers, row counters and yarn – so do hop over there and stock up on some little goodies, either for yourself, or to put aside for Christmas gifts.
I'm not sure yet when I'll be away, or for how long (hopefully only 3 weeks), so I figured now was a grand time for a sale!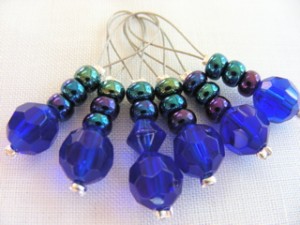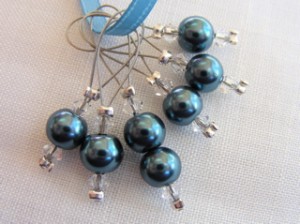 I've been thinking about this for a while, but now it's finally here:
To kick things off, there's a selection of glass bead stitch markers. The Brangian shawl pattern is also there (as a PDF download), and there'll be some more skeins of hand-dyed yarn soon.
I still have a few fine-tuning things to do – like a new header image, and skinning the shop and the blog with a similar look and linking them – but it should be functional at least!
Here's a teaser of what's in the store: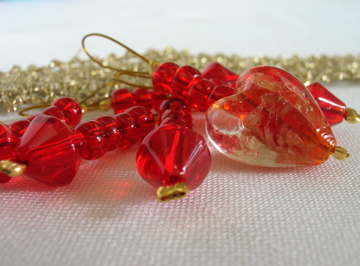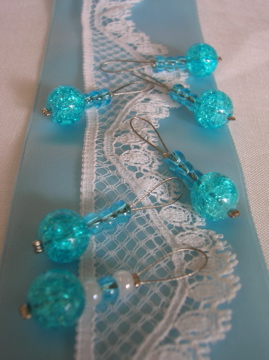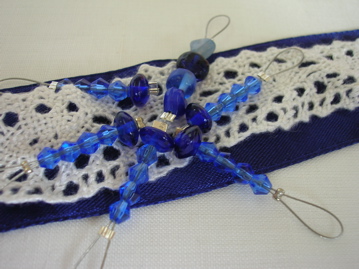 Winter has officially started, and the weather is mostly cool, overcast, with occasional brief periods of rain, and glimpses of the sun now and then – not quite our normal crisp, sunny winter days, but there's something about rain pattering on the roof that makes me want to snuggle into cosy, comfortable clothes.
I finished these socks last night:

They were something of an experiment – 8ply (DK) yarn (only the 2nd time I've used it for socks), toe up socks, and I started them using two circular needles. The toe-up start was fine, but the two circulars didn't work so well for me. Before I'd got very far along the foot, I switched back to my usual 1-sock on 5 dpns – and was much happier!
I wanted a heel flap (the wedge heel doesn't work for my foot shape), and I hunted around on the internet and found Becca's formula from her Forward Motion blog, which was great, and easy to follow. Now, I know with toe-up socks you should be able to try on as you go, but with thick ankles and dpns, that isn't the easiest. So, when I finished the first sock, I decided that the foot was a little long, and the leg a little tight. On the second sock, I increased 4 stitches less on the gusset (thus shortening the foot length, and the heel flap length), and increased more stitches after the ankle. That worked well, so I then ripped back sock 1 to the gusset, and reknit it to match sock 2.
The yarn is Bendigo Luxury 8 ply, which is machine-washable, and soft, without being too soft. I'm looking forward to wearing my new socks! I can definitely see myself knitting more toe-up socks, and more 8ply socks; I love 4ply (fingering) yarn and socks, but sometimes I want something thicker – not to mention, quicker to knit!
I'm gradually trying to finish up some wips. The next on my list of things to finish is this: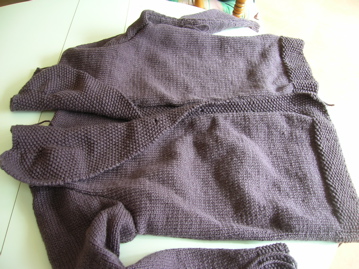 This has been hibernating for… a while. But winter is the time when hibernating handknits are supposed to emerge, and I've decided that since it is SO close to being finished, that I will finish it this week. All I have to do is sew up a few more seams, and sew on buttons. (And yes, I should have blocked the pieces – I'll have to do a (very) light press instead.) The yarn is Jo Sharp Silkroad Aran – making this the most expensive garment I've knitted, possibly ever. I started this almost 2 years ago; my slowness on finishing the final seams is due to two factors – first, I HATE sewing seams. My jumpers/cardigans from now on are likely to be top-down. Secondly, I'm always nervous about how a finished garment is actually going to look on me. I'm short, overweight, and although I have a waist, it's a very short one, with hips/tum much bigger than my bust. Believe me, this is not a fashionable shape. And no, fitted knits do not work very well for me. I know they do for many people, but not me. This cardigan is not fitted, and hopefully will be just long enough for the shawl collar and button band to give a vertical emphasis. I guess I'll find out… when I finally get it finished and try it on!
It's not knitting, or weaving, or spinning…. but I excavated my sewing machine today, raided the fabric stash, and made two dog coats. Our dogs are littermates, but the blonde one, Jaffa (aka The Princess Dog) has seizures, and the medication for those has slowed her down a lot compared to her sister, and has some side effects  including stiff joints. They both sleep outside in the (very large) dog run at night, but although they have kennels, over the years any blankets, mats or cushions we've put in there have very quickly become tug-of-war toys… so their kennels are currently bare wood. With winter coming, we've started having frosty nights, and I think that Jaffa is starting to feel the cold. Commercial dog coats didn't appeal to me, though – artificial fabrics, expensive, and I wasn't sure whether they'd survive long with our terrible twosome.
I had some wool fabric remnants, so after a little searching on the internet for inspiration, I cut out coats for them – a double layer for Jaffa, and a single layer for the much-more active Tansy: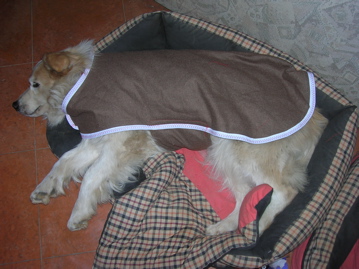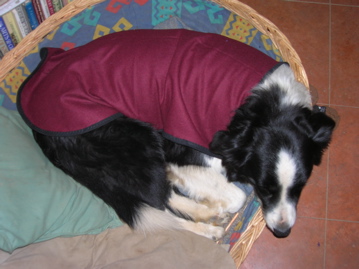 They've been wearing them inside tonight, and don't seem to be bothered by them – no scratching or trying to get them off or anything like that. It remains to be seen, though, what they'll be like in the morning!
I'm now on Twitter as Yarnosophy – and I'm testing out a Twitter plugin for WordPress (which should automatically tweet this – I think…)
I'm also on Twitter under my other name, for writing-related stuff, but I thought I'd keep the two separate, at least for now.
I've had some undyed yarns in the stash for a while, and in the past week or so I've got out the dyepots and transformed them. I used to be a haphazard dyer, but I'm aiming for a little more discipline and stretching my skills, for planned results rather than happy accidents!
I don't (yet) have a proper dyeing space set up. I've been dyeing outside, on a plastic-covered fold-up table, with my camping stove on an old milk-crate; this works, except I've discovered that breezy days are not the best days to dye, especially with limited working surfaces – sudden gusts can blow dye powder just where you don't want it, and therefore two skeins have some tiny spots of darker colour.
I'm not usually very 'arty' about dyeing, but I got inspired in this last batch to aim for the colours of an early-autumn day. And this is the result, before reskeining: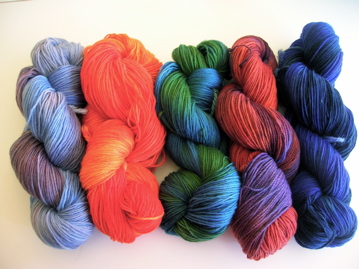 And here they are, after reskeining: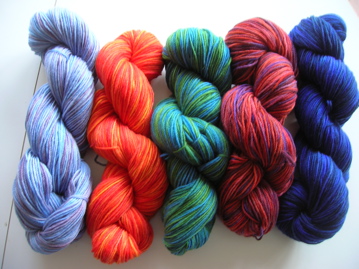 From left to right: First Light; Warm Sun; River Picnic; Sunset; Night Sky.
I plan to do a lot more dyeing, but need to have a better and more efficient set-up. I bought a second camp-stove the other day, so now I can have two pots going at once. And perhaps another fold-up table might be in my near future… I do fantasize about a textile studio, with space for looms, and stash, and a long bench, sinks, stove etc for dyeing, but if that ever happens, it's a way off yet.
Welcome to my new textile blog!
After four years of the Twisted and Warped blog, I felt it was time for a change, a slight refocus, a more accurate representation of myself and my approach to yarn and textile creativity. And I'd been thinking for a while about moving from wordpress.com to an installation on my web space, and today things have all come together to create Yarnosophy.
I've imported all the old content from the Twisted and Warped blog, and I'll gradually beautify and polish this site. For now, the only thing I've really changed is the About page – and that still needs some work!
There will be some more patterns eventually! I'm currently experimenting with some Brangian mittens, and also playing with ideas for a new shawl pattern. But they're not at a shareable stage, yet.