Brangian Shawl
In the old tales of Tristan and Iseult, Brangian was Iseult's faithful companion, who travelled far from her own land to serve her Princess. This shawl, with its textured lace columns, subtly shifting to form a border flowing into the scalloped edging, is not as stunning as some lace shawls, but like Brangian the handmaiden, it is quietly beautiful.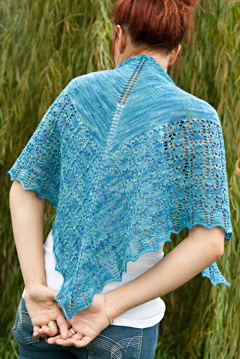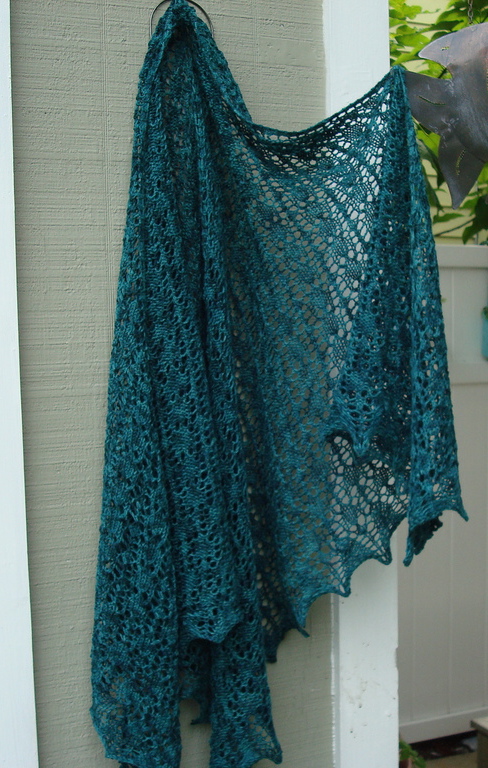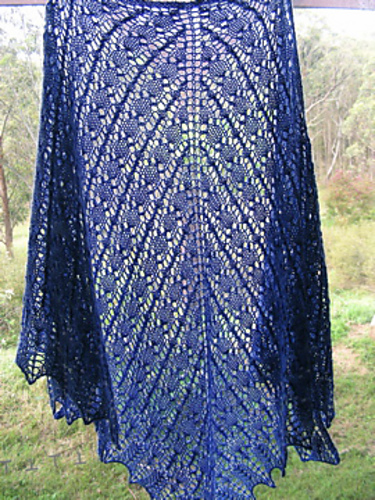 This is a triangular shawl, knitted from the top centre back down. There are two versions given in the pattern – one with a stockinette base with a deep lace border,  and the second version an All-Lace one. The instructions are provided for three sizes – a small shawl, medium shawl and a large shawl – and in two formats, as charts, and as 'uncharts', an easy to read format for those who prefer written instructions.
The pattern is designed for fingering-weight yarn, and is suitable for beginning and experienced lace knitters. You can buy it now from the Ravelry pattern store – it comes as a PDF download. You don't have to be a member of Ravelry to purchase the pattern.


Ravelry members can also look at the Brangian pattern page on Ravelry if you'd like to see others' project pages, yarn choices and photos.
Errata/Corrections
The pattern was updated on 6 September 2010, with a revised layout, and additional information about varying the pattern, including information about knitting an All-lace version, beading the shawl, and varying the size. An update notice was sent to all purchasers through Ravelry, and you'll need to click the link in the notice to download the latest version. The earlier 5 May version is correct, as is the 4th March version, so you won't have to download the new one, unless you would like the additional information. The 4th March version corrects a couple of minor errors from the previous version:
On page 3, in the Beginning and Stocking Stitch Section, the row counts were mis-numbered, excluding row 12. Rows 11 to 13 should read:
Row 11: K3, yo, K3, yo, K1, yo, K3, yo, K3 – 17 sts
Row 12 and all even rows: K3, purl to last 3 sts, K3
Row 13: K3, yo, K5, yo, K1, yo, K5, yo, K3 – 21 sts
On page 5, in Chart 2, the shaded area for the repeats in rows 9-24 are over seven stitches instead of eight. They should be over the same sequence of eight stitches as the shaded area in rows 1-8 – ie, shade the stitch box before the shaded area begins on each of rows 9-24, to make eight stitches in the repeat box.
On page 9, the bottom line inadvertently got cut off from UnChart 3, Row 5. The corrected UnChart row is: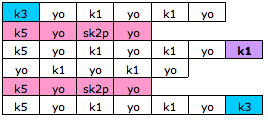 Frequently Asked Questions:
Is this suitable for beginner lace knitters?
Yes. If you can do basic stitches, such as yo, k2tog etc, then this pattern is suitable. The test-knitters indicated that they thought it was suitable for those with limited experience in lace knitting; the lace pattern is designed to be easy to follow, symmetrical, and relatively easy to 'read' your knitting. The pattern is provided as both charts and 'uncharts', a layout system for written instructions for those who prefer not to use charts.
Can I knit this in something other than fingering-weight yarn?
Absolutely. The gauge and approximate measurements in the pattern are based on fingering-weight yarn, but like most shawl patterns it will work in other weights. If you're using a finer yarn, knit the medium or large size. If you're using a heavier yarn, such as DK, try the small size. I'd love to see your projects!
I've only got 380 yards, and the pattern says I need 440. Can I still knit the small size?
We found in test-knitting that some knitters knit more loosely than others, so the yarn requirement listed is a little on the generous side. But if you've only got 380 yards, and particularly if you're a loose knitter, I suggest that you knit Chart 1 twice, then only the first 8 rows of Chart 2, and then proceed to the edging chart. I can't guarantee that this will work because everyone knits at a different tension, but it does save 16 rows (but consequently makes your shawl smaller.)
Can I mix and match sizes for the different sections?
Yes. You can do, for example, the small stocking stitch section, and then three repeats of Chart 1, one of Chart 2 etc. Or you could do the large stocking stitch and only two repeats of Chart 1 etc.
I don't like the "holey" spine in the stockinette section. Can I do something different?
Yes. Instead of the yo, K1, yo to increase along the centre spine, you can do a m1R, K1, m1L. You can see my shawl knitted this way on my Brangian Variations blog post. If you don't know how to do a m1L/R (or keep forgetting which is which, like I do!), there's a nice little tutorial with pictures on The Purl Bee blog.
Chart 2 is really three lots of the same 8 rows. Can I knit just two?
Um, no. Not without some stuffing around with the edge stitches to fit the Chart 3 edging in. However, you can knit just one lot of 8 rows, or three, or five – as long as it's an uneven number. In fact, just one set of 8 rows can look quite nice, too, so if you're running short of yarn, I'd suggest doing that.
How do I know how much of the shawl of knitted, so I can make sure I'm not running out of yarn?
Weigh your yarn before you start. I've created a page – Brangian Progressive Yarn Usage – with charts that give, for each size, approx what percentage of the shawl you have knitted at the end of each section, so that you can estimate your progress and whether you'll have heaps of yarn or not enough.
Can I bead the shawl?
Yes, you can. It wasn't actually designed for beads, so there are no instructions for beading in the pattern, but I can't resist beads so I beaded one of mine, using the crochet hook method of adding beads, as follows:
Chart 2:
On rows 3, 11, & 19: Add a bead on to the K1 between the K2tog and ssk (ie at the beginning of each bud.)
On rows 5, 13 & 21: Add a bead on the 2 & 4 stitches of the k5 section. (ie on ether side of the bead in the previous row).
Chart 3:
On row 3: Add a bead on to the K1 between the K2tog and ssk (ie at the beginning of each bud.)
On row 5: Add a bead on the 2 & 4 stitches of the K5 section. (ie on ether side of the bead in the previous row).
On rows 7, 9, 11 & 13: Where there is a yo, K1, yo to form the columns, add a bead on the K1. Also add a bead to the centre K1!
Beading like this for the small size you need about 460 beads, for the medium size, 590 beads, and for the large size, about 640.
Have any more questions? Ask them below, and I'll do my best to answer them.
2 Responses to Brangian Shawl