My knitting mojo has returned, but it's battling for time with the quilting mojo, and the writing and working demands – oh, what lovely things I could make if I didn't have to work in addition to my writing!
The new shawl design is coming along, and there's light at the end of the tunnel – and some order coming to the design chart! Here's a little sneak preview: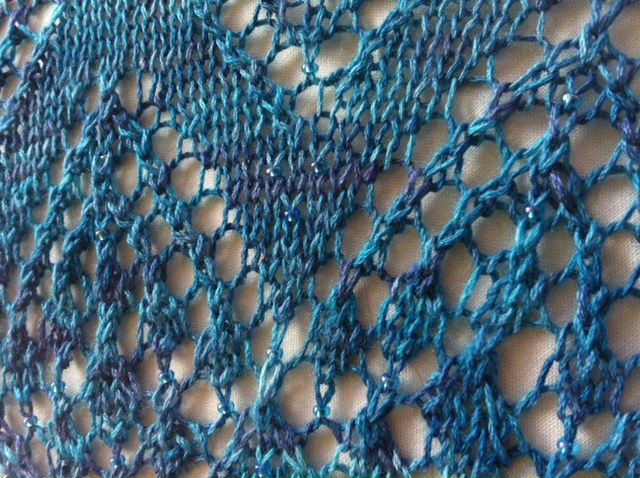 The yarn I'm using is my favourite 50/50 silk/merino blend, hand-dyed by Spinning a Yarn. It's a beautiful heavy lace-weight yarn, about 600 metres per 100grams, with a smooth feel and lovely sheen from the silk. Hopefully I'll have the border finalised and this sample completed in the next week or two; then I'll need to write up the pattern (charts and written instructions), work out additional sizes, have it tested knitted, have the pattern tech-edited, photograph the shawl/s… and then it will be ready for publication.
My quilting has taken a slight hiatus; I was away in Canberra & Sydney for 10 days, and now I'm back I have a stack of uni marking to finish this weekend, so no quilting for me until that's done. My first quilt top is coming along, but I'm looking forward to getting back to it and finishing it: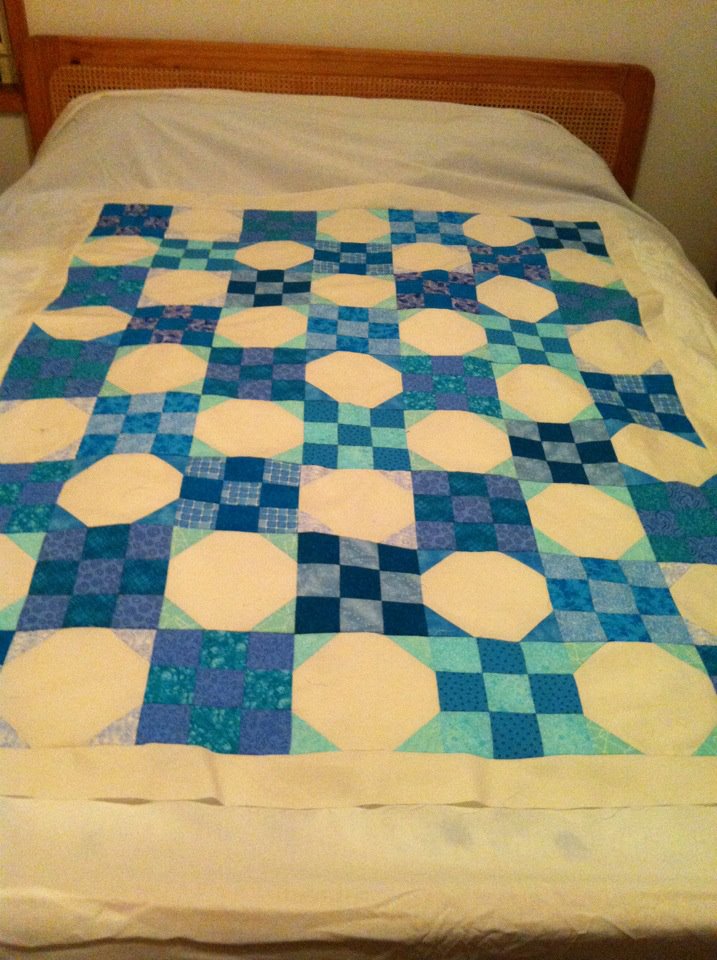 I have to redo the sashing, piece border strips and sew them on, and am also going to piece a strip in the backing fabric to make it wide enough. Then there's the actual quilting – I'm thinking about simple machine-sewn diagonals in the 9-patch blocks, and maybe handquilting the snowball blocks – but I could also machine-quilt them, which might give me a chance of actually finishing the project!!
I used as a pattern guide a project from the book 'Two From One: Jelly Roll Quilts" by Pam and Nikki Lintott (Book depository link) (Goodreads link). I didn't follow the pattern exactly – I used assorted fat quarters and scraps, not jellyrolls, and made it bigger – but I found the instructions, diagrams and photos clear and helpful for me as a beginner quilter. I do recommend the book; I've even bought another book by the Lintotts – Jelly Roll Sampler Quilts. (Book Depository link) (Goodreads link).
Of course, although I am only a beginner quilter, I have adopted very quickly the stashing habit! I have quite enough fat quarters and leftovers from this project to do another in similar shades; I have also stashed sufficient fabrics for at least three other quilts. They're only in the dreaming/vague planning stages at present, but there is one I'd like to make in the next few months for a special person, and I ordered some fabrics for it from equilter.com when they were on special a couple of weeks ago. I have in mind a relatively simple quilt, highlighting the fabric rather than the patchwork, so it might be doable by the desired date in amongst all the other demands on my time.
In a quick round up of other news, my sourdough baking repertoire now includes cinnamon scrolls: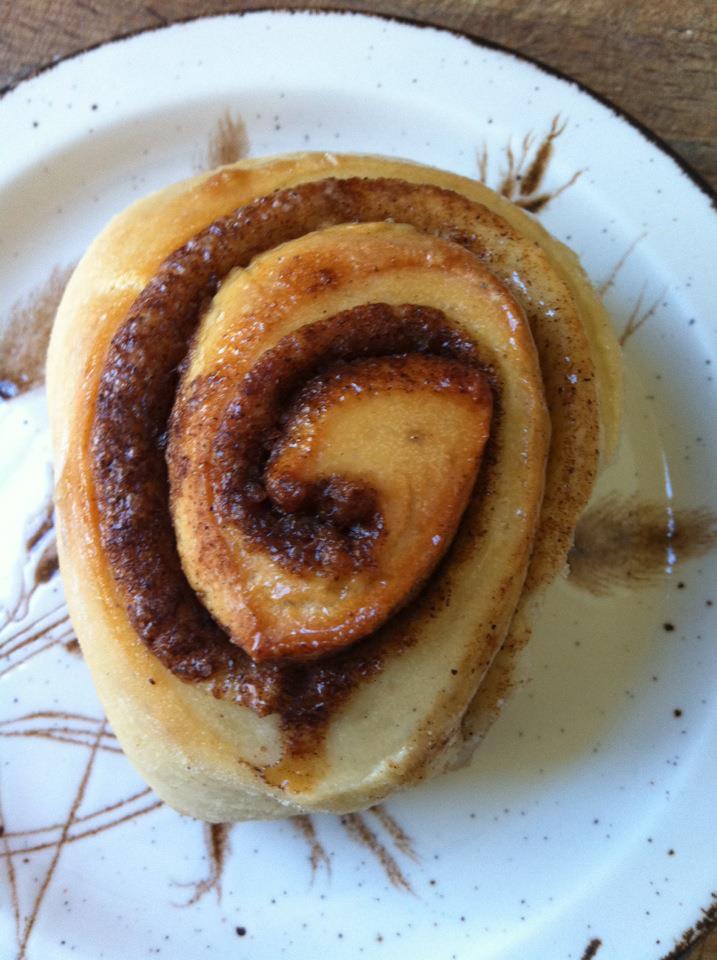 I'm also just baking my second loaf of sourdough chocolate bread, inspired by my niece who loved it when she stayed in France, and who is now a sourdough baker herself. It's very delicious!
Skye the now 15-month-old 'puppy' is still keeping us on our toes – she loves her toys and she's full-on play, play, play – until she's ready to sleep for a while!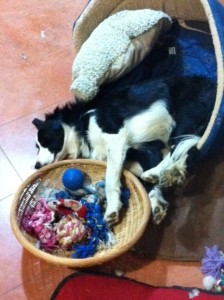 Oh, and have I mentioned that I have to write my next book by the end of September? No? Needless to say, I shouldn't be here…! There may not be a whole lot of blogging in the next few months, but I hope to squeeze in some textile creativity, to help inspire the creative writing imagination!