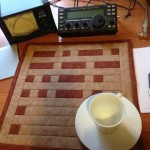 My wonderful, techno-geek man and I have been together for twenty years. We don't give each other big gifts, but I decided to make him a mug rug for his desk, as he often has his coffee and a sandwich or a snack while he's working at the computer, or the radio, or reading (on an iPad, of course,)
G's been absorbed in all things technical since he was a lad; and before there were computers and programming code there were radios and Morse Code. He's used Morse off and on for more than 40 years. So, what better pattern for a mug rug for him?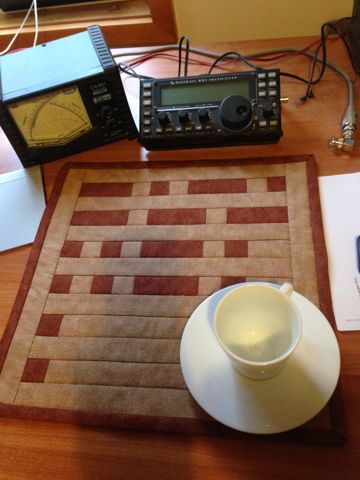 Each row of dots and dashes represents 1 letter in Morse Code; the six rows, starting from the top, read 'coffee' – it only took him a moment to realise it was Morse, and to read it!
If you'd like to make one for any of the geeks you love (or for your own inner geek!), here's a step-by-step tutorial. Note that this is my first quilting tutorial, so I hope I've made it easy enough to follow! I'm assuming that you have some patchwork and quilting experience, so am not giving detailed instructions for standard steps like backing and quilting.
Finished size:
13.5 inches square (it's a fairly large mug rug!)
Materials:
For top – 2 fat quarters, one light and one dark (I used two contrasting shades of brown, to complement the woodwork in DH's study)
For backing – 16" x 16" piece of fabric
Batting – 15" x 15"
Cutting:
From dark fat quarter:
1 – 10.5" x 3.5" – then cut one piece 1.5" x 3.5" off this piece and hold to one side
2 – 1.5" x 7.5" – then cut one of these strips into 5 x 1.5" squares
3 – 2.5" x WOFQ – for binding
From light fat quarter:
First, cut 11 – 1.5" x WOFQ strips; then cut these as follows:
            2 – 13" lengths (side borders)
            7 – 11" lengths (sashing and top and bottom borders)
            1 – 10.5" length + 9" length
            1 – 10.5" length + 7.5" length
From the leftover strip ends, cut 2 2.5" x 1.5" lengths and 5 1.5" x 1.5" squares
(Note: if you are not using a fat quarter, and instead using a wider or full-width fabric, you will be able to cut fewer strips to get these lengths.)
Sewing
Steps 1 & 2
Sew the 3.5" x 9" dark strip to a 1.5" x 9" light strip, long sides together. Press seam.
Sew the 1.5" x 7.5" dark strip  to the 1.5" x 7.5", long sides together. Press seam.
Your fabric strips will look like this – except shorter (I was trying to make 2 mug rugs at once!)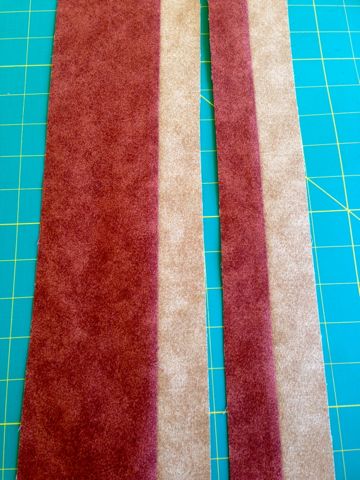 Step 3
Measuring carefully, cut the wide strip into six 4.5" x 1.5" pieces. These will become the dashes.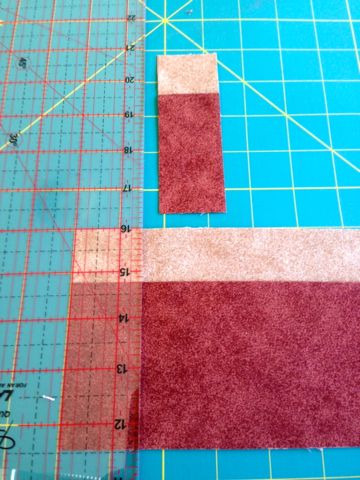 Step 4
Cut the narrow two-coloured strip into five 2.5" x 1.5" pieces. These will become the dots.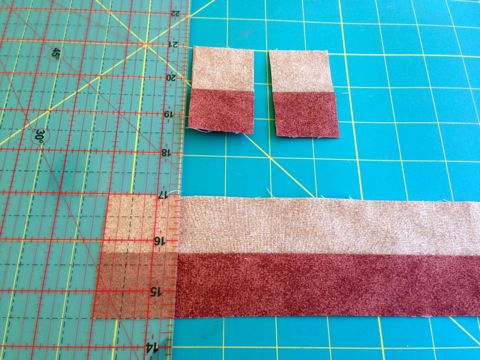 Step 5
Using the below diagram as a guide, lay out the pieces for each row. Note that in the diagram, the darker colour dash and dots indicate the ones that don't have a light square attached. For the dots and dashes with light squares attached, the light square should always be to the right of the dark square.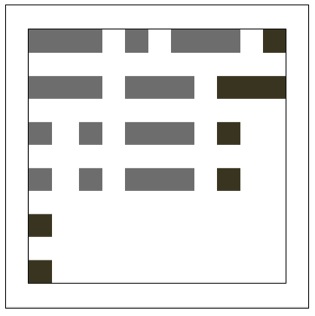 On the 3rd and 4th rows, add in the 2.5" light spacer strips at the end of the row; on the 5th and 6th rows, add in the 10.5" spacer strips to complete the rows.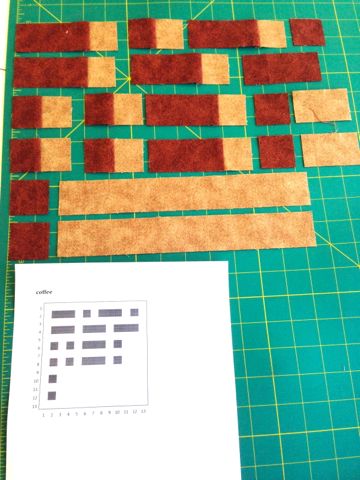 Now, do check and double check that you have all the pieces in the correct order!
Step 6
Sew the dots, dashes and spacers of each row together, making sure to keep the correct order. Press the seams.
Step 7
Now, lay out the rows of dots and dashes with the sashing strips between them: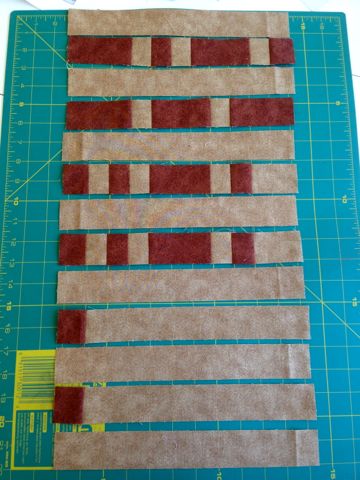 (They're in the correct order, aren't they, because you've checked, right?)
Step 8
Now, keeping the order correct, sew each letter row of dots and dashes to a row of sashing, then sew them together in order, with the top and bottom borders in place. (I pressed the seams towards the light sashing, because that gave less bulk at the joins of the dots and dashes.)
Step 9
Add the side borders and press your seams, and you have the completed mug rug top: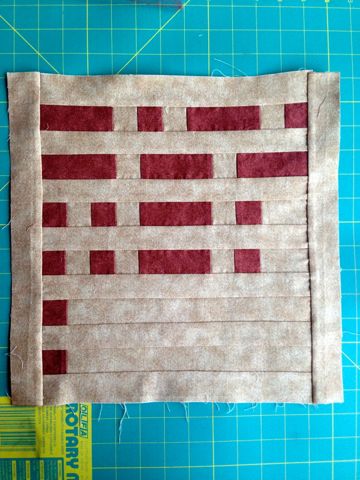 Step 10
Now you can add your batting, backing and quilt. I used a cotton batting, and quilted it in straight, stitch-in-the-ditch lines along each of the seam lines.
Step 11
Once your quilting is done, press the mug rug again. Then trim off the excess backing and batting. Sew the 3 dark 2.5″ wide strips end-to-end, press them in half lengthwise, and use them to bind the mug rug, in whatever binding method you prefer.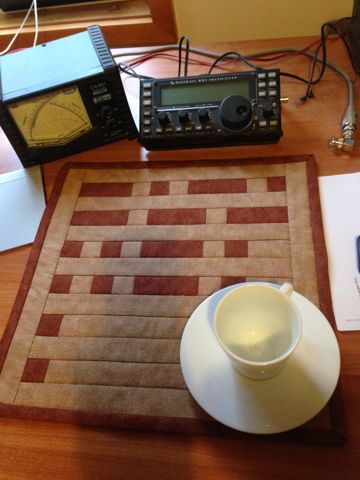 While I planned to post something today – a catch-up post – I didn't actually plan to give the blog a whole new look. But you know how it goes… the theme I was using needed updating, and so I did the auto-update, and as a result it went all wrong. I could have stuffed around and fixed it (the problem was the widgets, I think), but I'd been planning to do a new theme, and I now have a great little program called Artisteer, so I played around on that and voila! – we have a new design!
So, what have I been up to since last I posted? Not a lot in the way of knitting and crafting, as I've been flat out teaching, marking, finishing a book and revising it. I have a number of wips languishing or receiving only occasional attention – two top-down cardigans, a lace shawl, some mittens for Gordon. But I did finish some red socks for my sister for Christmas: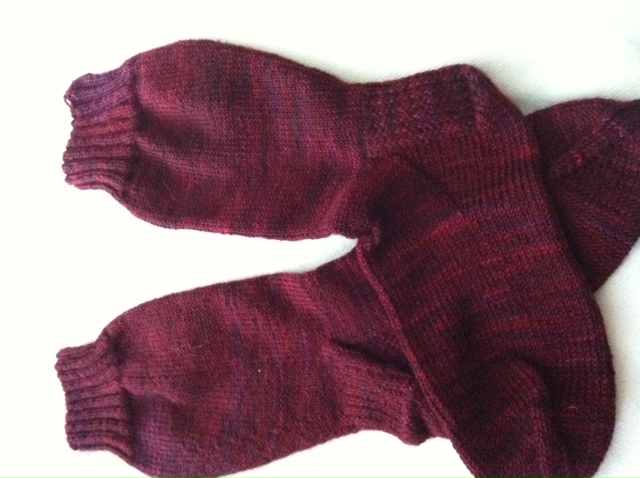 There was also a little Christmas sewing – a roll-up shopping bag for a batty friend who likes bats – the print isn't really bats, but it looks a little like them so we call it bat camouflage: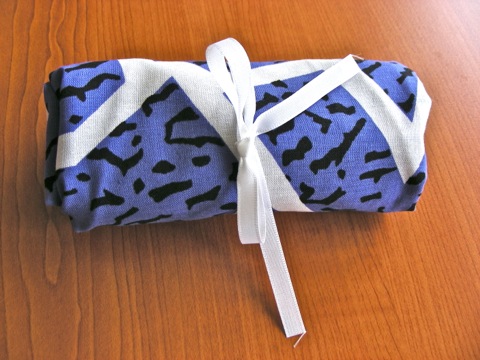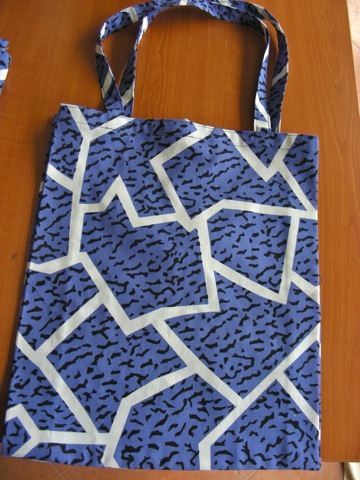 I was in a secret santa swap with the local Ravelry crew, and I made an apron for my cheesecake-baker extraordinaire friend, Amanda: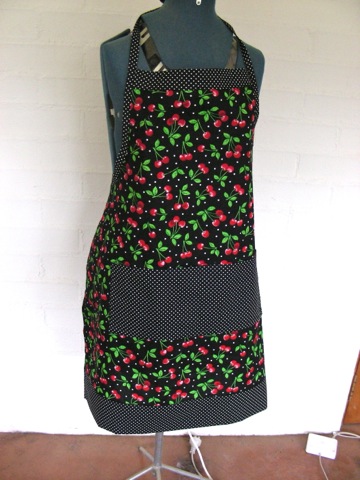 They're not made from yarn or fabric, but I've also made quite a lot of these in the past few weeks: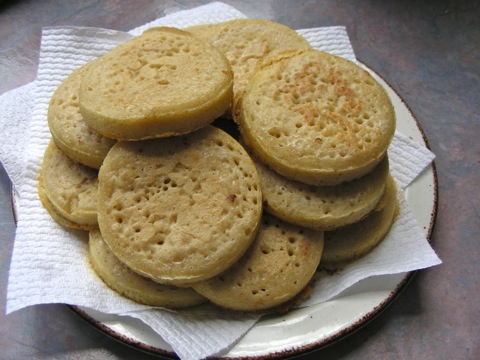 Sourdough crumpets – delicious toasted and spread with a little butter and honey! I stocked up my parents' freezer while I was in Canberra for Christmas, and restocked ours yesterday.
Knitting-wise, I'm currently working on a lace doily: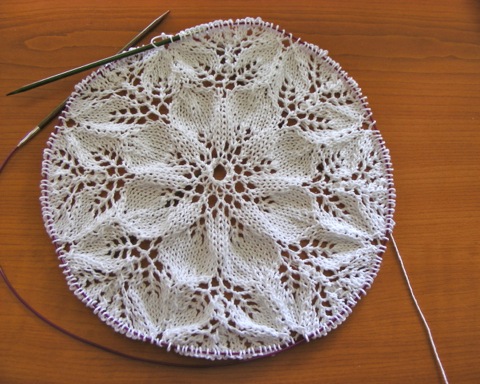 …because I need some lace doilies for the lovely china teacup sets my sister gave me for Christmas: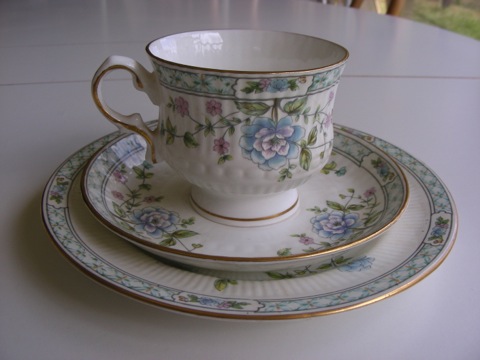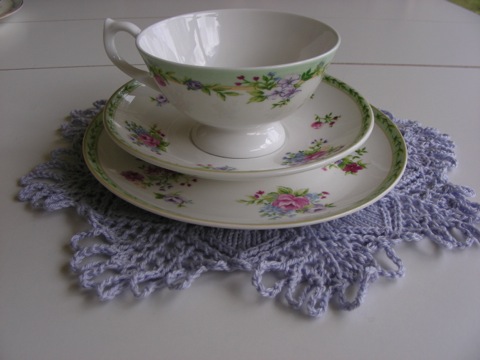 And the last thing I should mention is that we have a new puppy – 9 month old Skye, who joined our household two months ago, after we had to euthanise our beautiful, beloved Princess Dog. Skye loves toys…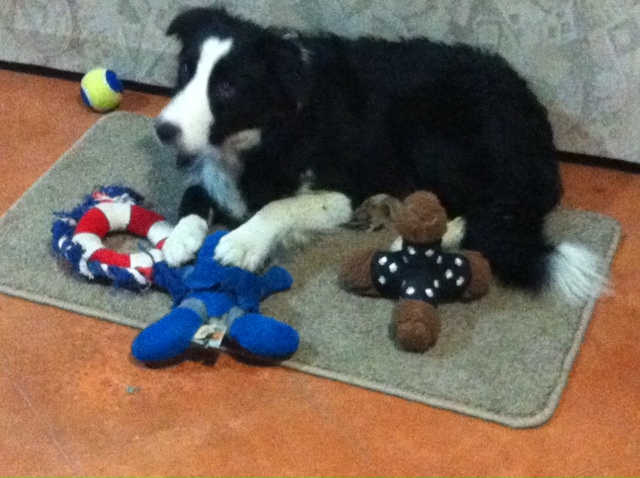 … and is a fibre enthusiast…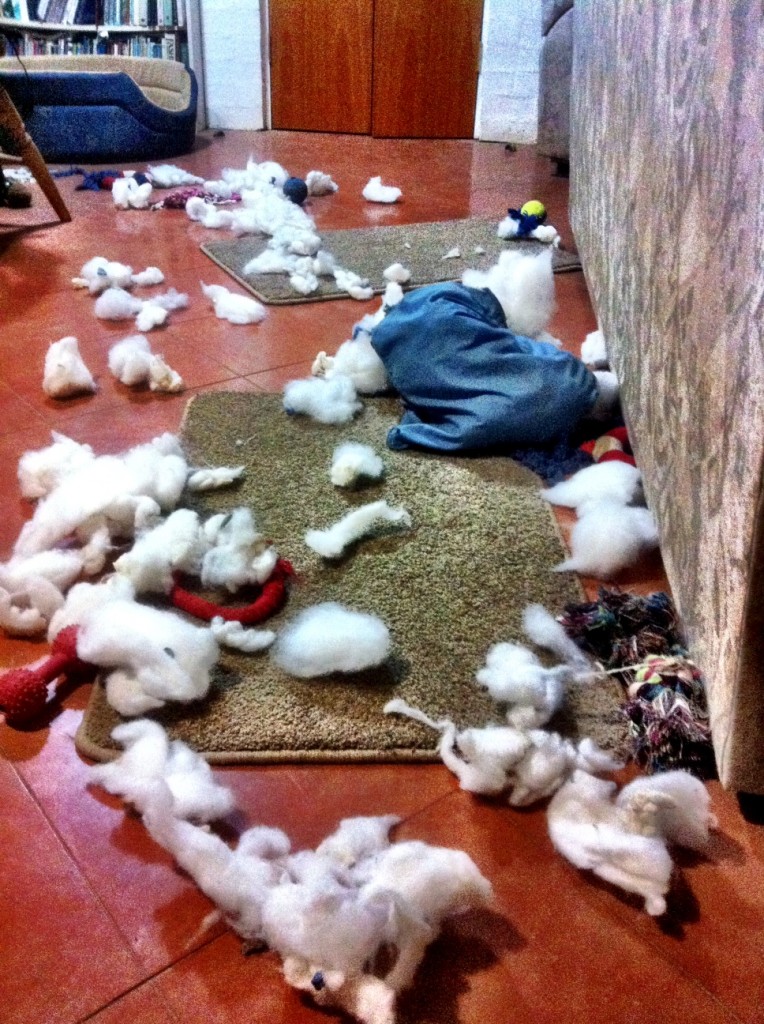 She especially loves the fluffy stuff inside her cushion, and often pulls it all out – it's one of her favourite games!
So, that's my catch-up post for this last day of 2011. I hope you like the new blog design – I do! I'm hoping that 2012 is a great year for all my friends – may there be much making of beautiful, practical things, for all of us, and companionship in the making and sharing 🙂