My knitting mojo has returned, but it's battling for time with the quilting mojo, and the writing and working demands – oh, what lovely things I could make if I didn't have to work in addition to my writing!
The new shawl design is coming along, and there's light at the end of the tunnel – and some order coming to the design chart! Here's a little sneak preview: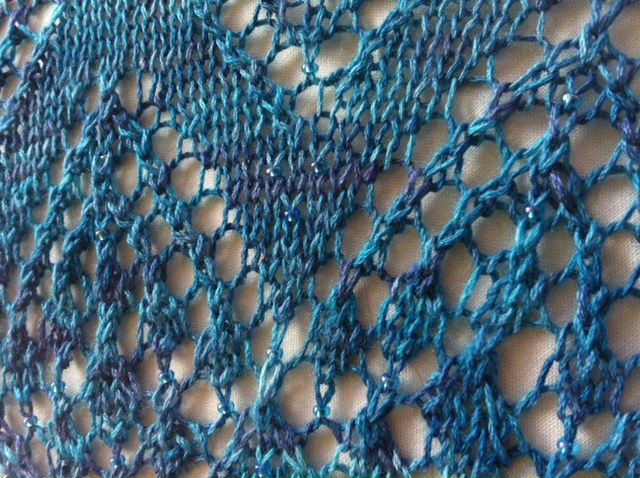 The yarn I'm using is my favourite 50/50 silk/merino blend, hand-dyed by Spinning a Yarn. It's a beautiful heavy lace-weight yarn, about 600 metres per 100grams, with a smooth feel and lovely sheen from the silk. Hopefully I'll have the border finalised and this sample completed in the next week or two; then I'll need to write up the pattern (charts and written instructions), work out additional sizes, have it tested knitted, have the pattern tech-edited, photograph the shawl/s… and then it will be ready for publication.
My quilting has taken a slight hiatus; I was away in Canberra & Sydney for 10 days, and now I'm back I have a stack of uni marking to finish this weekend, so no quilting for me until that's done. My first quilt top is coming along, but I'm looking forward to getting back to it and finishing it: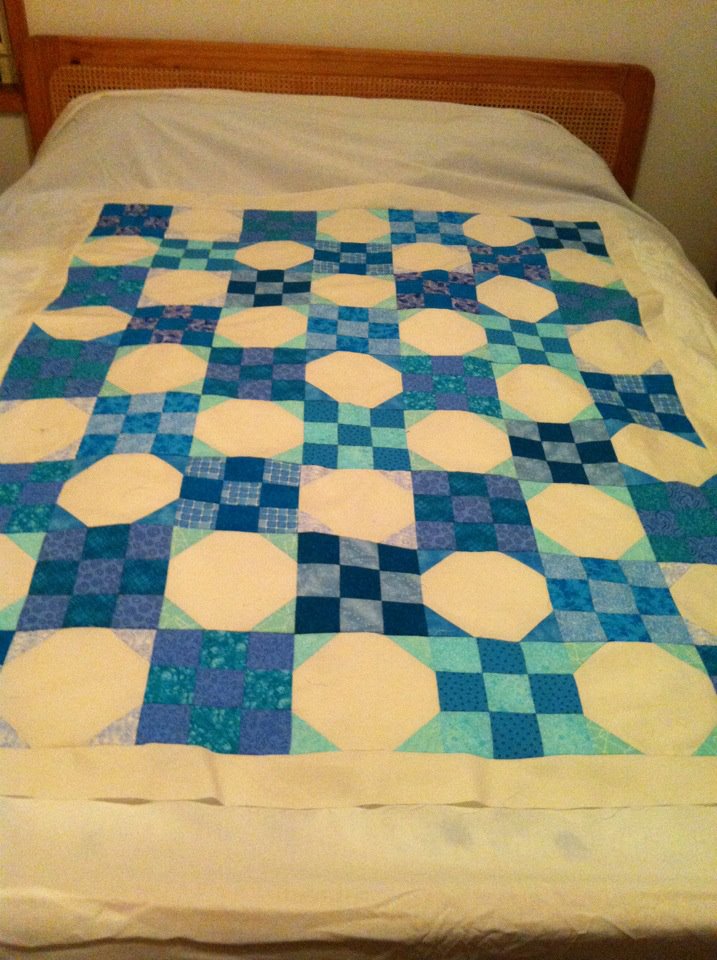 I have to redo the sashing, piece border strips and sew them on, and am also going to piece a strip in the backing fabric to make it wide enough. Then there's the actual quilting – I'm thinking about simple machine-sewn diagonals in the 9-patch blocks, and maybe handquilting the snowball blocks – but I could also machine-quilt them, which might give me a chance of actually finishing the project!!
I used as a pattern guide a project from the book 'Two From One: Jelly Roll Quilts" by Pam and Nikki Lintott (Book depository link) (Goodreads link). I didn't follow the pattern exactly – I used assorted fat quarters and scraps, not jellyrolls, and made it bigger – but I found the instructions, diagrams and photos clear and helpful for me as a beginner quilter. I do recommend the book; I've even bought another book by the Lintotts – Jelly Roll Sampler Quilts. (Book Depository link) (Goodreads link).
Of course, although I am only a beginner quilter, I have adopted very quickly the stashing habit! I have quite enough fat quarters and leftovers from this project to do another in similar shades; I have also stashed sufficient fabrics for at least three other quilts. They're only in the dreaming/vague planning stages at present, but there is one I'd like to make in the next few months for a special person, and I ordered some fabrics for it from equilter.com when they were on special a couple of weeks ago. I have in mind a relatively simple quilt, highlighting the fabric rather than the patchwork, so it might be doable by the desired date in amongst all the other demands on my time.
In a quick round up of other news, my sourdough baking repertoire now includes cinnamon scrolls: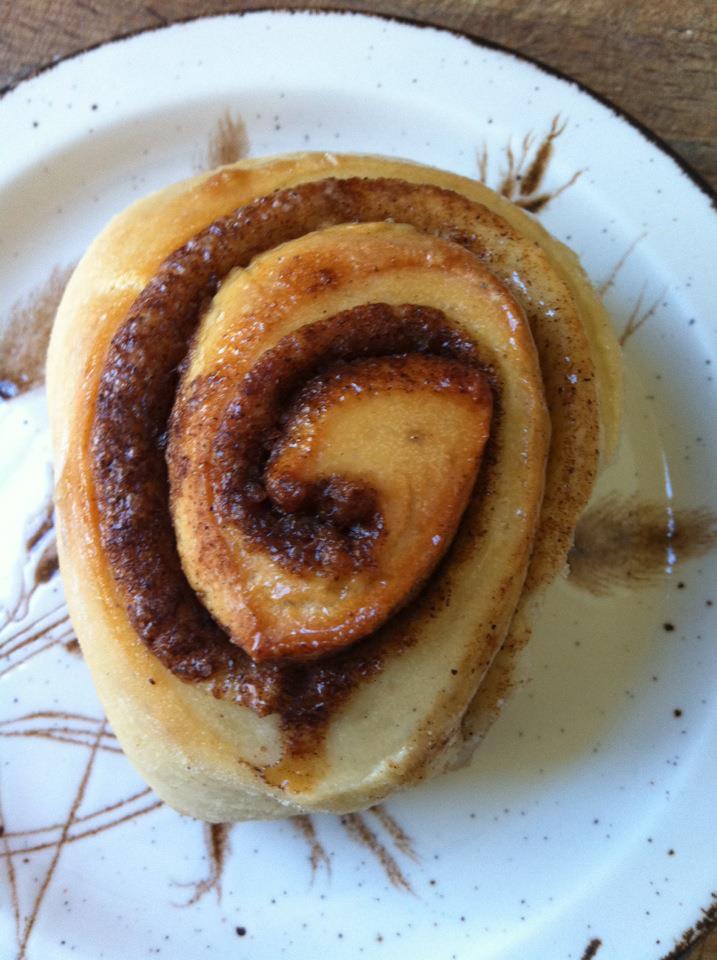 I'm also just baking my second loaf of sourdough chocolate bread, inspired by my niece who loved it when she stayed in France, and who is now a sourdough baker herself. It's very delicious!
Skye the now 15-month-old 'puppy' is still keeping us on our toes – she loves her toys and she's full-on play, play, play – until she's ready to sleep for a while!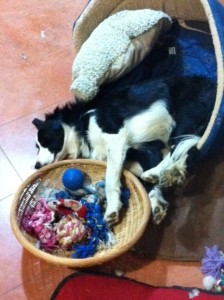 Oh, and have I mentioned that I have to write my next book by the end of September? No? Needless to say, I shouldn't be here…! There may not be a whole lot of blogging in the next few months, but I hope to squeeze in some textile creativity, to help inspire the creative writing imagination!
While I planned to post something today – a catch-up post – I didn't actually plan to give the blog a whole new look. But you know how it goes… the theme I was using needed updating, and so I did the auto-update, and as a result it went all wrong. I could have stuffed around and fixed it (the problem was the widgets, I think), but I'd been planning to do a new theme, and I now have a great little program called Artisteer, so I played around on that and voila! – we have a new design!
So, what have I been up to since last I posted? Not a lot in the way of knitting and crafting, as I've been flat out teaching, marking, finishing a book and revising it. I have a number of wips languishing or receiving only occasional attention – two top-down cardigans, a lace shawl, some mittens for Gordon. But I did finish some red socks for my sister for Christmas: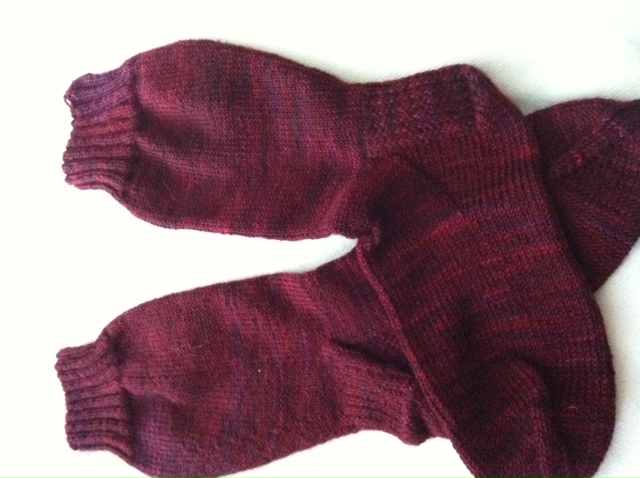 There was also a little Christmas sewing – a roll-up shopping bag for a batty friend who likes bats – the print isn't really bats, but it looks a little like them so we call it bat camouflage: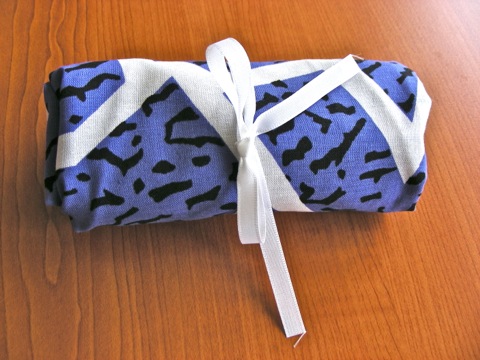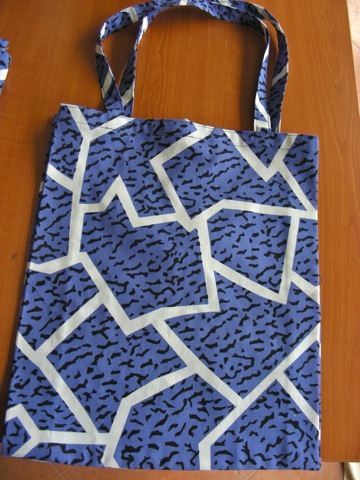 I was in a secret santa swap with the local Ravelry crew, and I made an apron for my cheesecake-baker extraordinaire friend, Amanda: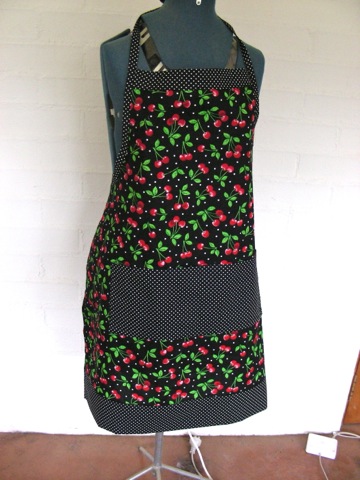 They're not made from yarn or fabric, but I've also made quite a lot of these in the past few weeks: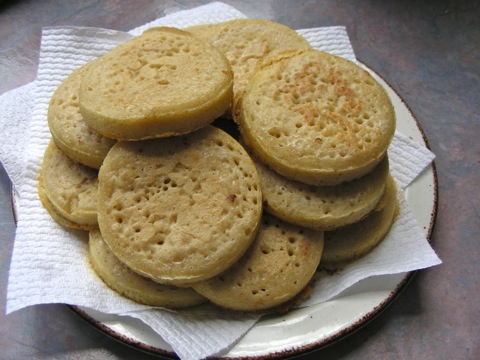 Sourdough crumpets – delicious toasted and spread with a little butter and honey! I stocked up my parents' freezer while I was in Canberra for Christmas, and restocked ours yesterday.
Knitting-wise, I'm currently working on a lace doily: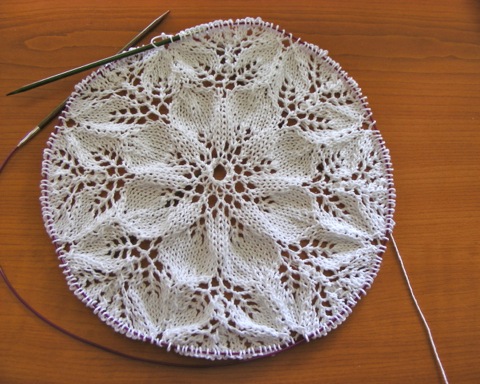 …because I need some lace doilies for the lovely china teacup sets my sister gave me for Christmas: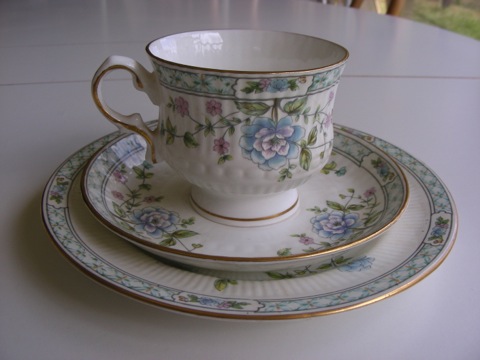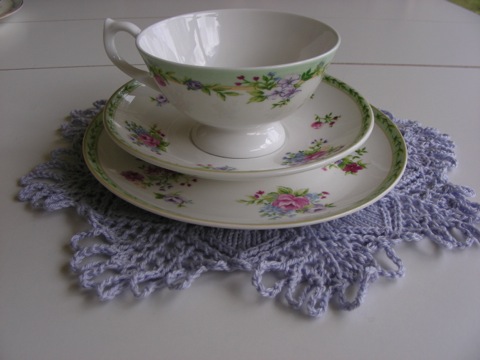 And the last thing I should mention is that we have a new puppy – 9 month old Skye, who joined our household two months ago, after we had to euthanise our beautiful, beloved Princess Dog. Skye loves toys…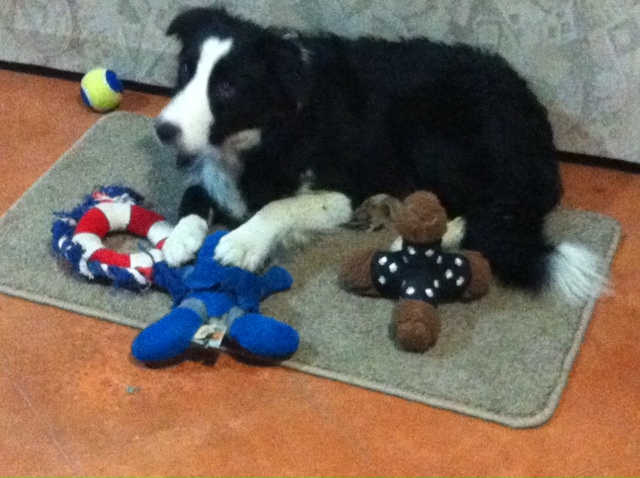 … and is a fibre enthusiast…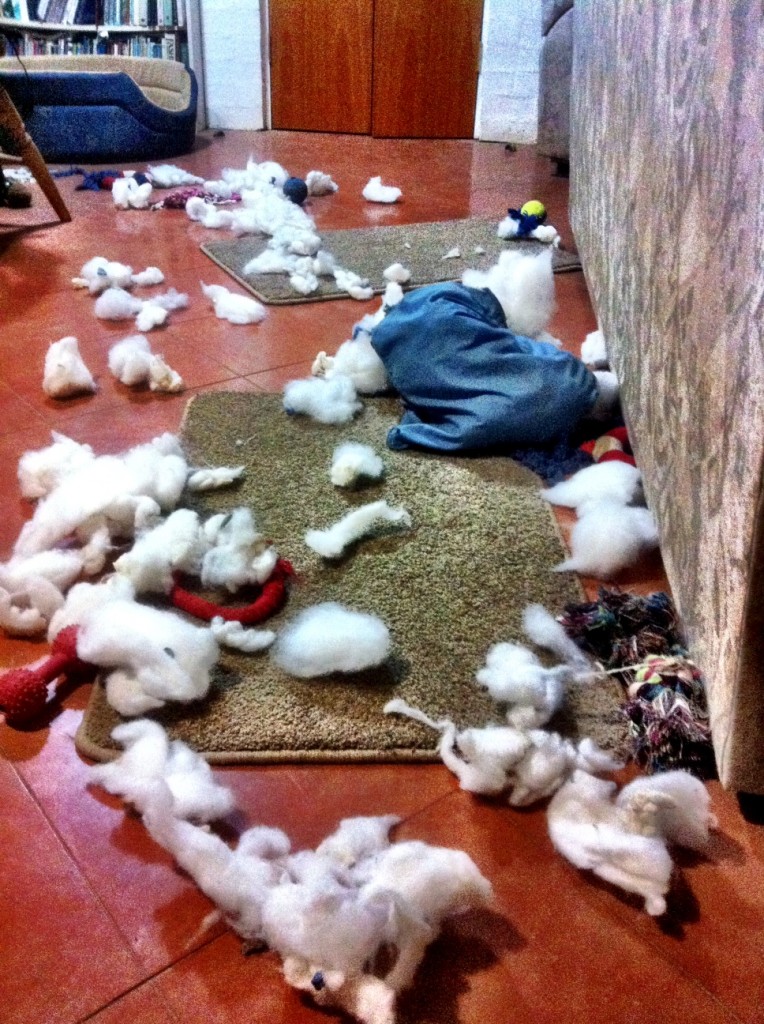 She especially loves the fluffy stuff inside her cushion, and often pulls it all out – it's one of her favourite games!
So, that's my catch-up post for this last day of 2011. I hope you like the new blog design – I do! I'm hoping that 2012 is a great year for all my friends – may there be much making of beautiful, practical things, for all of us, and companionship in the making and sharing 🙂
I managed to drag myself away from playing with sourdough starters and baking bread long enough to finish my latest Monkey socks today. The yarn shade is called Pier, so I call the socks Monkeys on the Pier.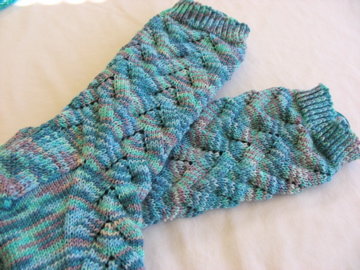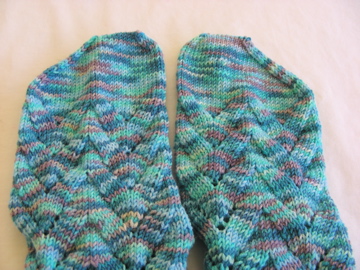 Pattern: I've used the No-Purl version of Cookie A's Monkey Socks pattern = although as usual I've just done my standard heel, and my new standard shaped toes.
Yarn: Morris Empire 4ply, bought from The Granny Square in Newtown, Sydney (as a little present to myself before I went into the hospital – which is just around the corner from the shop).
So, that's one pair of socks off the needles. I've still got two others on the go – one, a plain pair in brown Trekking yarn, is about 40% done and will be the next to be finished. Probably. Then I might get back to the experimental Brangian socks, although whether they'll be finished or frogged I'm not sure.
I'm going to be working full-time at the local uni for first semester, starting in February, so my knitting time will decrease, and therefore I'm going to be strategic about what I choose to knit. It's a interesting challenge, knitting from stash but at the same time making sure I fill up gaps in my wardrobe. I have quite a few hand-knitted socks, but, for example, I only have one pair of red socks, and they're dark red and lacy. Fortunately, I have some Bendigo Luxury 4ply in my stash, in the beautiful Ruby shade. I have a great pair of plain, basic greenish socks – but a lacy teal pair would be good, too… and I do have more Empire 4ply in a deep teal 🙂 So, I can certainly keeping my fingers productively and strategically employed for a while!
Oh, and about that sourdough… this fruit loaf didn't rise as much as I'd hoped, but it is still scrumptious (especially toasted with butter and marmalade):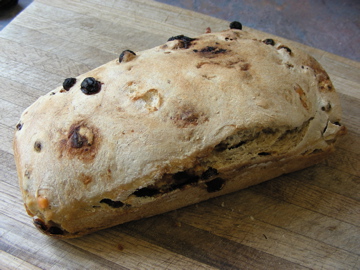 Now, I'd better go and make a sourdough chocolate cake, as we have visitors coming this afternoon!