FO – Brangian variations
I finished knitting my fifth Brangian shawl the other day – this time with a few minor variations to the pattern:
1) Instead of the yo, k1, yo spine in the stocking stitch section, I worked a m1R, k1, m1L spine, and reverted to the yo, k1, yo spine when I started the lace section. This is how that looks: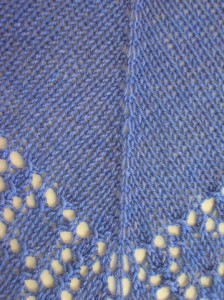 2) I knitted an extra repeat of Chart 1, but only the first 8 rows of Chart 2 before continuing on to the edging chart, and then 3) I worked the last two rows of the edging chart again, just to make it a little deeper (and because I had plenty of yarn left!):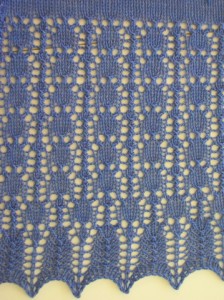 Although I like the original version, with the broad border of alternating buds before the edging, I also like this single line of offset buds between the main lace and the edging – I think it highlights both the edging, as wella s the long lines of lace in the main lace section.
Here she is, in all her (early morning, bright sunshine) glory: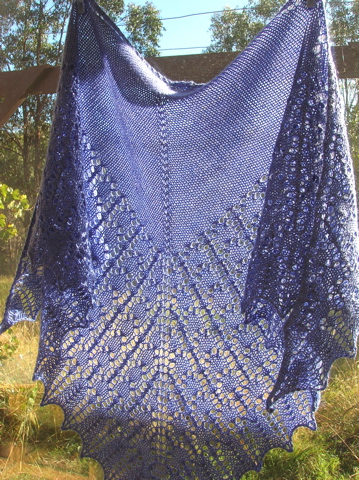 This image is closest to the real colour – it's just on the purple side of blue. Just.
Yarn: a 50/50 silk/merino fingering, that I bought undyed from the Yarn Workshop, and dyed myself.
Size: small
Needles: 4mm circular
Unblocked measurements: Width 98cm, height 50cm; (38.5 inches x 19.7inches)
Blocked measurements: Width 145cm, height 69cm; (57 inches x 27inches)
One Response to FO – Brangian variations