Cosy and warm
Winter has officially started, and the weather is mostly cool, overcast, with occasional brief periods of rain, and glimpses of the sun now and then – not quite our normal crisp, sunny winter days, but there's something about rain pattering on the roof that makes me want to snuggle into cosy, comfortable clothes.
I finished these socks last night:

They were something of an experiment – 8ply (DK) yarn (only the 2nd time I've used it for socks), toe up socks, and I started them using two circular needles. The toe-up start was fine, but the two circulars didn't work so well for me. Before I'd got very far along the foot, I switched back to my usual 1-sock on 5 dpns – and was much happier!
I wanted a heel flap (the wedge heel doesn't work for my foot shape), and I hunted around on the internet and found Becca's formula from her Forward Motion blog, which was great, and easy to follow. Now, I know with toe-up socks you should be able to try on as you go, but with thick ankles and dpns, that isn't the easiest. So, when I finished the first sock, I decided that the foot was a little long, and the leg a little tight. On the second sock, I increased 4 stitches less on the gusset (thus shortening the foot length, and the heel flap length), and increased more stitches after the ankle. That worked well, so I then ripped back sock 1 to the gusset, and reknit it to match sock 2.
The yarn is Bendigo Luxury 8 ply, which is machine-washable, and soft, without being too soft. I'm looking forward to wearing my new socks! I can definitely see myself knitting more toe-up socks, and more 8ply socks; I love 4ply (fingering) yarn and socks, but sometimes I want something thicker – not to mention, quicker to knit!
I'm gradually trying to finish up some wips. The next on my list of things to finish is this: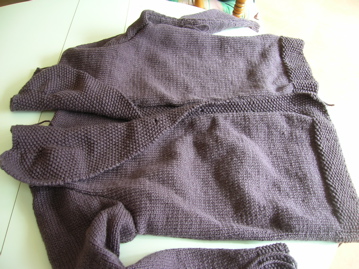 This has been hibernating for… a while. But winter is the time when hibernating handknits are supposed to emerge, and I've decided that since it is SO close to being finished, that I will finish it this week. All I have to do is sew up a few more seams, and sew on buttons. (And yes, I should have blocked the pieces – I'll have to do a (very) light press instead.) The yarn is Jo Sharp Silkroad Aran – making this the most expensive garment I've knitted, possibly ever. I started this almost 2 years ago; my slowness on finishing the final seams is due to two factors – first, I HATE sewing seams. My jumpers/cardigans from now on are likely to be top-down. Secondly, I'm always nervous about how a finished garment is actually going to look on me. I'm short, overweight, and although I have a waist, it's a very short one, with hips/tum much bigger than my bust. Believe me, this is not a fashionable shape. And no, fitted knits do not work very well for me. I know they do for many people, but not me. This cardigan is not fitted, and hopefully will be just long enough for the shawl collar and button band to give a vertical emphasis. I guess I'll find out… when I finally get it finished and try it on!
3 Responses to Cosy and warm