Winter
It's a month since I last posted. I don't have a lot of textile work to show for that month, but there is some progress.
The aqua quilt is pin basted,and waiting to be machine quilted. It may be waiting a while.
I now have 4 blue and teal star blocks, but that project is on hold for now.
My new shawl design is also on hold, as is the cardigan I've been knitting for a while.
I have finished something – a pair of plain socks. I'm calling them my lumberjack socks, since they're good boot socks and the greens remind me of pines. The yarn is Cleckheaton Country Tartan 8 ply.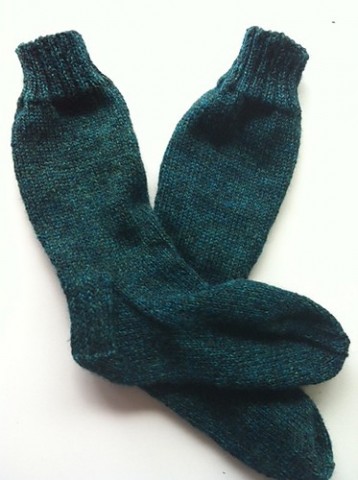 I knit while I'm writing, and plain socks are best. I'm a slow writer, so I spend a lot of time staring at the screen, searching for the right words. The knitting is a kind of meditation; it helps to shift my brain into a creative mode, and keeps my hands busy so that I don't go clicking all over the internet. With plain socks, I'm not reciting a pattern in my head and I can drop them the moment words come to me so I can type. I've got a lot of writing to do in the next few months; I have two more lots of the Cleckheaton yarn (blue and red), so I see some more socks in my future.
The only other creative project I'll be working on for the next month or so is a quilt for my nephew's 18th birthday. It may not get done in time but we'll see. I had some black and white fabrics, and bought some more on Friday – although it's pretty hard to find non-floral B&W (not grey) fabrics in our town; I went to the quilt shop, Lincraft, the other fabric shop, and raided Big W's fat quarters, but there wasn't a huge choice anywhere.
However, today I've selected the ones I'll use; I've made 4 blocks so far, and cut up most of the fabric for the remaining 44 blocks. I will have to get a little extra of 2 of the fabrics but I have enough to go on with for now and will go to the local quilt store during the week. My plan is that when I need a break from writing, I'll make blocks.
My nephew plans to be an architect – so what better structure to use than log cabin 🙂 I haven't decided how I'll put the blocks together yet. I've been playing with the 4 completed ones to see the different effects – isn't log cabin such a versatile and magical block – so many possibilities!