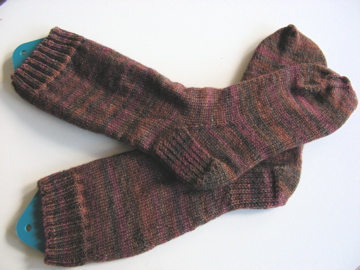 They're not fancy. There's no lace, or cables, or other decorative stitches, just simple rib and stocking stitch teamed with a subtly striped yarn. I have another pair like this, in greens, and I love them as much as my fancier socks. The yarn is Trekking anti inflammatories XXL, a good hard-wearing yarn with colour schemes that blend into each other. The pattern was a Patons pattern that I have memorised – and possibly adapted – over the years. It works. I added my shaped toe.
Plain socks, perfect socks.
Lately, I've been contemplating the connections and overlaps between my various areas of interest. Until recently, I'd thought of my textile work and my Honours thesis on 18th century British Worsted Textiles as being quite unconnected to my writing interests, and my current PhD research interests on the romance genre, genre readers and their perspectives. But underlying these diverse interests are common themes for me – I'm interested in people, in their everyday experiences, and in the relationships and connections they make. Far from being irrelevant, my first degree in history (predominantly social history) is a good grounding for my current work – both my own writing, and my research. There are overlaps, too, in that textiles, knitting, romance reading (in fact, most reading!), and many informal book discussions, online and offline, are places where women's voices are heard – which has me also contemplating, across all these areas, feminism, the feminine, and the domestic spheres.
I haven't formed coherent, easily articulated thoughts about all these overlaps yet – but the overlaps are interesting me! And I came across another one yesterday: I've returned to the local university this past week as I have a 5-month contract to teach a course in Digital Media and Interactive Entertainment. In 2009, I had a similar contract to teach the same course – then, it hadn't been revised for ahem some years, so I did some quick revising on-the-go as I taught it. Now it needs not just revising but an overhaul, and I've been doing some work on it since late November, when I knew I'd be teaching it this year (assuming my surgery went fine.) I'm still madly trying to pull together resources, and in my researching yesterday, I came across this video from David Gauntlett, a social media researcher, which again weaves together a number of things I'm interested in – including knitting!
I don't quite agree with everything he says, but there's a lot to think about in there, and I look forward to reading his book when it comes out next month.
I'm a tad more positive about TV watching than he is, although I do very little of it myself these days. However, if one equates TV watching with reading as forms of entertainment, then he'd have to be just as critical of readers as TV watchers. I do think there's an important role for Story and Storytelling in our lives, a role that books, TV, films, even video/computer games can contribute to.
I do agree with the notion of 'Making is Connecting'. I've long believed (although not researched to find evidence for!) that making things – whether fabric, wood, metal, digital – contributes to a stronger sense of self: I make, therefore I am. I'd love to see children and young people more involved in hands-on creativity, in a far deeper way then the standard 40-minute class lesson in school can accomplish. And I suspect those who have experience in making things that take hours, days, weeks to produce are more likely to respect others' work and property, and far less likely to vandalise things.
Lots to think about – but with a course to write, a book to finish, a PhD to progress on, a loom needing a warp, and a pair of socks 85% complete, my brain isn't equipped for more than a brief rambling blog post at present!
Queensland has certainly been doing it tough in the past couple of months. On top of the devastating floods across much of the state, the north had to contend with one of the biggest cyclones in living memory just this week – fortunately it made landfall in a more sparsely populated region, so although there has been significant property damage to homes, farms and businesses, the death and serious injury toll is low.
Thank you to everyone who purchased patterns during January – as I promised, all profits from my pattern sales have now been donated to the Queensland hair loss Premier's Disaster Relief Appeal.
As I want this to be transparent, here's the information about pattern sales, net income calculation, and donation:
$130.00 Income from pattern sales minus $5.00 Ravelry fees minus 8.25 Paypal fees (details in spreadsheet here)
= $116.75 Profit from pattern sales
I rounded that back up to $120.00 and made the donation this morning:
Thank you again to everyone who contributed! I wish I could do more, but my own financial situation has been somewhat tight lately, so I appreciate you all being part of a team effort to enable the donation!
I managed to drag myself away from playing with sourdough starters and baking bread long enough to finish my latest Monkey socks today. The yarn shade is called Pier, so I call the socks Monkeys on the Pier.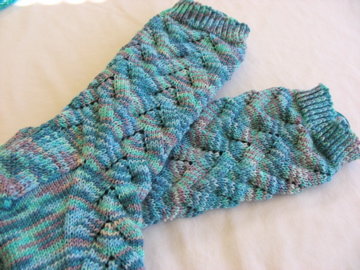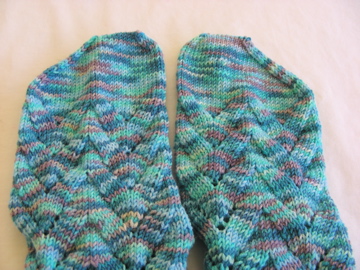 Pattern: I've used the No-Purl version of Cookie A's Monkey Socks pattern = although as usual I've just done my standard heel, and my new standard shaped toes.
Yarn: Morris Empire 4ply, bought from The Granny Square in Newtown, Sydney (as a little present to myself before I went into the hospital – which is just around the corner from the shop).
So, that's one pair of socks off the needles. I've still got two others on the go – one, a plain pair in brown Trekking yarn, is about 40% done and will be the next to be finished. Probably. Then I might get back to the experimental Brangian socks, although whether they'll be finished or frogged I'm not sure.
I'm going to be working full-time at the local uni for first semester, starting in February, so my knitting time will decrease, and therefore I'm going to be strategic about what I choose to knit. It's a interesting challenge, knitting from stash but at the same time making sure I fill up gaps in my wardrobe. I have quite a few hand-knitted socks, but, for example, I only have one pair of red socks, and they're dark red and lacy. Fortunately, I have some Bendigo Luxury 4ply in my stash, in the beautiful Ruby shade. I have a great pair of plain, basic greenish socks – but a lacy teal pair would be good, too… and I do have more Empire 4ply in a deep teal 🙂 So, I can certainly keeping my fingers productively and strategically employed for a while!
Oh, and about that sourdough… this fruit loaf didn't rise as much as I'd hoped, but it is still scrumptious (especially toasted with butter and marmalade):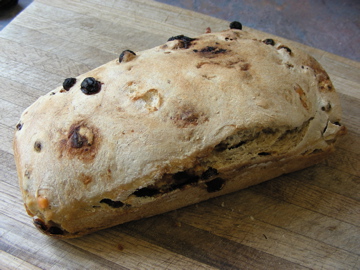 Now, I'd better go and make a sourdough chocolate cake, as we have visitors coming this afternoon!
…it is delicious!
I decided to try my hand at baking sour dough bread. This is my first loaf, baked this morning:

I loosely followed the instructions at sourdoughbaker.com.au and also at this site for making the starter from scratch and baking the bread. Having taste-tested a couple of slices already, I'm very keen to make more!
I've sold more patterns in the past few days than usual, presumably because people are wanting to support the Flood Relief Appeal. As I don't wish to profit from people's desire to help those suffering, I've decided to increase my donation from 50% of pattern sales to all profits from January pattern sales – i.e. the sale price less Paypal and Rav fees.
So, there's already over $60 raised. Thank you, all!
Like most Australians, I've been watching in dismay for the past couple of weeks as heavy rainfall across the state of Queensland has produced wide-spread flooding. The flooding has affected both the coastal side of the Great Dividing Range, and the western, inland parts of the state. The latter floodwaters are moving slowly through the inland river system and inundating vast tracts of agricultural land and many small communities, washing away roads and railway lines,  filling coal mines, drowning homes, equipment, livestock, crops, and wildlife. The coastal floods, pouring down the steep escarpment of the east side of the Great Dividing Range, have often moved more quickly, swamping larger coastal communities. This week we've seen the huge tragedy and loss of life from flash flooding in Toowoomba and the Lockyer Valley, and that wall of water making its way down to flood large areas of Ipswich and the state capital, Brisbane.
The north of my state, New South Wales, has also been affected, and a number of towns are still under threat of flooding. I live right on top of the range, and am in no danger, especially as our rainfall, although higher than usual, is nowhere near the deluge levels being experienced further north.
Because of the scale of the disaster – an area the size of France and Germany combined has been affected – the cost to individuals, families and small businesses will be huge.
I hate feeling helpless, and am not able to do much. However, one thing I can do is to donate 50% of all my pattern sales for the month of January to the Queensland Premier's Flood Relief Appeal. So, if you've been thinking about purchasing either of my patterns, for this month (at least) half of what you pay will go to flood relief. I'll give a tally part-way through the month, and in early February.
The patterns are currently only available through Ravelry, but you don't have to be a member to purchase them.
To purchase the Christmas Lights Shawl, click here.
To purchase the Brangian Shawl, click here.
Some other designers are also donating, and when I have a list of them I'll post it on the blog.
Before I went into hospital, I called into the new yarn shop The Granny Square, a very convenient couple of blocks from the hospital. I decided I deserved a little bit of spoiling, so I bought two balls of Morris Empire yarn for socks – picking a variegated yarn, just for a change.
I didn't get to cast on the socks until after the surgery. I decided to knit the No-Purl version of Cookie A's Monkey Socks from Knitty.com, which I have knitted before. Last time, I started them on 3mm needles, as Cookie's legs are clearly much skinnier than mine. However, I didn't have 3mm needles with me in Sydney, so I started with 2.75mm, hoping they'd be okay. I got almost as far as the ankle, and tried them on… nope, I definitely need the bigger needle size. So, yesterday I cast on with the second ball of yarn using 3mm needles.
It's been interesting watching how the variegation in the yarn knits up and pools with the different gauges. Here's the two socks: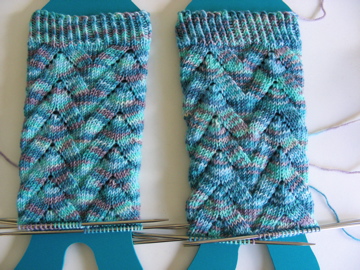 The tighter gauge (2.75mm needles) is on the left, the slightly looser on the right.The pale green shows up more in the first, the blues more in the second. The two balls are from the same dyelot, so it's probably just the knitting tension creating the differences.
However, I'm quite happy with way the yarn is in the looser tension, so I'll frog the first one and reknit it after I finish the other sock. I'm up to knitting the heel on it, and I'll drop down a needle size for the foot. My feet are reasonably slim – it's my calves that are no longer as graceful as they used to be!
We're already two days into the new year, and while I'm recovering well from the surgery, I'm taking it easy and enjoying reading others' blogs about their 2010 achievements, and their plans for 2011.
2010 will probably go down for me as the Year of Knitting Shawls. I did complete the 10 Shawls in 2010 Challenge on Ravelry, with my 10th shawl – an All-Lace Brangian – blocked a few days before I had to go to Sydney last month: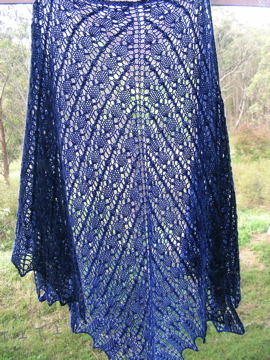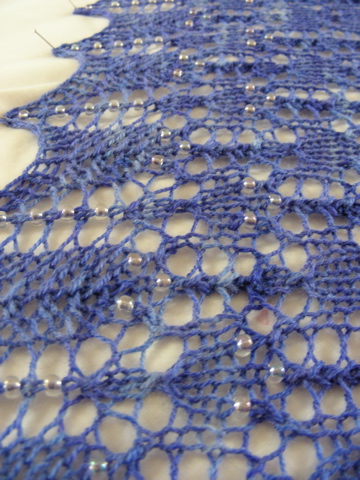 The yarn is another lovely 50/50 silk/wool from Wooltopia, and I knitted the shawl on 4.5mm needles.
Five days connected to a drip in hospital in Sydney before my surgery gave me the opportunity to finish knitting a couple of Christmas gifts, although I'm sorry I don't have great photos of them. However, my nephew's Binary Cable Hat and my niece's Fingerless Lace Mittens were finished well in time for the family's Christmas Day celebration. I wasn't able to go to Canberra to be with them for Christmas, but I was discharged from hospital on Christmas Eve, so Gordon and I were able to enjoy a quiet day together.
My Sydney and hospital knitting has been socks – a plain pair in Zitron Trekking XXL which I love for out-in-the-bush socks: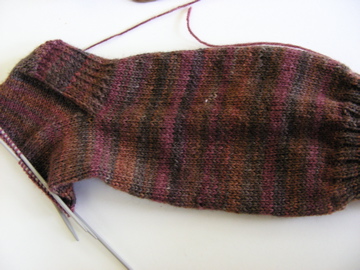 Because the brown is a little dark for knitting at night, I've also started a pair of No-Purl Monkey Socks in Morris Empire 4ply: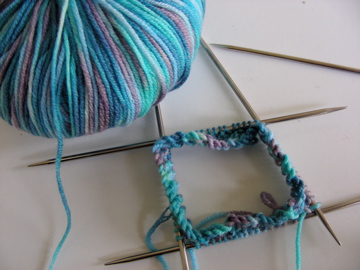 I'm not making resolutions for 2011, but there are certainly some ideas/desires/wishes that I'm contemplating and hoping to put into action in the next 12 months or so:
keeping the stash under control – I'm not going to stick to a firm work-from-stash commitment, as my stash isn't HUGE, but I'd like to be thoughtful in my yarn purchases, and use up some of the yarn that's been idle for some time;
get back into weaving – now that I've sold my smaller floor loom, and made the decision to keep the large 12-shaft loom, I'm hoping to use some of my weaving yarn stash to make cloth for garments and for household items, and at the same time stretch my weaving skills a little by experimenting with yarns, more shafts and weave structures
yarnosophising – I'd like to take time to think and write more about craft and its important role, which will include reading some texts (such as finishing Soetsu Yanagi's The Unknown Craftsman) and participating in the Slow Cloth movement, as well as exploring some ideas about feminism, feminine strengths, and craft work.
clothing – I'd like to make some more of my own clothing, both from knitted and woven cloth
designing – with two successful shawl designs completed in 2010, I'd like to further stretch my design experience in 2011, although I'm not sure yet what shape that will take
I think there's enough there to keep me busy for twelve months!
(Cross-posted from my writing blog)
Tomorrow is the big day – the surgery to bypass the aneurism-affected artery in my head. I really appreciate all the good wishes and positive thoughts and prayers from my many online and offline friends. My neuro-surgeon is highly regarded and well-liked and respected by the staff here, and the whole neuro care team is fantastic – skilled, caring, and focused on patient well-being, so I'm in excellent hands. And the doctors have promised that they're going to have an early night tonight, and a good night's sleep, so they'll be fresh and ready in the morning 🙂 They have the hard work to do; I'll just be snoozling through it all!
The surgery itself is quite lengthy, so I may not be settled into ICU until the evening, and they're planning to keep me unconscious until well into Friday. I'll be in ICU for some pharmacy days, and in hospital for maybe up to two weeks, so I probably won't be online again for a little while.
Gordon will post updates to my writing blog with news on my progress; it may not be tomorrow night, as it will be a long day for him, and he may not see the doctors until evening. But he'll post when he can. So please check over there for news.
Thanks again for all the good wishes. They do matter. I'm planning on getting through this fine, and getting back to writing books and knitting and weaving very soon!
Oh, and I finished the Christmas knitting on my first day on hospital last week – so I'm all organised, although it's probable I'll be spending Christmas in hospital. I still have plenty of knitting to keep me occupied during my recovery 🙂