Sparklies
I've had a fun day, surrounded by sparkly beads. I've collected some lovely beads in the past few months, including some special sets, and today I made up some stitch markers that I've listed in the shop as Limited Editions. Because the beads are more expensive, they're priced a little higher, but worth it for those who enjoy something extra-special!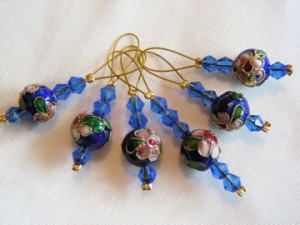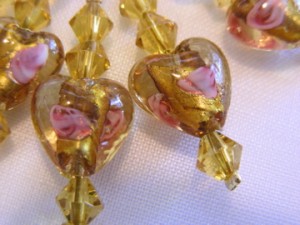 I also used some wonderful lampwork and other fancy beads from some bead mixes I've bought, and made up a stack of one-off stitch markers. These are destined for the 'Lucky Dip' I've now set up in the shop: customers can buy a 'Lucky Dip', and receive one large, two medium, or three small stitch markers for a bargain price – and a nice surprise! I'll also give away a Lucky Dip to anyone who buys two sets of stitch markers. I know there's some knitters out there who love to collect individual markers, so the Lucky Dip is a way to add a surprise to the collection!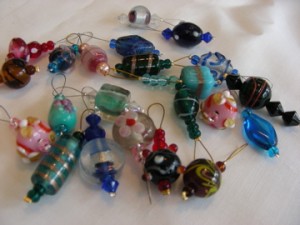 I enjoyed playing with the sparklies during the day – sitting out in the sunroom, with the sunlight pouring in was a lovely way to spend a winter afternoon. I think the stress of all the medical dramas – and The Princess Dog's medical dramas – has been catching up with me, so it was probably past time I spent some hours doing something purely pleasurable, that didn't require vast amounts of brain power! The new markers are now all made, photographed, entered into the shop, and packaged up in the new display/posting packs I made. So that's a fair amount achieved for the day.
However, I haven't done a stitch of knitting today, so I'm no nearer finishing the new shawl. The revised border chart is now finalised, and it SHOULD work for both small and large sizes, but the proof won't come until the knitting is done…. Tomorrow. Tomorrow I'm going to knit. And write. Really.