Indigo
Can you believe I've never taken part in a swap? The list of projects that I want to do is always so long that I've resisted the temptation… until recently, when the Indigo Luxury swap was announced on the Australian Swappers list on Ravelry. 'Indigo' and 'Luxury' are two words I find hard to resist… and together… well, let's just say that my resistance and sensible arguments of 'but you've got so much else to do just now' lasted less than 24 hours before I signed up!
For the last week, I've been obsessively thinking blue thoughts 🙂 The swap involves a skein of luxury yarn, plus something extra, in indigo or rich blue, which doesn't have to be handmade. I've ordered the yarn – a luscious midnight-blue silk-merino fingering yarn – and I'm busy planning various other blue possibilities. What doesn't go to my swap partner I will be very happy to keep myself!
On the spur of the moment, when I signed up, I arranged an indigo dye day with Emily, one of the local Ravellers. We're going to do that this afternoon, at the Spinners & Weavers meeting, and there may be others join in as well. The indigo dye arrived on Thursday, my friend Margaret gave me all her leftover chemicals (indigo dyeing is a slightly complicated process), I have found and printed out several sets of instructions, and am half-way through gathering together all the bits I need to take in today. I must remember to take yarn & some fabric! Must also try to remember to a) take my camera and b) take some photos!
I've also been having fun making some indigo and rich blue stitchmarkers – they're now in my Yarnosophy shop, in a special category of their own to make them easy to find. Here's a sample of a couple of the sets: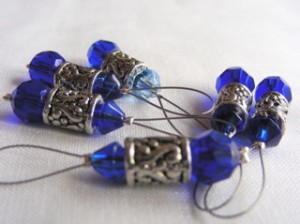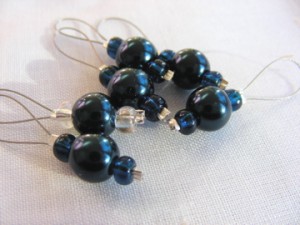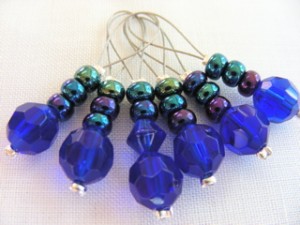 My love of blue in fabrics and yarns (and pottery and glass!) means that I've always been interested, although never tried, the Japanese techniques of shibori (dyeing using various resist techniques) and sashiko (decorative stitching). So, if I can organise myself this morning to get off the computer (any minute now!), I'm going to do some shibori stitching on some white fabric (which is already cut and right beside me) and pop it into the dyepot this afternoon. (I found this excellent tutorial online.) I'm picturing a project bag, with a shibori panel one one or both sides…
Okay, I'm off to get myself organised! Hopefully our dyepot/s this afternoon will work well, and I'll have some photos – and dyed goodies – to show later!