Socks and stuff
Another pair of socks is off the needles – this one a Christmas gift for my brother-in-law, who likes hand-knit socks for chilly Canberra winter mornings. Last year I also gave him a pair of socks – but I hadn't quite finished knitting them before our early family Christmas, so he had a good laugh when he opened his parcel and found 1 finished sock, and 1 still on the needles. I calmly took the half-finished one back from him, and continued knitting 🙂 I finished it a day or two later and gave it back to him.
This year, his socks are done well ahead of time. I love knitting socks in 8ply (DK) yarn – they're so quick, and also warm and cosy!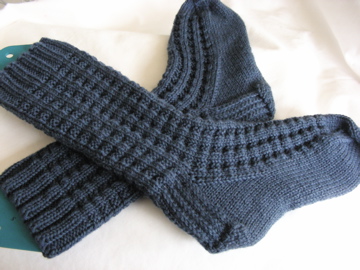 I've used the waffle-rib stitch pattern from the Harris Tweed Socks pattern, but adapted it for thicker yarn, and used my own standard heel and toe patterns. (Ravelry project page.) The yarn is 8 ply Luxury from Bendigo Woollen Mills.
So that's the socks part of this post! Now for the 'stuff'…
I've (finally!) added instructions and photos to my Blocking Shawls page. I hope the instructions are clear and that the images are helpful in demonstrating the process.
I've also added a free pattern preview for the Christmas Lights Shawl – a downloadable, .pdf file with the first two pages of the pattern, which have the yarn and bead requirements and approximate measurements for each size. I hope that will be helpful for people who are considering knitting the pattern but want to check yarn requirements etc before purchasing it.
My table is currently covered with an assortment of 'stuff' – there's socks still to darn (I have done one pair!), a fingerless lace mitten in progress, an ex-biscuit (cookie for my US readers) tin in which I've put an assortment of needles and bits and bobs that I like to keep handy, and the experimental beginning of what might, at some stage, be a new shawl design. I've still got a little Christmas knitting to do, but I'm not stressing about it – I have a gift for everyone already, so the rest is nice but non-essential extras. My major focus at the moment has to be writing, as it's now less than 3 weeks before I head in to hospital for major surgery, and I want to get as much done of the current book as possible before I go. The lace mitten is not the best writing knitting, as the lace pattern is a little distracting – I keep wanting to finish a round/pattern repeat before putting it down to write. So I may have to cast on some simple socks that I can easily pick up and put down, and where the simple repetition aids the writing.
And I think there was something else I was going to mention, but now I can't remember what it is. (Yes, I know, I should blog more often…)