More small achievements
I seem to be managing to cross a few things off my to do list lately – not huge things, but some little ones that nevertheless make me feel good! And those I haven't yet crossed off, I'm making good progress on.
Since I'll be in hospital for Christmas and won't be able to visit my parents, I thought I'd knit another lace doily, this time in colours to match the blue and white linen my mother often uses on the table for Christmas dinner. I rummaged around in the stash and found a cone of pale blue cotton I've had for years, and cast on for the a second one of the Little Flower Doily (Rav link) from Bad Cat Designs. It took me a little over 24 hours to knit, and here she is blocking this morning: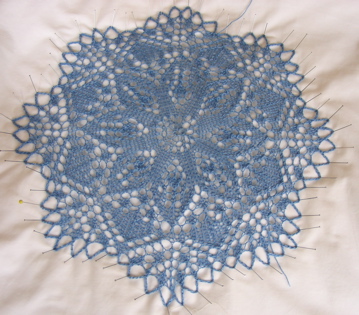 So, I can be at Christmas dinner in spirit – or under a nice glass plate of Mum's fruit mince tarts 🙂
The Christmas knitting – the small amount I am doing – seems reasonably under control. The Binary Cable Hat I started knitting for my nephew before his birthday in August didn't get finished, as I confused myself with how to set the binary code for his name into the cables, and therefore stuffed it up. However, this morning I finally frogged most of what I'd done, back to the first inch, and have restarted again, getting it right this time! So, it's now progressing well, and I hope to have it finished if not today, then tomorrow. I have another gift for him, but this will get popped in with it when it's done: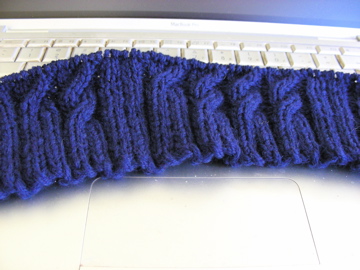 There's another gift I've half-finished, but since the recipient sometimes read this blog, I won't mention it 🙂 (But dear recipient, don't get TOO excited. It's just something I have owed you for …ahem ….a while. This year you might actually get it. Fingers crossed. But I have something else for you, as well!)
When those two things are done, then the next project will be finishing my All-Lace Brangian shawl, which is about half-done. I realised this morning that if I want to actually finish the Ravelry 10 Shawls in 2010 challenge, then I'm going to have to finish that shawl (my 1oth for the year) in the next week or so, in order to get it blocked, photographed, and uploaded to the group before I leave for hospital on the 10th Dec. It's only a small shawl, so that should be doable.
And in pattern news, I have updated the Brangian Progressive Yarn Usage table, and added one for the All-Lace Brangian version, which has slightly different row counts and therefore yarn usage. They can both be downloaded as .pdf files from this page.
2 Responses to More small achievements