Things have been quiet on the blog because they haven't been quiet in my life! Uni work was quite mad there for a while, with almost 200 essays to mark, and teaching to do, and preparing for this semester's teaching as well. (Yes, I agreed to teach another semester. Darned mortgage has to be paid, and since I haven't had a book out for almost 2 years, there is nothing in the way of royalties coming in.)
Now the uni work is (mostly) under control and manageable, I'm racing to finish writing my current book before the deadline. So, things will continue to be quiet here!
I only just downloaded the photos I took some weeks ago of a couple of the dyed skeins, rewound and looking good: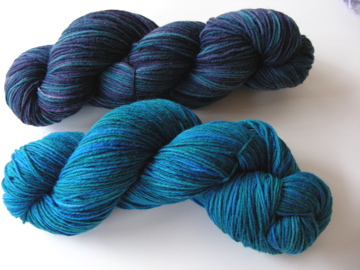 The blue-green one I gave to a friend for her birthday. The purple-teal one (which I love!) is becoming socks for me: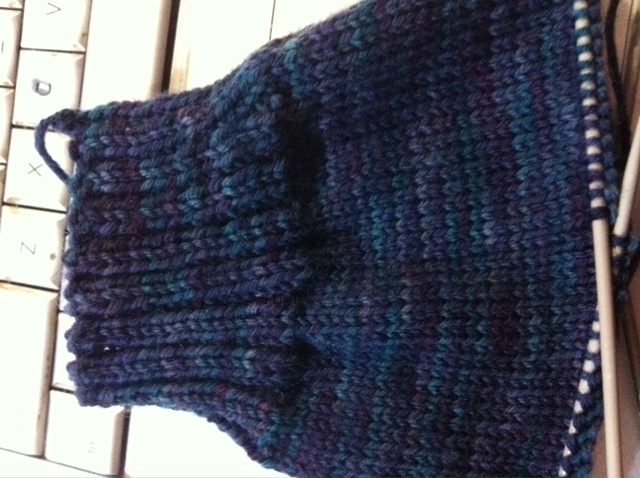 They're just plain socks, easy to knit to keep my hands busy while I'm staring at the screen, thinking of what to write next in the novel. The photo is a little dark, but the colours are coming up beautifully. I'm in love with these socks already.
And in other textile-related news, the long saga of getting the sunroom organised into a proper, workable space for me is one step closer; Gordon decided that he didn't need the hutches on his desks in his study, so I bought two credenzas – low cupboards – to put the hutches on at the end of the sunroom. They were delivered yesterday, and hopefully this weekend G and I will move the hutches into the sunroom and onto the cupboards – thus creating some more wonderful storage space for textile-related stash and books!