Finished Helmi
I've finished my modified Helmi cardigan – and I love it!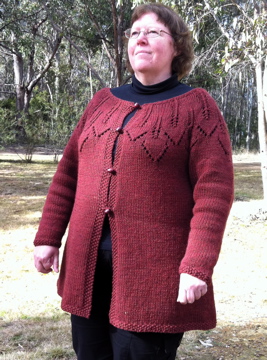 (Okay, so I don't love my over-weight shape, but the cardigan is comfy and warm and should still look fine when I'm skinnier in the tum and butt!)
I didn't do buttonholes in the front band; for the closures, I've used wooden beads I've had in the cupboard for years, and crocheted loops. I'm planning to re-space the 'buttons' so that they're closer together and it doesn't fasten quite so low.
But all in all, I'm regarding this cardigan as a success, and I'm definitely a convert to top-down knitting. This is the first jumper/cardigan I've knitted for some years that I actually like as a finished product on me. And since I've received four cardigan-lots of wool form Bendigo Woollen Mills recently, and we're only part-way through a cold winter, I'd better go and cast on another cardigan!
3 Responses to Finished Helmi