Thank you to everyone who has made suggestions for the name for the new shawl. I've been looking up goddesses and heroines of legend, trying to find one connected with the sun, stars, or dawn – one with an easy to spell, and pretty name!
I think I've decided on Aurora. In Roman mythology, she is the Goddess of Dawn, and I think the shawl design can be seen to have dawn spreading over forests and streams… However, as there are multiple adhd shawls and other items called 'Aurora' on Ravelry, the name needs something extra – so how does Aurora's Light sound?
And here she is, in the shawlette size: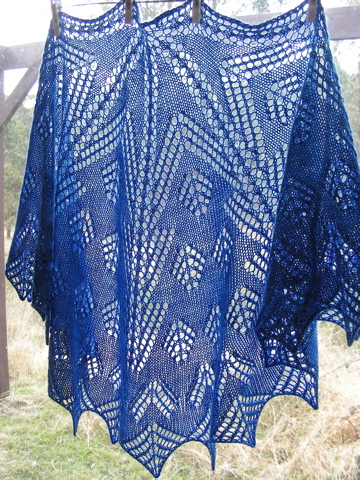 I hope to get some better photos soon, but it was a grey, wet day today, so not much photography was happening!
Now I just have to finish writing up the pattern, send it out to testers, and finish knitting a shawl-size one. In all that spare time I have….
It's been a busy few weeks! So, what's been happening?
The weekend before last, Emily (Rav link) and I set up a couple of indigo dye vats, and had a great afternoon gently dunking yarn, fibre and fabric into them, and watching the magic results as we took the dyed items from the vat, and on exposure to the air they gradually changed from green through lovely blue-green shades to blue. I didn't dye a lot (I didn't have a lot prepared), but now I know the process, I'm planning to do it again, very soon. Maybe even tomorrow. I want to re-dip a couple of the skeins I dyed, to get a deeper blue. Plus dye some more things!
It's impossible to photograph things when you have blue-stained rubber gloves on, but fortunately Tara was there, too, and very handy with her camera. She's put a set of photos from the day on Flickr.
A couple of days after the indigo-dyeing, I headed down to Sydney for the Romance Writers of Australia conference at Coogee. Very little in the way of knitting was achieved while I was away, other than a handful of rows on a present (now late) for my nephews birthday. More on that when it's finished! But the conference was, as usual, fantastic, and I'm all energised and motivated to get really cracking with the new book. Although textile work is rewarding, it doesn't pay the bills, so I'm going to have to put my writing work (mostly) first for a while.
However, now that I'm home again, I did finally take some time today to block the shawlette that I finished knitting two weeks ago. It's the second prototype for my new design. I'm mostly happy with it, but in the final pattern I will make the ends of the spines deeper and more pointy over a few more rows, taking them down towards/into the border pattern.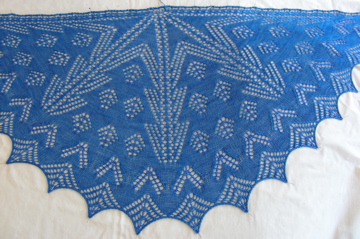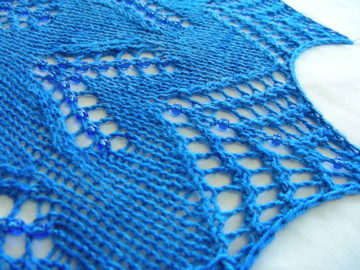 The charts are all done; I 'just' have to finish the general instructions and do the written lace instructions for those who don't like charts.
Oh, and come up with a name for her!!
I'm trying to get a sample shawl finished quickly so that I can send the new pattern out to test knitters – complete with a picture of what the design looks like, knitted up! The aqua one I started and mentioned in my previous post will be the large size, and have 5 gores, and it's going to take me a bit of time to knit. So, i decided to put it aside for a short while, and cast on for the small size, with 4 gores for the first sample shawl – which is just over half the number of stitches that the aqua shawl will take!
I'm using a wonderful silk/merino fingering from Lush Yarn for this one, in a gorgeous rich blue colourway called Queen's Robe. I'm loving it! I'm adding in silver-lined sapphire seed beads, and they're looking gorgeous as well, so I'm thoroughly enjoying knitting this one! I started it on the 11th July, and I've knitted a third of it so far – although only one row in the past two days. I hope it will be finished next week, then I can finalise writing up the pattern and add photographs.
This is how she looked a few days ago – but I've knitted more since then: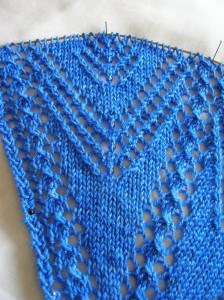 My second go at the new shawl design is gradually progressing: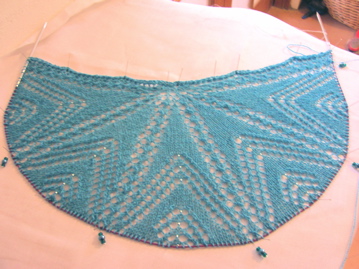 Although the KnitPicks Gloss Lace yarn isn't the softest or highest quality lace yarn around, it is a good weight for lace, and I like it for that reason. It has about 800 metres (880 yards) per 100gms, so it's heavier than some lace yarns. The 70/30 mix of merino & silk also gives it a lovely texture.
I've now knitted 12% of the shawl… so there's only another 43,000 or so stitches to go! Plus beads. Because I love beads. Fortunately, there's not gazillions of them going in, at least in the first half of the shawl, so it's not too slow.
Speaking of row by row, at the spinners and weavers meeting last week, I was discussing with a friend the challenges of using row counters on circular and dp needles, and the need to have some way to hang them from the needle. I promised I'd have a play…. This morning, I rummaged in the knitting tools box, and found that I have (at least) four plastic row counters. This afternoon, I rummaged in the miscellaneous bead bags, and made up these: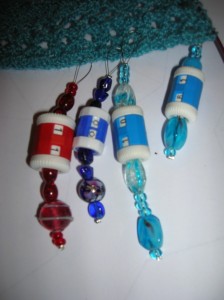 (Not a great photo, I know, but as you can see, one of them's already in use… and I'm too lazy this evening to move away from the table to take a better photo.)
Problem solved – the hanging row counter works fine. Hopefully I'll meet up with my friend for lunch in the next few days, and she can choose one of these for herself.
Not quite right sums up a few things in my life lately. I'm sore and a bit tired following a minor surgery in Tamworth yesterday – but I did enjoy the trip down on the train on Monday, and I did manage to visit Spotlight, so it wasn't all medical stuff!
While on the train, and while waiting around for hours at the hospital between appointments, I finished the 'prototype' of my new shawl design. And I blocked it today.
Now, those of you who are lace-knitters know that you really don't see a design properly until it's blocked. This is especially true when the item is too large too stretch out while on the needles. So, although I'd charted out the various elements of the design, and knew that technically they fitted together, I wasn't sure how it would all 'work' together in actuality until I pinned out the shawl this morning. Some people can visualise things before they're knitted – while I can imagine a general sense of how something might look, and I did knit a sample swatch of the last motif and border, I really need the finished item in front of me to really 'see' it.
And although it's okay, and I'm proud enough of it to wear it, I'm not quite satisfied with it yet – so I've cast on already for another sample, which will incorporate a few changes.
Here's the protoype, all pinned out: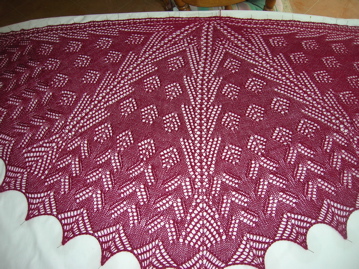 What's not quite right? The last womans health leaf motif is too close to the inverted 'V' lace, and its extra-noticeable because they don't align exactly to flow from one to the other. And the reversing of the diagonal lines along the spines isn't 'neat' enough; it doesn't mirror the ones above, and it seems a bit crowded against the inverted 'V's.
So, I'm planning to keep the diagonal lines continuing in the same pattern right down the spines until the edging. I'll also put some extra space between the leaf motifs and the 'V' motifs, so that the transition isn't crowded. I've charted it all out… now I just have to knit it! One of the advantages, though, of the changes will be keeping the pattern fairly easy to knit, as the rhythm of the spine pattern will continue until the edging rows, rather than changing part-way through. And since rhythm and relative ease of knitting is one of my design criteria, that is a plus!
I'm using KnitPicks Gloss Lace yarn for the second shawl, in a delicate blue/green, and I'm also beading it. Plus, instead of a semi-octagon, with four gores, I'm knitting a 5/8 octagon, adding an extra gore so that the shawl will drape over the shoulders more securely.
Now, I'd better get back to the knitting! According to the handy excel spreadsheet calculation, I've so far knitted only 3792 sts of the total 49570 sts required. (Hmm… 7.65% sounds a little more encouraging!)
My life is a bit up and down at the moment, and I'm kind of in a hiatus on several fronts; looks like I'll be having brain surgery in the next couple of months, and I've also got to start again on the next book – very tough decision to make, but it just wasn't working. My new idea, however, is starting to bubble away this last 24 hours, and I think the new heroine is going to work. Now I just have to come up with a hero, and a plot, beyond the first few pages!
To counter the down bits and nurture the creative spirit, I'm concentrating on some less-demanding creativity; amongst other things, I've started designing another shawl. I'm aiming for a semi-circular shawl this time. I'm using Bendigo 4ply luxury for the prototype, and here's a teaser: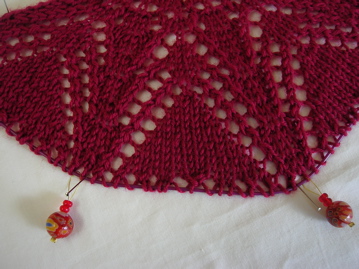 I'm not sure what the rest of it will look like yet, so I'm in the same position as with the new book – great beginning, but still a long way to go!
Did you notice the little red danglies? Yes, I have become a sucker for stitch markers. I love the pretties, hanging off my needles, and for this shawl I need three. I didn't have any in my small stash of purchased ones that toned properly with the crimson of the yarn, so I made some. Then I made some more. Now I'm just anxiously waiting for the postmen to bring some tigerwire, because the wire I have isn't ideal. But these ones will be fine for me!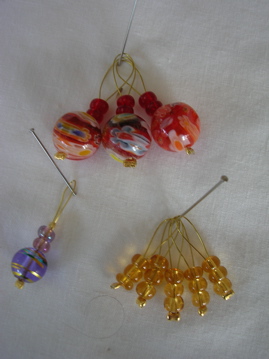 I started this shawl on January 1st in a burst of enthusiasm for the 10 Shawls in 2010 challenge… and then became sidetracked by designing and knitting Brangian and her variations. So, my Shetland Triangle languished, with me picking it up and knitting a few rows every now and then… but I decided a few weeks ago to start finishing up some wips, and now I've finished this one.
Each year, at the Romance Writers of Australia conference in August, there is a silent auction with all funds raised going to cancer research. Last year, I wanted to donate a lace scarf, but I struck a problem in adapting the pattern and didn't manage to get it finished in time. So, this year, I'll donate this shawl along with some signed books to the auction.
It's a grey, rainy day, so it was a challenge to photograph her: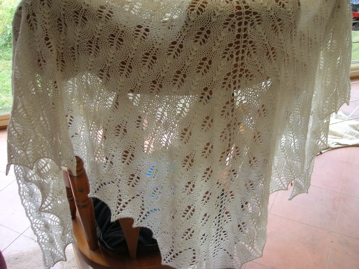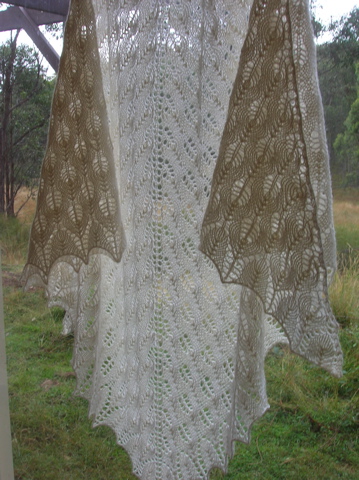 The pattern is the wonderful and easy Shetland Triangle (Ravelry link), by Evelyn Clark. The yarn is 4ply Luxury from Bendigo Woollen Mills. I also added beads from Empire Beads to the last two repeats and the edging (Czech seed beads Round Pearlised White 4.5mm GB5/0):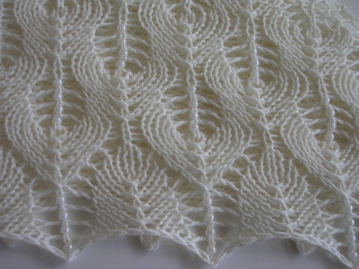 Last weekend I finished my third Brangian, in a deliciously rich dark red sock wool from Saffron Dyeworks. It was a bit of an experiment – I've put the yarn requirements for the small size in the pattern as 440yds (400m) but I wanted to see if the revised small size could be knitted with just 400yds (365m) of yarn. The answer? It can't! I ran out of yarn two rows from the end, so had to cast off early without doing the picot row.
However, the other experiment with this one was to bead it, and I used dark red clear glass beads – and I'm very happy with the result!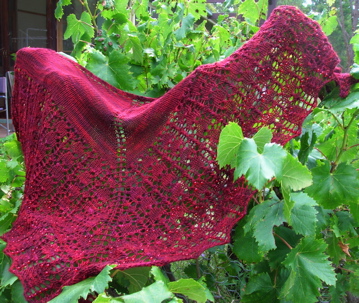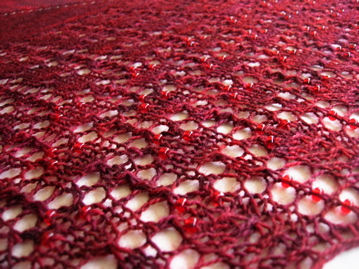 Beading instructions:
Use the crochet hook method to place beads.
Chart 2:
On rows 3, 11, & 19: Add a bead on to the K1 between the K2tog and ssk (ie at the beginning of each bud.)
On rows 5, 13 & 21: Add a bead on the 2 & 4 stitches of the k5 section. (ie on ether side of the bead in the previous row).
Chart 3:
On row 3: Add a bead on to the K1 between the K2tog and ssk (ie at the beginning of each bud.)
On row 5: Add a bead on the 2 & 4 stitches of the K5 section. (ie on ether side of the bead in the previous row).
On rows 7, 9, 11 & 13: Where there is a yo, K1, yo to form the columns, add a bead on the K1. Also add a bead to the centre K1!
My shawl pattern, Brangian, has been knitted up by several test-knitters, the pattern tweaked on the basis of their feedback, and it's now available in the Ravelry store. It's been a lot of work – but an enjoyable challenge! – getting charts right, creating 'uncharts' and checking them, playing with the layout, making sure the instructions are clear.
I incredibly grateful to my wonderful test-knitters, most of them from the Aussie Shawl Knitters Hangout on Ravelry, who have, in a few short weeks, knitted shawls and provided feedback on their experience – along with enthusiasm and encouragement! Thanks, Sue, the other Sue, Rachel, Tara, Kelly, Margaret, Bel and Ellie!
Extra special thanks to Tara, who lent her photography skills to the project and took some great photos, and to her friend buyambienmed.com Bella, who modelled the shawl.

I've created a page with more info on Brangian, a link to the Ravelry pattern store (you don't need to be a member to purchase it) and answers to what might be Frequently Asked Questions. There'll be a few more bits of info added to support knitting the pattern in the next week or two.
Oh, and I've knitted a second Brangian, this time in Handmaiden SeaSilk, and in the medium size. It's currently blocking, and taking an age to finish drying, as we have wonderful rain today: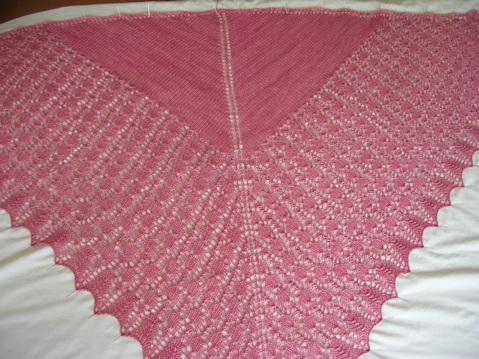 I'll take some better photos when it's dry, and the sun is shining!
ETA: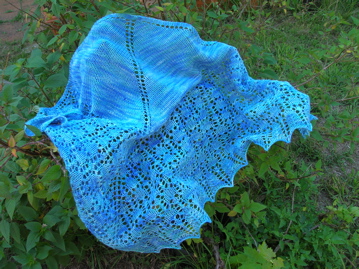 I've designed a shawl 🙂
In the old tales of Tristan and Iseult, Brangian was Iseult's faithful companion, who travelled far from her own land to serve her Princess. This shawl, with its textured lace columns, subtly shifting to form a border flowing into the scalloped edging, is not as stunning as some lace shawls, but like Brangian the handmaiden, she is quietly beautiful.
I'm very happy with the shawl, and have written up the pattern – it's now being test-knitted by a few friends. Once that's been done, and their feedback incorporated into the pattern, I'll be making the pattern available through Ravelry (and possibly through this site).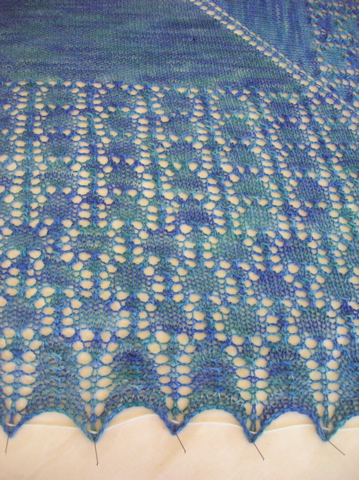 I've thought long and hard about whether to make it available for free, or to sell it for a small cost… and I've decided not to give it away. One of my concerns over the years in the textile/fibre arts is that traditional 'women's' crafts such as knitting, spinning, weaving, etc are constantly devalued – and that often, we are party to that devaluing. It's for this reason that I don't sell what I make, because the going prices for hand-made items do not reflect anywhere near the expertise and time that goes in to the making of them. I'm always saddened and frustrated when I see a pair of handmade socks selling for $20, or a beautiful woven scarf for $60. Subtract the cost of materials, and divide by the number of hours of (trained and skilled) work that goes in to the making, and you come out with a very low number. Try telling anyone else in an independent business – a plumber, or a computer technician, or your hairdresser – that they should work for $1 per hour!
I do give things away as gifts some times, to people who appreciate the value of the making and the giving. I've designed my own patterns before for various items, and there's a lot of work and experience involved in making things work – and even more in doing it and writing it up in such a way that the pattern is repeatable by others. I don't mind paying a few dollars for a pattern in recognition of that work, and I hope others don't either. I don't think anyone's getting rich selling knitting patterns 🙂  (Okay, maybe Kaffe Fassett…)
Don't get me wrong – I think it's great that there are free patterns available, too. But I think that the choice to give away a pattern is each designer's to make, for whatever reasons they choose to make it, and should not be an expectation. A design does have considerable value, whether bought or received for 'free', and that should be appreciated.  If ever I design more patterns, maybe some will be free, as a gift to a community that I enjoy being part of.
Anyway, the Brangian pattern will be available, probably in a couple of weeks, in both charted and 'unchart' form. It's designed for fingering-weight yarn, and will be in two sizes, a small shawl, and a larger shawl. Now, I'd best get knitting and finish the larger version!