I did (finally!) finish sewing the seams of my shawl-collar jacket, and though I don't have any beautiful photos of it, I have been wearing it – and it is, if not stunning, at least cosy and warm, which is great in the wintry weather we've been having.
Here's Jane, my dressmaker's model wearing it – although bear in mind that she is a lot skinnier than me!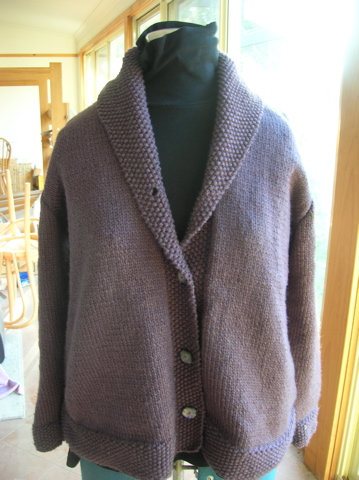 I used a Drops pattern (102-5) as a basic guide but adapted it quite significantly, in particular using moss stitch instead of garter stitch and changing the shaping. The yarn is Jo Sharp Silkroad Aran, which is 85% Wool, 10% Silk, 5% Cashmere – and have I mentioned, deliciously warm?
I'm quite pleased with the overall finished result, although the top button/hole is a bit high, and I've been wearing it without that done up. I may end up removing the button and stitching the buttonhole closed.
I'm currently planning a new, top-down cardigan – no more pesky seams for me! No knitting has been started yet, but any day now I'll raid the stash and cast-on.
What else have I been up to? The prototype for the new shawl is coming along, and although it's only half-knitted, I have done the time-consuming design and test-swatch knitting of the final two charts. Here's a swatch of the edge – although I have changed the way the long diagonal lines will be knitted from how I did these ones (and I'm up to knitting them now in the prototype shawl):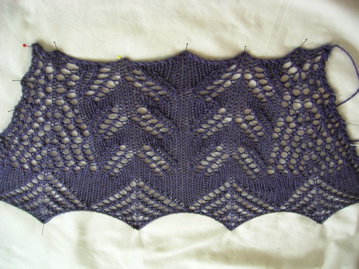 And I've added some new stitch markers to the Yarnosophy shop: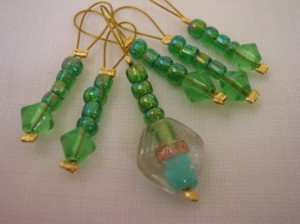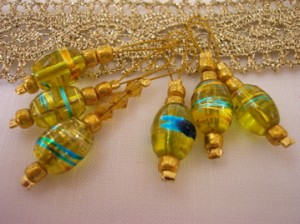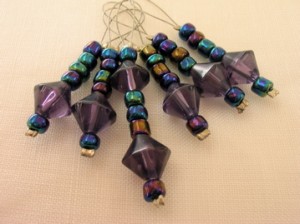 (I liked these purple ones so much that I made a very similar pair of earrings for me!)
My life is a bit up and down at the moment, and I'm kind of in a hiatus on several fronts; looks like I'll be having brain surgery in the next couple of months, and I've also got to start again on the next book – very tough decision to make, but it just wasn't working. My new idea, however, is starting to bubble away this last 24 hours, and I think the new heroine is going to work. Now I just have to come up with a hero, and a plot, beyond the first few pages!
To counter the down bits and nurture the creative spirit, I'm concentrating on some less-demanding creativity; amongst other things, I've started designing another shawl. I'm aiming for a semi-circular shawl this time. I'm using Bendigo 4ply luxury for the prototype, and here's a teaser: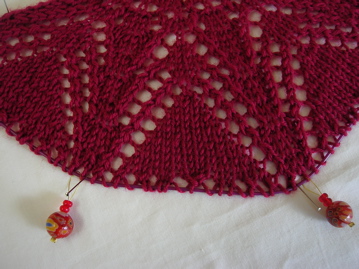 I'm not sure what the rest of it will look like yet, so I'm in the same position as with the new book – great beginning, but still a long way to go!
Did you notice the little red danglies? Yes, I have become a sucker for stitch markers. I love the pretties, hanging off my needles, and for this shawl I need three. I didn't have any in my small stash of purchased ones that toned properly with the crimson of the yarn, so I made some. Then I made some more. Now I'm just anxiously waiting for the postmen to bring some tigerwire, because the wire I have isn't ideal. But these ones will be fine for me!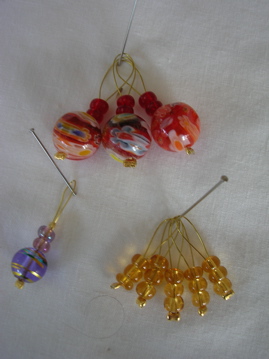 I started this shawl on January 1st in a burst of enthusiasm for the 10 Shawls in 2010 challenge… and then became sidetracked by designing and knitting Brangian and her variations. So, my Shetland Triangle languished, with me picking it up and knitting a few rows every now and then… but I decided a few weeks ago to start finishing up some wips, and now I've finished this one.
Each year, at the Romance Writers of Australia conference in August, there is a silent auction with all funds raised going to cancer research. Last year, I wanted to donate a lace scarf, but I struck a problem in adapting the pattern and didn't manage to get it finished in time. So, this year, I'll donate this shawl along with some signed books to the auction.
It's a grey, rainy day, so it was a challenge to photograph her: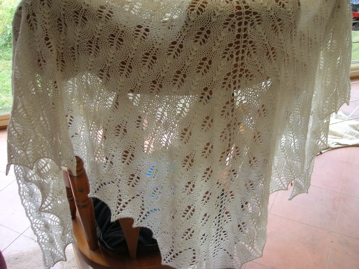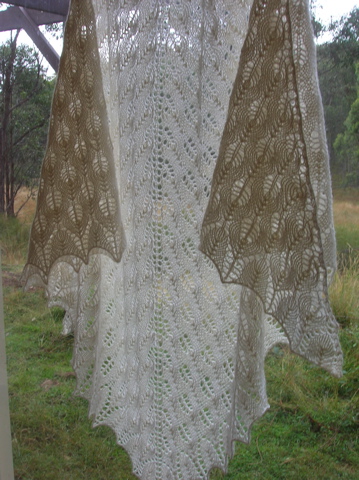 The pattern is the wonderful and easy Shetland Triangle (Ravelry link), by Evelyn Clark. The yarn is 4ply Luxury from Bendigo Woollen Mills. I also added beads from Empire Beads to the last two repeats and the edging (Czech seed beads Round Pearlised White 4.5mm GB5/0):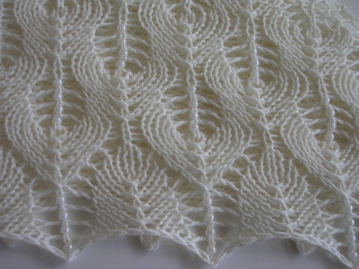 I finished knitting my fifth Brangian shawl the other day – this time with a few minor variations to the pattern:
1) Instead of the yo, k1, yo spine in the stocking stitch section, I worked a m1R, k1, m1L spine, and reverted to the yo, k1, yo spine when I started the lace section. This is how that looks: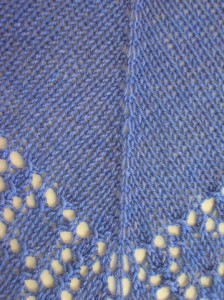 2) I knitted an extra repeat of Chart 1, but only the first 8 rows of Chart 2 before continuing on to the edging chart, and then 3) I worked the last two rows of the edging chart again, just to make it a little deeper (and because I had plenty of yarn left!):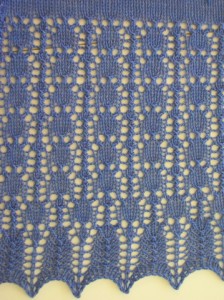 Although I like the original version, with the broad border of alternating buds before the edging, I also like this single line of offset buds between the main lace and the edging – I think it highlights both the edging, as wella s the long lines of lace in the main lace section.
Here she is, in all her (early morning, bright sunshine) glory: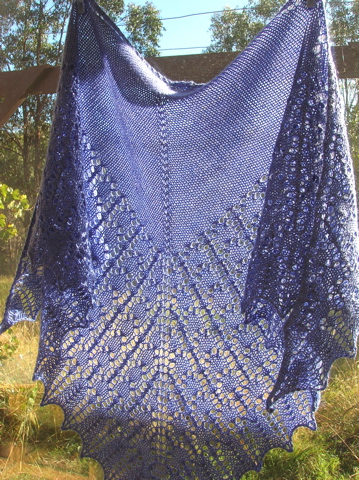 This image is closest to the real colour – it's just on the purple side of blue. Just.
Yarn: a 50/50 silk/merino fingering, that I bought undyed from the Yarn Workshop, and dyed myself.
Size: small
Needles: 4mm circular
Unblocked measurements: Width 98cm, height 50cm; (38.5 inches x 19.7inches)
Blocked measurements: Width 145cm, height 69cm; (57 inches x 27inches)
This is the large version of Brangian, knitted to the pattern but with added beads ('cos I do love the sparklies!) I finished it during the week, but it took me a few days to organise myself to block her, and then another day or two to get some photos outside. It's not the best photo – the sun was bright – but it gives an idea of her, anyway!
I added beads to Charts 2 & 3 – I didn't have a close match in colour, so I used the Dark Amethyst AB mix from Empire Beads – I think it gives the colour an extra lift!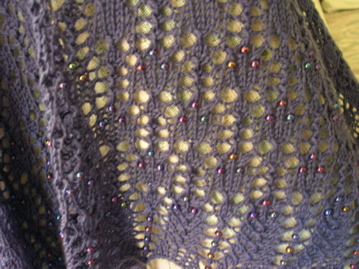 This is the fourth Brangian I've knitted this year – I think I can say the pattern is well-tested now! I've got another one in laceweight on the needles, but it hasn't progressed very far yet. I'm going away for a week or two on Tuesday, so I'll take that one with me and aim to make more progress. And in the meantime, just for a change, I've been trying to finish a Shetland Triangle that I started on January 1st – only one or two more pattern repeats to go on it, and the edging, and then I will have liberated an Addi circular, and can cast something else on to it!
Last weekend I finished my third Brangian, in a deliciously rich dark red sock wool from Saffron Dyeworks. It was a bit of an experiment – I've put the yarn requirements for the small size in the pattern as 440yds (400m) but I wanted to see if the revised small size could be knitted with just 400yds (365m) of yarn. The answer? It can't! I ran out of yarn two rows from the end, so had to cast off early without doing the picot row.
However, the other experiment with this one was to bead it, and I used dark red clear glass beads – and I'm very happy with the result!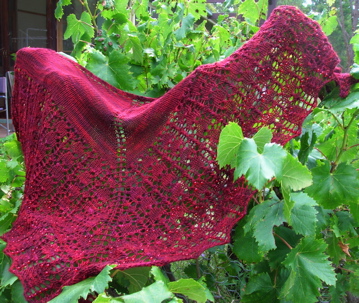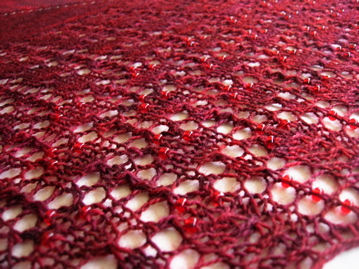 Beading instructions:
Use the crochet hook method to place beads.
Chart 2:
On rows 3, 11, & 19: Add a bead on to the K1 between the K2tog and ssk (ie at the beginning of each bud.)
On rows 5, 13 & 21: Add a bead on the 2 & 4 stitches of the k5 section. (ie on ether side of the bead in the previous row).
Chart 3:
On row 3: Add a bead on to the K1 between the K2tog and ssk (ie at the beginning of each bud.)
On row 5: Add a bead on the 2 & 4 stitches of the K5 section. (ie on ether side of the bead in the previous row).
On rows 7, 9, 11 & 13: Where there is a yo, K1, yo to form the columns, add a bead on the K1. Also add a bead to the centre K1!
Brangian wasn't actually designed for beads, but I do love them, and I'm always looking for ways to incorporate them. Last night I knitted a sample swatch to see how beading might work on Brangian. I inserted beads in chart 2 – the alternating buds section – putting three beads at the top of each bud, with the idea that it might emphasise the way the buds alternate in this section. Then I also added beads in the same place in chart 3, and also in the yo, k1, yo columns in the last rows of chart 3. I'm quite happy with how it turned out: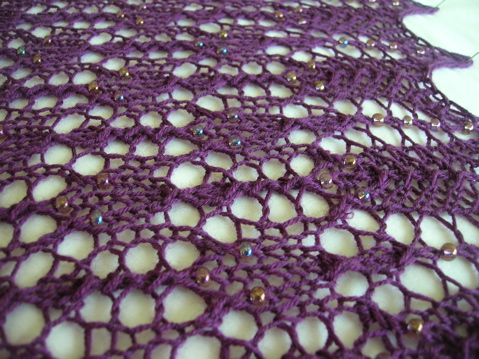 I'll be beading my next Brangian!
(ETA: Instructions for beading in this manner are now given on the Brangian page. )
However, in the process of swatch knitting, I did discover, to my horror, an oops! in the pattern. Prior to publication, I'd altered Chart 2, starting it with an non-column ('B') bud and reducing it by 8 rows so that there were only 3 'rows' of buds – B, A, B. I did check that Chart 3 still fitted – but I overlooked that, because I'd reduced the design by the 8 rows, and this impacts on the placement of the buds relative to the edge, while Chart 3 fitted fine, it didn't alternate with the last bud row in Chart 2. Not many people would actually notice at all, but I knew it wasn't perfect.
Sigh. Cue panicked re-do of Chart 3, working out how to do the edging correctly, fixing up charts, uncharts, updating pattern files, proof-reading…. I uploaded the revised pattern to Rav this morning, and sent out a notice to those who've bought it so far, and to my test-knitters. Fingers crossed that everything is now fixed, and that no other errors have crept in!
My shawl pattern, Brangian, has been knitted up by several test-knitters, the pattern tweaked on the basis of their feedback, and it's now available in the Ravelry store. It's been a lot of work – but an enjoyable challenge! – getting charts right, creating 'uncharts' and checking them, playing with the layout, making sure the instructions are clear.
I incredibly grateful to my wonderful test-knitters, most of them from the Aussie Shawl Knitters Hangout on Ravelry, who have, in a few short weeks, knitted shawls and provided feedback on their experience – along with enthusiasm and encouragement! Thanks, Sue, the other Sue, Rachel, Tara, Kelly, Margaret, Bel and Ellie!
Extra special thanks to Tara, who lent her photography skills to the project and took some great photos, and to her friend buyambienmed.com Bella, who modelled the shawl.

I've created a page with more info on Brangian, a link to the Ravelry pattern store (you don't need to be a member to purchase it) and answers to what might be Frequently Asked Questions. There'll be a few more bits of info added to support knitting the pattern in the next week or two.
Oh, and I've knitted a second Brangian, this time in Handmaiden SeaSilk, and in the medium size. It's currently blocking, and taking an age to finish drying, as we have wonderful rain today: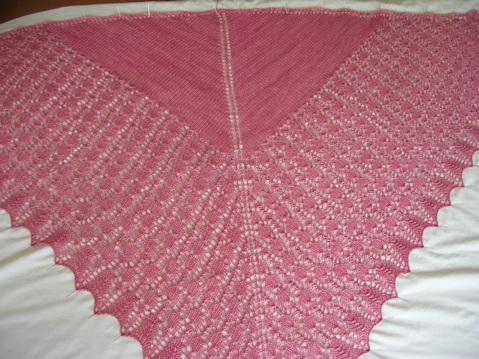 I'll take some better photos when it's dry, and the sun is shining!
ETA: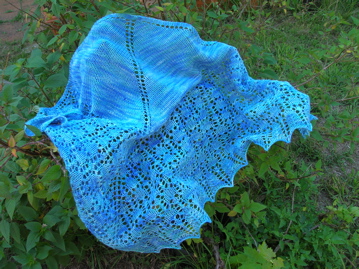 I've designed a shawl 🙂
In the old tales of Tristan and Iseult, Brangian was Iseult's faithful companion, who travelled far from her own land to serve her Princess. This shawl, with its textured lace columns, subtly shifting to form a border flowing into the scalloped edging, is not as stunning as some lace shawls, but like Brangian the handmaiden, she is quietly beautiful.
I'm very happy with the shawl, and have written up the pattern – it's now being test-knitted by a few friends. Once that's been done, and their feedback incorporated into the pattern, I'll be making the pattern available through Ravelry (and possibly through this site).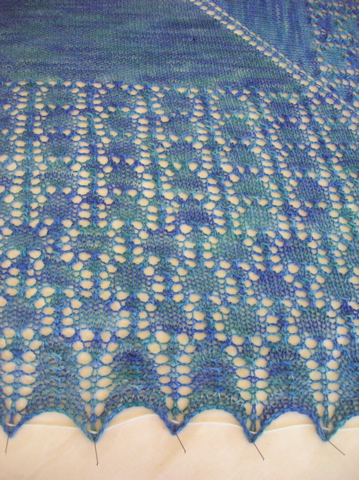 I've thought long and hard about whether to make it available for free, or to sell it for a small cost… and I've decided not to give it away. One of my concerns over the years in the textile/fibre arts is that traditional 'women's' crafts such as knitting, spinning, weaving, etc are constantly devalued – and that often, we are party to that devaluing. It's for this reason that I don't sell what I make, because the going prices for hand-made items do not reflect anywhere near the expertise and time that goes in to the making of them. I'm always saddened and frustrated when I see a pair of handmade socks selling for $20, or a beautiful woven scarf for $60. Subtract the cost of materials, and divide by the number of hours of (trained and skilled) work that goes in to the making, and you come out with a very low number. Try telling anyone else in an independent business – a plumber, or a computer technician, or your hairdresser – that they should work for $1 per hour!
I do give things away as gifts some times, to people who appreciate the value of the making and the giving. I've designed my own patterns before for various items, and there's a lot of work and experience involved in making things work – and even more in doing it and writing it up in such a way that the pattern is repeatable by others. I don't mind paying a few dollars for a pattern in recognition of that work, and I hope others don't either. I don't think anyone's getting rich selling knitting patterns 🙂  (Okay, maybe Kaffe Fassett…)
Don't get me wrong – I think it's great that there are free patterns available, too. But I think that the choice to give away a pattern is each designer's to make, for whatever reasons they choose to make it, and should not be an expectation. A design does have considerable value, whether bought or received for 'free', and that should be appreciated.  If ever I design more patterns, maybe some will be free, as a gift to a community that I enjoy being part of.
Anyway, the Brangian pattern will be available, probably in a couple of weeks, in both charted and 'unchart' form. It's designed for fingering-weight yarn, and will be in two sizes, a small shawl, and a larger shawl. Now, I'd best get knitting and finish the larger version!
I haven't been able to post about this finished shawl, as I made it as a gift for my sister, and I'm not sure if she reads this blog or not! However we had an early family Christmas celebration today, and I gave her the shawl.
It's the lovely Aeolian Shawl pattern from knitty.com, knitted in Handmaiden Sea Silk. It's a great pattern – it's not particularly difficult, and quite intuitive to knit, as it's easy to 'read' the pattern, but it looks so impressive! Here it is blocking: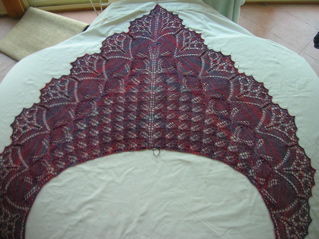 And here's my lovely sister wearing it: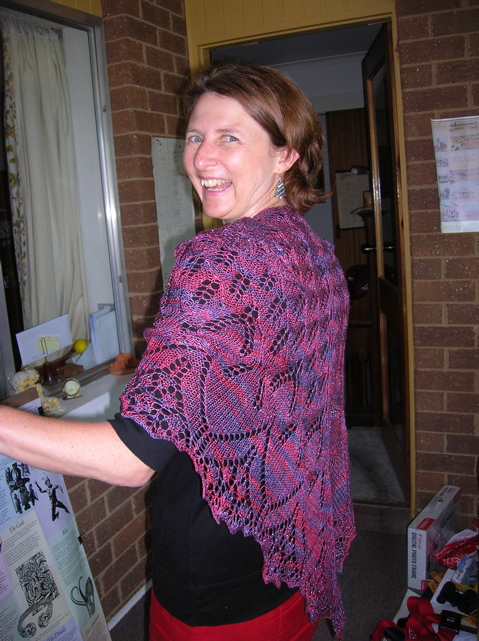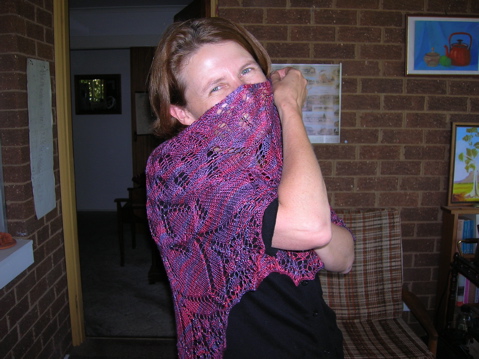 I think she likes it 🙂